Cleaning Research Group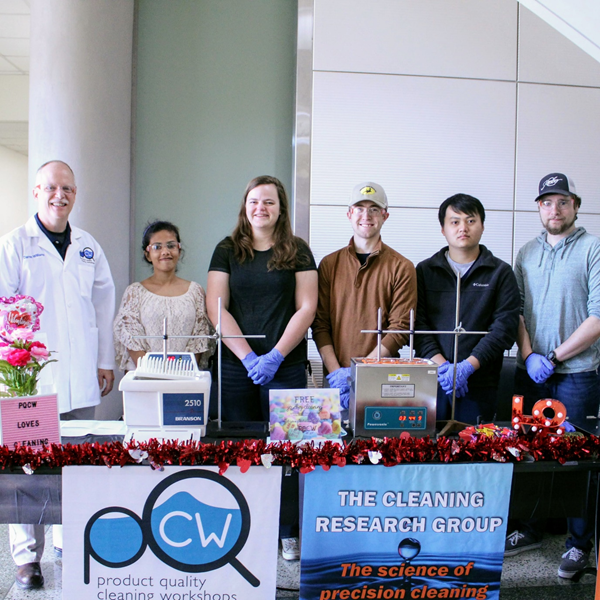 The Cleaning Research Group at Sam Houston State University, led by Dr. Darren L. Williams, studies the equipment, processes, and chemistry of precision industrial cleaning.
The other focus of the Cleaning Research Group is to produce chemists who are trained in the research methods that will be critical for their success in industry, government, or future academic work. We call this Manufacturing Minds - a phrase coined by our collaborators Barbara and Ed Kanegsberg of BFK Solutions.
Barbara interviewed the current student researchers in the CRG and wrote the following profiles.
Nethmini Ariyarathna - Vacuum Cycle Cavitation Cleaning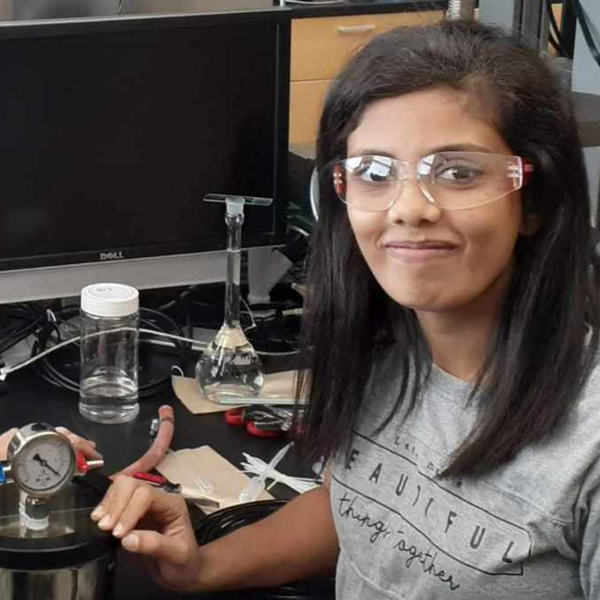 How will the world meet the manufacturing, critical cleaning and surface quality requirements of the future? One way is through the efforts of young people who look at the practical aspects of science. One such person is Nethmini Ariyarathna of the Cleaning Research Group at Sam Houston State University. Nethmini and I recently visited (using the current socially-acceptable techniques of phone, text, and email) to discuss her projects and goals.
Nethmini enjoys the practical aspects of research more than the theoretical aspects. She has a B. Sc. in Environmental Science and is working toward her M. Sc. in Chemistry. After her Masters degree, she would like to work for a company for a few years to obtain practical experience. "Then, I will think about pursuing a PhD in physical or analytical chemistry. I love those two areas." Her planned pathway would be a fusion of Environmental Science, chemistry, practical experience in industry, and perhaps a PhD.
This "cross-cultural melding promises to fill a much-needed niche to develop cleaning processes that are effective and that may be more environmentally sustainable. Nethmini may be influenced by the career path of her advisor, Dr. Darren Williams. Dr Darren is a practical academic who melds experience in manufacturing and academia.
For the past six months Nethmini has been working on the Vacuum Cycle Cavitation Cleaning process, a technique with the potential to grow to be an essential tool for critical product cleaning during manufacturing. "We have a small vacuum chamber in our lab. I am working on how to remove particles/materials from blind holes and capillary tubes." Nethmini and fellow student Tanner Volek built the prototype vacuum cycle cavitation system that will be featured in our Product Quality Cleaning Workshop (PQCW). While PQCW is on pause because of the COVID-19 crisis, here is an on-line demonstration of the vacuum-induced cavitation inside a glass capillary tube.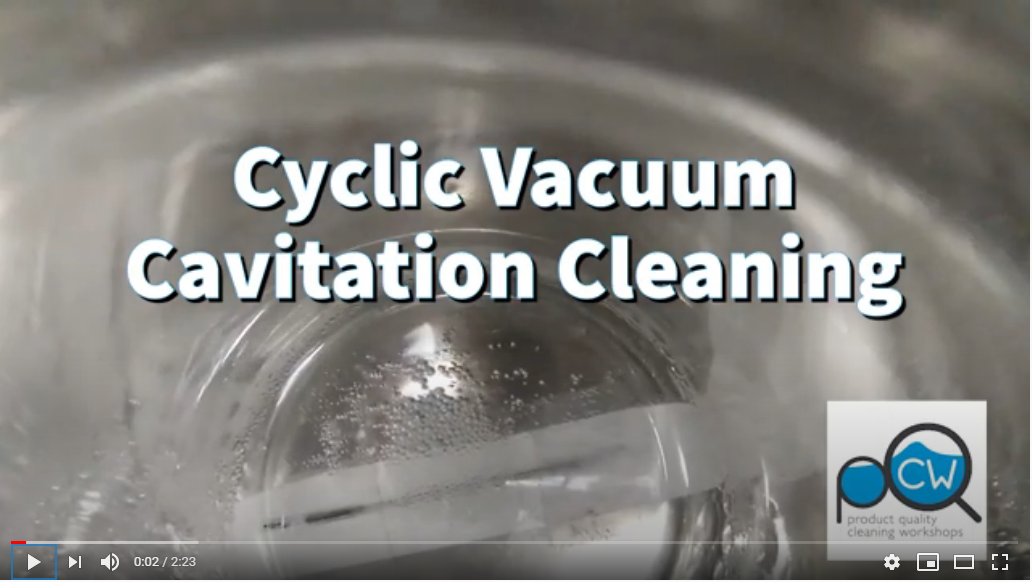 Vacuum cycle cavitation cleaning is also known as cyclic nucleation process or CNP. LPW Reinigungssysteme GmbH is the official patent owner regarding CNP and the process technology of cyclic vacuum in the USA, Europe, and China. CNP takes advantage of the natural vapor pressure of fluids, including water (or other liquids). All liquids will spontaneously boil (cavitate) when the pressure inside the container is reduced to the liquid's vapor pressure by the vacuum pump. Nucleation refers to formation of the cavities in the liquid – radioactivity is NOT involved!
Vacuum cycle cavitation is a different technique from ultrasonic cavitation, and the two techniques can be complimentary. The vacuum method is being commercialized for difficult, high-value critical and precision cleaning applications – especially where other techniques have failed.
We will provide more details about VCC cleaning. Stay tuned for more about cleaning, surface quality, and the future of manufacturing.
Robin de Vries - Forensics, Raman Spectroscopy, and Adaptability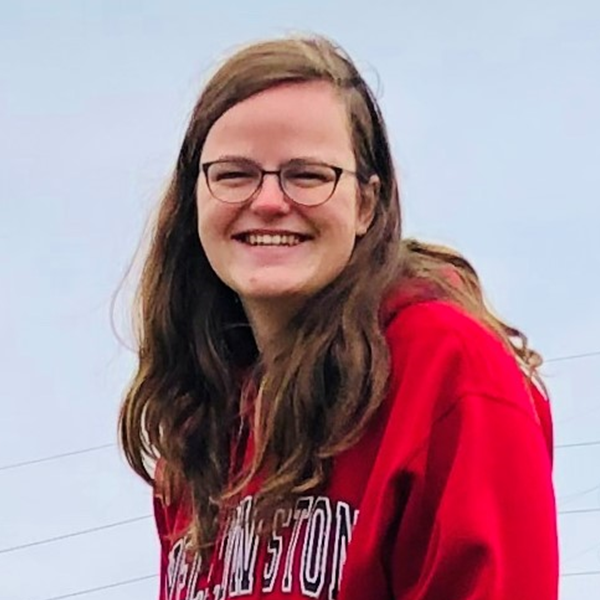 "I really like puzzles," says Robin De Vries. Robin, a student at Sam Houston State University and part of the Cleaning Research Group, grew up with shows like Bones and NCIS. She latched onto Forensic Science as a major. She figured: "Great! I can work in a crime lab." Then, she started to work with Dr. Darren Williams. "I love his classes! He puts a lot of work and enthusiasm into teaching." While working with DW (as his students call him), she realized she could combine forensics with anthropology.
"I love instrumentation, so I jumped at the chance to work with the Raman lasers. With Raman, you use a laser to observe vibrational changes in a molecule. Each molecule has a vibrational peak, and you can use that peak to detect if the species (the grease or other soil) is present." Unfortunately, she discovered that the greases she was investigating were all silica-based. All the spectra looked alike. This is no help in identifying a specific contaminant!
This roadblock provided an opportunity to discover adaptability, in this case to change the question being addressed. Robin explains that "DW built a calibrated machine to wipe soil off of a surface in a controlled way, using a constant amount of pressure." They could use the machine combined with Raman to track cleanliness using changes in fluorescence. She explains that "if the molecule fluoresces, you can measure the height of the peak as an indication of cleanliness." This illustrates the point that Raman spectrometers can also measure fluorescence, which can be a sensitive way to track cleanliness.
"I'm a hands-on person, so it was really interesting to apply what I learned in class to industry. I think it's really cool, because sometimes it's hard to connect what you learn in class to what happens in the real world."
While Robin likes to focus on one technology, in working in the Cleaning Research Group she discovered the value of using different approaches to tackle the same problem. "It was really cool to see how people worked on different projects but all related to the same goal. It was surprising to see that there were so many different options."
Completing college in the middle of a global pandemic presents challenges. "It's all up in the air," says Robin. She is looking at possibilities such as a Masters program in forensic science and internships in industry, perhaps designing primers. Robin concludes that "sometimes, it's ok not to have a plan – opportunities will pop up. If I can work with instruments, I'll be happy."
Brianna Hickman - Marketing and Event Planning, Human Resources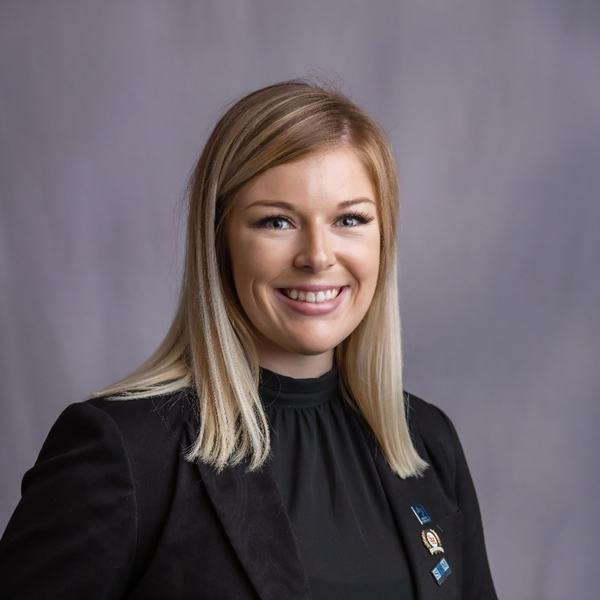 "I had no idea the field of critical cleaning existed!" Brianna Hickman, Marketing and Event Planning Intern in the Department of Chemistry at Sam Houston State University is "heart and soul, 100% a business major, so everything was new to me. I'd sit in on meetings with people at CRG (the Cleaning Research Group). They would explain everything to me."
Brianna started working with CRG after she met Dr. Williams while job searching. She explains that "it was unique working with technical people." She sees value in the experience in preparing for a career in business. "When you work in HR, you work with all different kinds of people in different operating units. All of them are working toward a common goal."
While Brianna says she picked her Human Resources major by chance, she took a practical, one could even say a scientific approach. "I'm a first-generation college student. I went to a really small high school and worked with my high school academic councilor. I looked at my skills, interests, did research on what jobs were out there. I thought HR would be a good fit. I loved it."
I asked Brianna what's next on her career path. "This is an interesting question. With the pandemic, I don't have a clue. I want to stay in HR, possibly in recruiting; but opportunities for interns are closing off. Plan B is grad school. I would do that anyway; but I wanted to get experience under my belt. If I go to grad school right away, I'll continue to learn and grow. I'll probably get a masters in Business Administration, in case I don't want to always stay in HR."
As manufacturing moves forward, I hope Brianna decides to continue to work with technical people. We need people like her to help us communicate and coordinate!
Tanner Volek - Hansen Parameters and Surprising Findings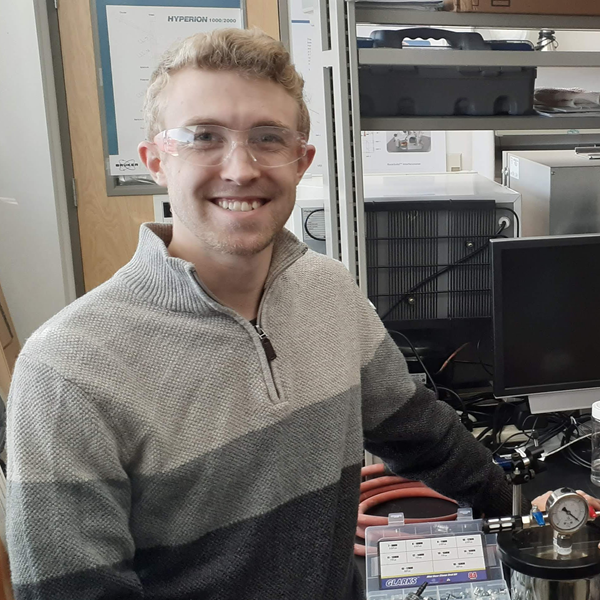 Would society be better served if more young people went to trade school instead of college? Not necessarily! Tanner Volek, and the world of manufacturing, is benefiting from a practical, applied college education. Tanner has been looking at solvency (does the cleaning agent dissolve the soil?) and powerful cleaning techniques to remove soils from fine tubing.
Tanner Volek is a student in the Cleaning Research Group at Sam Houston State University. Tanner was born in San Antonio and grew up in Texas. After high school, he wasn't sure about going to college – he had a good job that he enjoyed. A friend persuaded him to apply. Once he began his general chemistry course, he switched his major from biology to chemistry, and then met Professor Darren Williams a co-organizer of Product Quality Cleaning Workshops (PQCW).
In preparing for exercises and demonstrations for PQCW, Tanner explains that he "worked on applying Hansen solubility parameters of different solvents to cleaning. Understanding Hansen parameters is relevant to manufacturers." Hansen parameters use three attributes of solvents to indicate which solvents and solvent blends will be effective in removing soils. They can also be used to indicate which solvents are less likely to damage product surfaces. Using the properties of Hansen parameters allows manufacturers to take some of the guess-work out of solvent selection. As Tanner explains, "why waste your money on solvents that don't clean as well?"
Testing cleaning processes can yield surprises. Because he had been testing organic solvent cleaning, Tanner discovered that "one thing that was surprising was pulling soils out of capillary tubes with water and vacuum cavitation." For additional information, please see "Nethmini Ariyarathna – Vacuum Cycle Cavitation Cleaning" on the "Manufacturing Minds – PQCW" site. He adds that "for certain applications, we needed surfactant even with the vacuum cavitation to access the capillary tubes."
What's next? When asked about his career goals, Tanner explains "I'm not really sure what I want to do. I enjoy tutoring; I want to become a professor. I'll probably go to grad school. I guess I'll go for a PhD. I think I'd like to get experience in manufacturing. If I like working in industry, I'll stay there." Maybe it's good to be a little undecided, to keep your options open. I myself expect that Tanner will have a productive career either in industry or in the world of academia. It would be terrific if he decides to forge a career that encompasses both worlds.
Alex Lu - Ultrasonic Cleaning and Imagination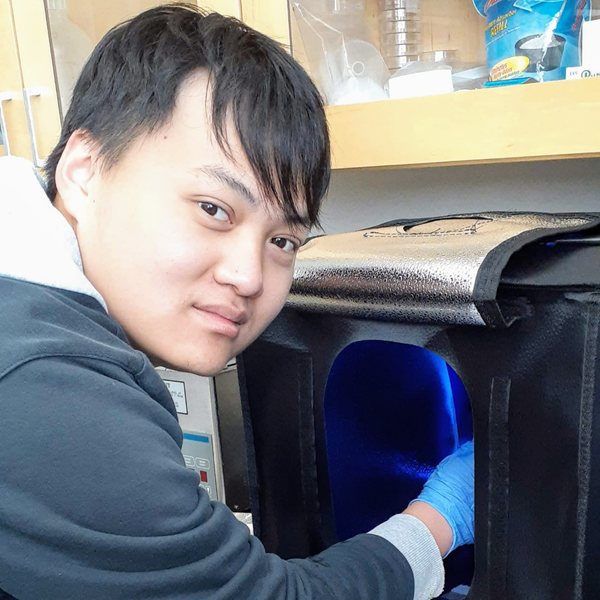 Alex Lu, a chemistry major at Sam Houston State University, came from to the U.S. from China six years ago. He explains that "when I graduated from High School, I had two interests: chemistry and physics. I enjoyed chemistry more." Alex is an innovator, an "imaginator" (if there is such a word). He'll talk about a new technology he's heard about, then expound on how that technology might be adapted to various practical applications – like product cleaning.
As a student and a member of Cleaning Research Group at SHSU, Alex researched processes for ultrasonic cleaning. He was tasked with matching the cleaning chemistry to the parts so that it would remove the soil without damaging the parts. Alex tested a number of aqueous cleaning agents and found that performance relative to frequency varied among cleaning agents. There was no general trend; not all cleaning agents were more aggressive at lower frequency than at higher frequency. When trying to determine what was in each of the cleaning solutions, Alex implied that it was difficult to obtain complete information from some of the suppliers. It is a fact that the "recipes" and even the ingredient list for commercial formulations are typically closely-guarded trade secrets. Alex and I discussed that not all sales reps have a background in the sciences, let alone in critical cleaning. Sometimes it helps to reach out to the technical folks. Alex also discovered that more than one cleaning technique may have to be considered. "There are limitations on ultrasonics; it's hard to clean narrow tubes. One student in the CRG tried VCC (please see the Nethmini's comments); sometimes that was better, other times we saw corrosion."
Alex explains that, "we have to make a balance between education and demonstration. For the workshop, we have to make the demonstration obvious to the students really quickly." Therefore, in setting up exercises for the Product Quality Cleaning Workshop (PQCW), he had to be innovative. For example, one goal was to demonstrate differences in the effectiveness of a various cleaning process. Alex says that "it turned out to be hard to monitor cleaning either by change in the mass, visually looking for signs of soil removal or looking for a color change in the grease." This is not surprising; pinning down how well particles or thin film residue are removed can involve complex, exacting lab tests that are time consuming. To solve the problem, "we used a Sharpie, to mark the part. We could monitor the change in color as an indication of soil removal."
Alex is graduating this semester. He would like to continue his education by attending graduate school in the U.S. However, as of this writing, the options for taking portions of the Graduate Record Exams are limited. He would like to attend graduate school and consider some aspect of cleaning or organic synthesis. He's intrigued by a presentation about "a magnetic polymer that attracts oil;" this could take him down a path to explore organic synthesis or polymeric science. "I'm still deciding between teaching and working in industry," says Alex. His experiences in the practical aspects of critical cleaning and his efforts to develop exercises that clearly demonstrate how cleaning works will have practical applications, whatever career path he chooses.