Product Quality Cleaning Workshop
NEW! Webinar on Cleaning Ferrous and Aluminum Products
---
Big News!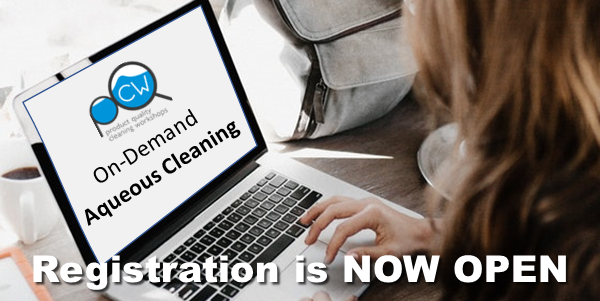 The Aqueous Cleaning On-Demand Course is LIVE!
Collaborative effort by the PQCW Instructor Team:
The Cleaning Lady - Barbara Kanegsberg, BFK Solutions
The Rocket Scientist - Ed Kanegsberg, BFK Solutions
The Professor - Darren Williams, Sam Houston State University
The online course will cover the following topics:
why clean, precision & critical cleaning
time, action, chemistry, and temperature (TACT)
cleaning forces, balancing TACT
facets of cleaning: wash/rinse/dry
physical and chemical properties of water, corrosion, types of water, pH, dilution, wetting, surface tension
aqueous cleaning agents formulations & functions
measuring contact angle, chemical labelling, tiny critters growing in the bath water
how ultrasonic cleaning works, ultrasonic metrics, product damage, fixturing, parts placement
flammability, and cyclic vacuum cavitation cleaning
The package also includes an individualized consulting call with a PQCW Instructor and a 4 hour continuing education certificate.
This is self-paced. You can register now and spread the work over several weeks. There are 4 1-hour videos and 4 learning check quizzes.

We offer a discount for MCA members. Email us to verify your MCA membership and receive a discount code worth $50.
We also offer group discounts of $50 per attendee from the same company. Email us for group registration instructions.
If you are looking for other topics, sign up to receive an email when new workshops are available.
---
Upcoming Webinars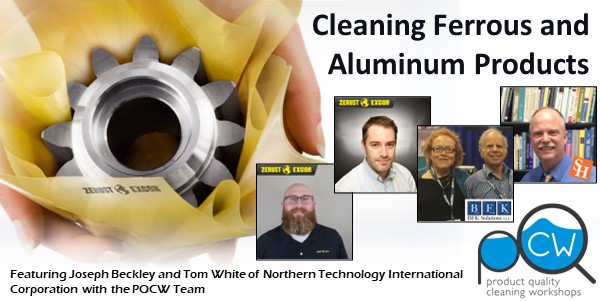 Join us for an insightful webinar on "Cleaning Ferrous and Aluminum Products - Controlling Aqueous Process Baths." This webinar will provide you with valuable knowledge and practical tips to ensure a reliable and efficient cleaning process for automotive, wind power, industrial, and agricultural industries. Here's what we'll cover:
Setting up and maintaining a reliable, rugged process: Discover the essential steps to establish and sustain a dependable cleaning process that meets your specific requirements.
How cleaner/RP chemistry works: Gain a comprehensive understanding of the chemistry behind cleaners and rust preventatives, empowering you to make informed decisions for optimal results.
Soil removal & Understanding soils: Learn effective techniques for soil removal and explore the different types of soils encountered in the cleaning process.
Surface quality/How clean is clean (cleaning specifications): Understand the standards and specifications for surface cleanliness, ensuring your products meet the desired quality standards.
Avoiding Corrosion & Surface Damage (various substrates): Uncover strategies to prevent corrosion and surface damage on different substrates, safeguarding your products' integrity.
Differences among cleaning chemistry based upon soils and substrates: Explore the variations in cleaning chemistry based on the specific soils and substrates encountered in your process.
Brix, conductivity, and titration for bath control: Learn how to effectively monitor and control process baths using key parameters such as Brix, conductivity, and titration.
Don't miss this opportunity to enhance your understanding of controlling aqueous process baths and optimizing your cleaning processes. Register now for our webinar and unlock the key to reliable and efficient cleaning solutions.
---

Quick Information For You
Past Workshops
Past Webinars
Scroll down to find the abstracts for all these webinars.
---
Details of the Product Quality Cleaning Workshop
The 2021 Workshop had a compelling, live and interactive online experience over the 16 hours of classroom and lab instruction.
Real-time cleaning exercises and demonstrations brought the attendees as close as possible to hands-on testing.
What will this Workshop do for you in the future?
We offer this workshop every other year, typically.
You can make better products and profits with better cleaning.
This workshop has been converted into a live and interactive online experience.
You will learn many practical ways to save money and how to avoid costly mistakes in cleaning.
Surely you want:
Consistently clean parts.

A positive reputation for your company. This often depends upon cleaning.

Technicians and managers who know how cleaning affects the bottom line.
To know how to troubleshoot cleaning problems.
The Product Quality Cleaning Workshop features:
16 hours of continuing education
8 hours of live and interactive class time
8 hours of live and interactive time in the lab cleaning parts and discussing equipment, cleaners, and pro-tips
What they say...
Spontaneous comments from 2021
"You folks did a great job. You covered it all. Zoom seemed to work well, your tech guy should get a medal."
"I have to admit, you kept me on my toes throughout the event by always interjecting the direct importance of physics and chemistry on cleaning, that part was great."
"I thought the workshop was amazing, great job! I really enjoyed attending it and learned quite a few things as well. Despite it having to be virtual, I thought you all did a fantastic job at explaining and demonstrating everything for others to understand."
Comments from 2018
PQCW: What activities/information did you find most valuable?
"The various cleaning processes available which I can relay to customers." - Mark
"lab activities & demonstrations - specifically the low-tech analytical techniques. ... Tying things to fundamental chemistry was very helpful." - 2018 Attendee
"One-on-one conversations" - Michael
"vapor degreasing (I had no previous knowledge)" - Chris
"FTIR, Raman, and fluorescence of surfaces" - Don
"Excellent workshop. I will recommend to others." - John
"All the lab activities were interesting & made me think about things I need to consider in my own lab work." - Carolyn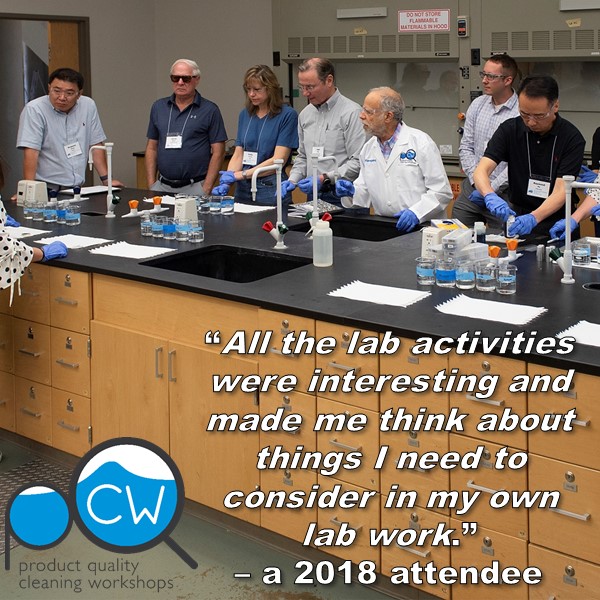 "Hands-on workshop was great. Standards discussion was informative. Overall great program, well organized!" - Mary
"As a chemist, I found the surface energy portions most valuable." - 2018 Attendee
"The general overview of cleaning and the introduction to cleaning processes [were most valuable]. I really enjoyed [the] foil testing explanation." - Rachel
---
Product Quality Cleaning Webinars
Here are the abstracts for all our past webinars. Those excellent webinars are offered for your benefit free of charge thanks to the generous support of our workshop sponsors.
---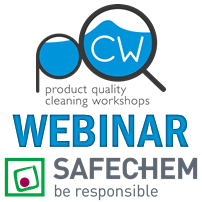 Modified alcohols as a future-proof, sustainable and compliant cleaning solution
Modified alcohols can be a long-term solution for effective solvent cleaning. They are free from PFAS, PERC, or other halogenated solvents. Cleaning with modified alcohols in closed cleaning systems can fulfill challenging technical requirements. The process is cost effective, meets regulatory requirements, and is sustainable. Michael will compare modified alcohol cleaning with aqueous cleaning and will discuss unique advantages of the modified alcohol solvents.
---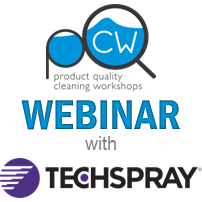 PFAS, the Recent 3M Announcement & Options for Critical Cleaning
Just in time for the holidays, 3M dropped a bomb in the critical cleaning industry by announcing that Novec solvents will be discontinued by the end of 2025. Customers who have already been dealing with unreliable deliveries of Novec solvents, now have to decide how to process this news and formulate a plan to keep their operation going. Paul Blair and Kevin Pawlowski with Techspray have over 40-years combined experience managing these types of transitions, including HCFC-141b and AK225. Techspray has immediate solutions to replace Novec solvents that can avoid the lengthy qualification process, and keep your critical cleaning process running without delay.
---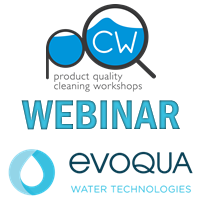 Wastewater Management for Aqueous Cleaning Processes with Evoqua Water Technologies
Aqueous cleaning operations use a wide variety of chemistries in several different process types. One thing they all have in common is that they generate wastewaters that must be handled appropriately and compliantly. One size does not fit all; just as cleaning wastewater composition varies from application to application, wastewater treatment options also vary depending on the contaminants as well as local requirements - and desires - for disposition of the treated wastewater. This webinar will discuss the totality of wastewater management, touching on not only appropriate cleaning wastewater treatment technologies but also the importance of wastewater characterization in identifying the correct treatment process for each application as well as considerations for post-treatment disposition of residuals.
---

Cleaning Tight Features and Small Lumen Tubing with Vacuum Cycle Nucleation (VCN)
Vacuum Cycle Nucleation is an immersion process that can use either aqueous or solvent cleaning chemistry. The basis of the process is to modulate the vacuum pressure in the processing chamber above and below the vapor pressure of the cleaning fluid causing vapor bubble to form and escape from within tight features. Join us to learn about this unique cleaning technique.
---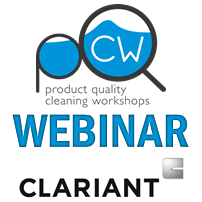 Post-machining Cleaning - an accelerated guide to nonionic surfactant chemistry in cleaning formulations
With the hundreds of available surfactants on the market to incorporate into a metal cleaning formulation, the task of picking the correct surfactant can be daunting. Understanding the chemistry of nonionic surfactants is vital for optimum performance.
In this webinar, the PQCW Team (Barbara and Ed Kanegsberg and Darren Williams) will interview Stephanie Cole of Clariant Corporation.
Stephanie will discuss how the backbone of nonionic surfactant chemistry can be altered in many directions to achieve ideal cleaning performance. Related test methods and starting formulations will also be discussed.
---
EPA Regulatory Happenings and Your Critical Cleaning Process
The second in the 2022 Product Quality Cleaning Workshop Series will be on February 8th at 10 A.M. US Central Time. The Cleaning Lady, The Rocket Scientist, and the Professor, (aka Barb Kanegsberg, Ed Kanegsberg, and Darren Williams) will give you updates and suggest approaches and options to keep your manufacturing facility productive. The interactive program will address your questions, concerns, and show you practical ways to safeguard manufacturing productivity.
Topics
• EPA TSCA overview (findings, actions, projected timelines)
• How EPA activities may change the way you do business
• Really low worker exposure levels – from the EPA!
• What if you use the chemicals being evaluated by EPA? (PCE, TCE, MC, nPB, and maybe eventually trans-DCE), should you worry?
• If you don't use those chemicals, can you stop worrying?
• If you're with a big company or the military, can you stop worrying?
• Avoiding panic reactions
• Steps to take now
---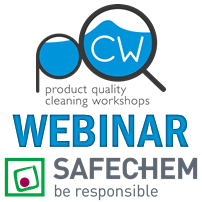 Overcome cleaning problems for critical applications - Compare modified alcohol, hydrocarbons, chlorinated solvents, and water
For many high precision industries such as aerospace, automotive or medical technology, parts cleaning – if not done properly – can have a detrimental impact on the manufacturing process. Insufficiently cleaned parts can affect many subsequent steps such as coating, welding, bonding, assembling and heat treatment. The choice of the right cleaning chemistry holds the key to an effective cleaning process – but how do you make the right decision?
Join the PQCW Team and SAFECHEM's Michael Onken as we will look at the key factors determining cleaning effectiveness. We will clarify the differences and unique strengths between chlorinated solvents, modified alcohols, hydrocarbons, and aqueous cleaning to help you assess their suitability for your process. Importantly, we will explain how closed cleaning equipment enables you to achieve greater cost efficiency while meeting the highest safety standards and sustainability goals.
In this webinar, you will learn about:
• What really matters in determining cleaning effectiveness
• Benefits and applications of different cleaning media
• Key considerations when assessing the suitability of a cleaning chemistry
• How the use of closed cleaning equipment fulfills technical, economic, safety and sustainability requirements
---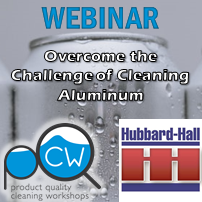 Mike Valenti of Hubbard Hall informed us on how to overcome the Challenges of Aluminum Cleaning. This was a VERY informative webinar.
Cleaning aluminum is far different and more challenging (one might say more aggravating!) than cleaning stainless steel. Metal finishers worry about over-etching, difficult stains and damaging expensive aluminum. This webinar will cover the basic principles that make aluminum unique, cleaners that remove stubborn contaminants and case studies on how to reduce the cost, complexity, and chemical consumption of cleaning aluminum.
Special considerations when cleaning aluminum:
How is the aluminum being used? Will a caustic soda based cleaner impact this?
What's the contaminant you are trying to remove?
Is over-etched aluminum a concern?
Have you thought about post-cleaning waste treatment?
---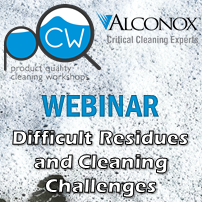 Many difficult and adherent residues require mechanical action and/or high emulsifying detergents. These are largely not feasible in automated washers, high-pressure, spray-in-air units and similar clean-in-place (CIP) systems. At these times, cleaning out of place (COP) is necessary. This may be manual cleaning like scrubbing or soaking, or use of an ultrasonic cleaner. Sign up to view our webinar (from Sep 14th) by Michael Moussourakis of Alconox Inc. who will highlight when COP cleaning is needed, cleaning qualifications and verification, and review of case studies.
---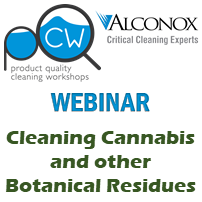 Register now to view our interview of Michael Moussourakis - the Senior Director: Technical Sales and Strategic Affairs at Alconox. He shared with us several case studies of Alconox's technical support in the expanding cannabis and botanical extract industry. Plant residues are incredibly complex and can be very difficult to clean, which makes this webinar a must-see for those worst-case cleaning scenarios.
---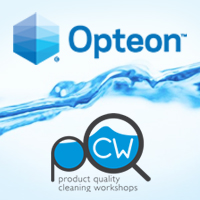 Cleaning and Vapor Degreasing with OpteonTM SF80
PQCW hosts Chemours™, makers of Opteon™ and Vertrel™ specialty fluids, to discuss critical cleaning solutions, and Opteon™ SF80, a new, low-GWP hydrofluoroolefin (HFO) based cleaning fluid. Barbara, Ed, and Darren interview Kathy Colon, the technical sales lead for Opteon™ and Vertrel™ specialty fluids.
---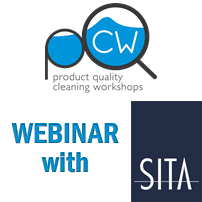 Quality product requires effective, consistent parts cleaning. Andre Lohse Of SITA Messtechnik explains techniques and instrumentation (contact angle and bubble pressure) for achieving quality assurance and improving process management, including methods and instruments for bath monitoring and cleanliness inspection of parts.
---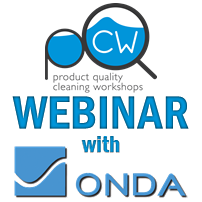 Ultrasonic cleaning is a dynamic process, and there are ways to monitor it that are more responsive and informative than the traditional metal foil test. With ONDA technology one can systematically monitor and control each parameter that impacts the ultrasonic cleaning process. Barbara, Ed, and Darren interview Petrie Yam, manager of sales, marketing, and operations at ONDA,
---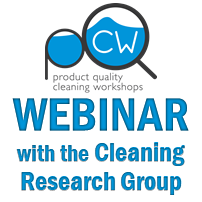 Standard soils can be the fastest way - sometimes the only way – to show whether or not cleaning is effective. Excellent dirt is soil that is consistent. Excellent dirt is stubborn enough to distinguish differences in cleaning systems. In this PQCWebinar, Tanner Volek of the Cleaning Research Group at Sam Houston State University explains his work designing standard soils and then testing them under different cleaning conditions. Tanner Volek graduate with a B.Sc. in Chemistry and was a Staff Lab Tech in the Cleaning Research Group (CRG) at Sam Houston State University.
---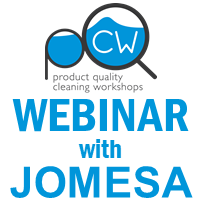 Join the PQCW team of Cleaning Lady and the Rocket Scientist Barbara and Ed Kanegsberg along with the Professor Darren Williams, as they interview Peter Feamster from JOMESA about Technical Cleanliness, Particle Counting, and Particle Identification using Scanning Electron Microscopy. If you are concerned with particle contamination, then this webinar is for you!
---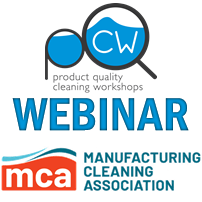 Learn about the newest association and the only one dedicated specifically to cleaning in the manufacturing sector.
Matt Gilmore will describe how the MCA will benefit YOU.
- Standardization - industry experts answering "how clean is clean?"
- Technical Support - publications, webinars, and virtual groups
- Networking - connecting at conferences, events, and online communities
- Employment - platform connecting members and employers
---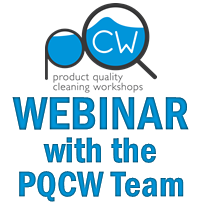 The Cleaning Lady and the Rocket Scientist Barbara and Ed Kanegsberg along with the Professor Darren Williams cover one of the key topics from our Product Quality Cleaning Workshop - Building a Defendable Cleaning Process. If you're in aerospace, electronics, medical, optics, automotive, metal finishing, or additive manufacturing, a defendable cleaning process provides confidence and saves money.
You need this webinar to
• Justify current cleaning processes
• Expedite process modifications
• Prepare for an efficient, effective validation
• Achieve successful audits and inspections
• Convincingly present the product to customers
• Cut production costs
• Improve yield, avoid product failure
Who should attend
• Engineering
• Operations
• Marketing
• Regulatory
---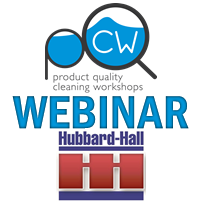 Metal finishers rely on aqueous emulsifying cleaners for effective surface prep in operations like plating, anodizing, and galvanizing. The "pinch point" is the downtime and costs associated with changing out and disposing of the baths. Mike Valenti of Hubbard Hall explains how a combination of an effective emulsifying cleaning agent with new, efficient filtration can dramatically reduce process downtime, cut the cost of cleaning chemistry (reclaim 95% of cleaning agent!), reduce waste and energy costs, and improve product quality.
---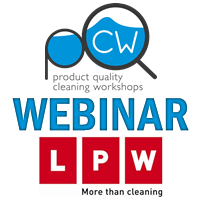 Gerhard Koblenzer and Hans Hauger of LPW explained the principles of CNp and contrasted the technique with ultrasonic cleaning. They provided case studies and demonstrations from the "LPW Test and Service Centre for Critical and Fine Cleaning," Aqueous cleaning systems designed with CNp technology have been successful in difficult (or seemingly impossible) cleaning situations such as Interiors of narrow tubes, blind holes, ornate parts, additive manufactured parts, porous surfaces, and surfaces that are easily damaged.
---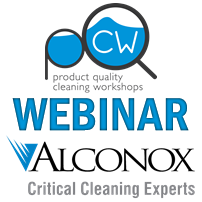 Jeff Phillips of Alconox discusses critical cleaning and cleanliness validation/verification with Barbara, Ed, and Darren. He explains how successful critical cleaning means setting up effective, consistent, documented cleaning processes. He provides an overview of what is involved in validation/verification. Learn about standards and work practices for cleaning process validation.
---

This webinar answers these questions and more: What are modified alcohols? What types of soils do they clean? What equipment is needed for their use? How can I evaluate if these methods apply to my situation? Barbara, Ed, and Darren interview Christian Roesener and Michael Onken of SAFCHEM.
Official Media Sponsor

Thank you Gardner Business Media, publisher of Products Finishing and Production Machining magazines, for your partnership as the official media sponsor of the Product Quality Cleaning Workshop.
Gardner Business Media is the premier publisher in the manufacturing sector and publishes brands that serve all aspects of discrete parts manufacturing. Products Finishing (application of coatings) and Production Machining (small parts machining) magazines have been serving their respective fields for decades. Once a quarter a Parts Cleaning Section is published between both magazines which provides the market the latest trends in technology along with best practices for cleaning professionals. This section publishes to over 50,000 subscribers and is the only trade journal in the US focused on industrial cleaning applications.