Product Quality Cleaning Workshop
Sign Up to Attend

Considering that the workshop is in May 2020, we are offering the ability to SAVE YOUR SEAT with a $200 deposit.* (This will be applied to the total cost of $1100)
This workshop has a strict capacity because of the hands-on activities. Save your seat so that you do not miss out.
Save the Date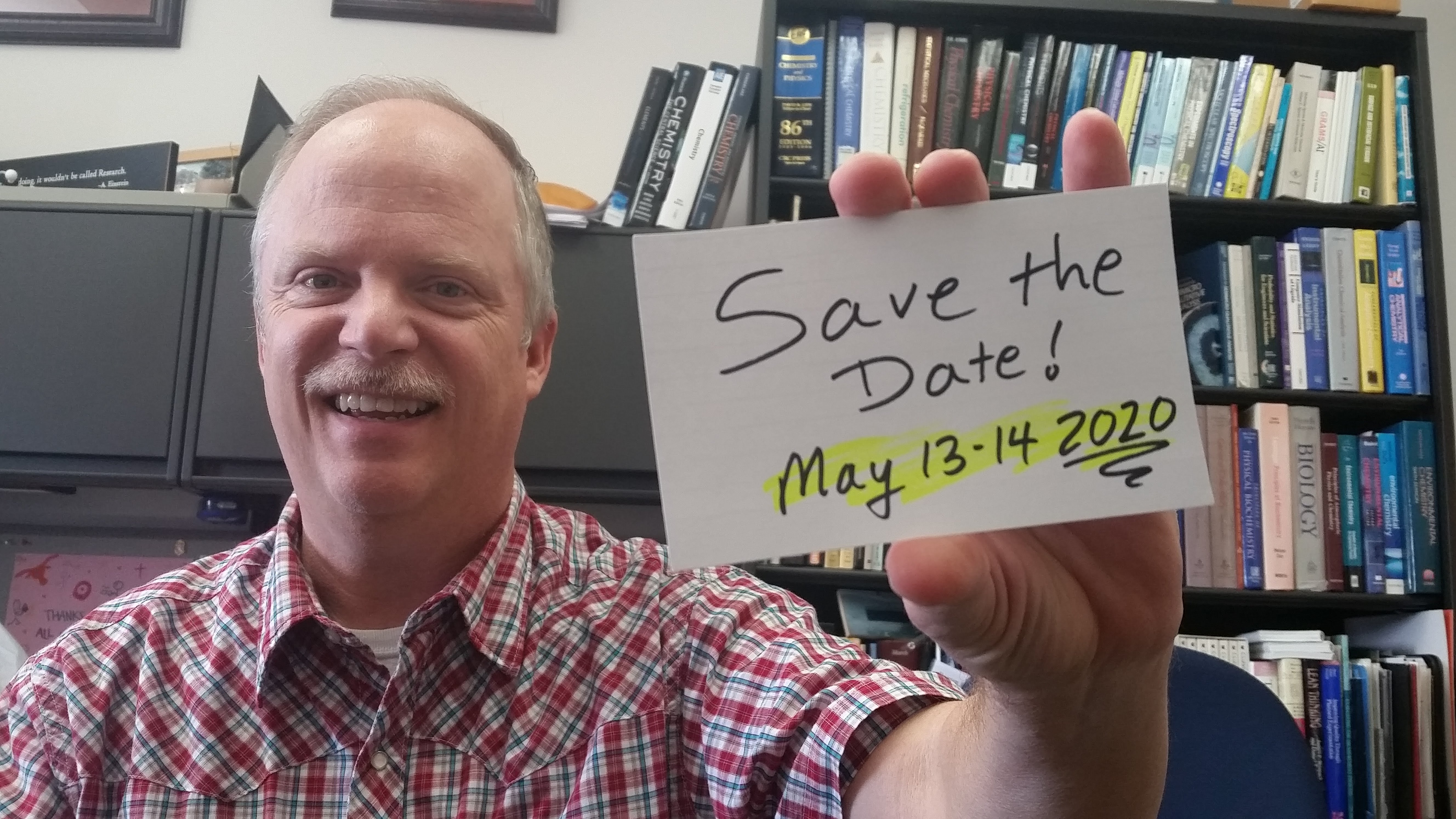 The next Product Quality Cleaning Workshop will be on May 13-14th 2020.
Building on the success of the 2018 workshop, we will feature
more hands-on lab experiences
wider selection of cleaning equipment in the lab
We thought the last program was outstanding, and so did our participants. Here are some of their responses from our workshop evaluations.

PQCW: What activities/information did you find most valuable?
"The various cleaning processes available which I can relay to customers." - Mark
"lab activities & demonstrations - specifically the low-tech analytical techniques. ... Tying things to fundamental chemistry was very helpful." - 2018 Attendee
"One-on-one conversations" - Michael
"vapor degreasing (I had no previous knowledge)" - Chris
"FTIR, Raman, and fluorescence of surfaces" - Don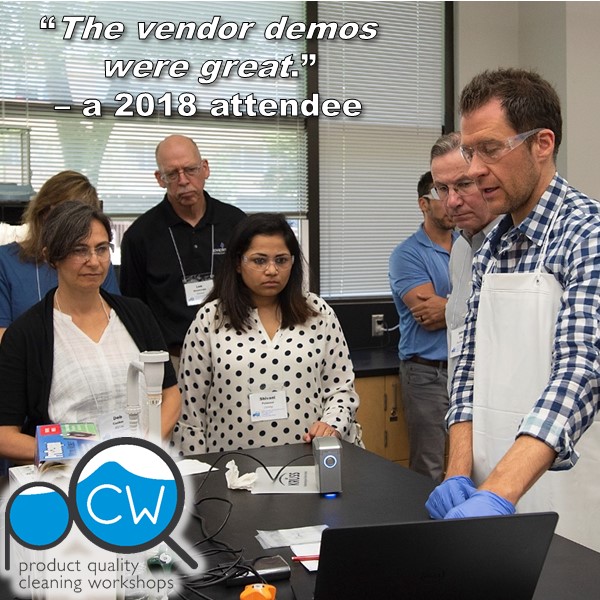 "The vendor demos were great." - Mike
"Excellent workshop. I will recommend to others." - John
"All the lab activities were interesting & made me think about things I need to consider in my own lab work." - Carolyn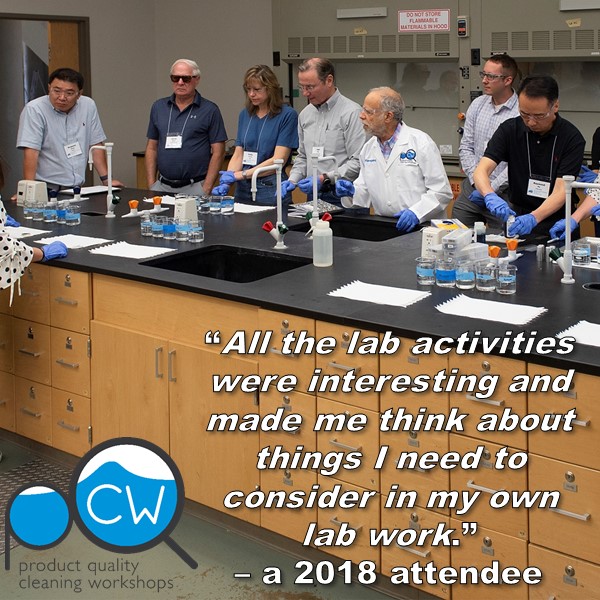 "Hands-on workshop was great. Standards discussion was informative. Overall great program, well organized!" - Mary
"As a chemist, I found the surface energy portions most valuable." - 2018 Attendee
"The general overview of cleaning and the introduction to cleaning processes [were most valuable]. I really enjoyed [the] foil testing explanation." - Rachel
Sponsors

We have received several requests from sponsors about the procedure for securing one of the limited sponsorship spots. You may sign up by providing a non-refundable $200 deposit via our secure marketplace.
Why sign up now? It makes sense. The earlier you join as a sponsor, the longer we have to promote your support. The Cleaning Research Group and our Partner BFK Solutions will advertise YOUR sponsorship of the Product Quality Cleaning Workshop on LinkedIn and other media outlets. Here is a list of our sponsorship opportunities.
___
*Refund Policy: We offer a 50% refund of the attendee deposit if requested before Feb 13, 2020. No deposit refunds are available after Feb 14, 2020. Special Cases: If someone accidentally purchases an attendee deposit, they can receive a full refund if they request it within 14 days of making the purchase.
___
Official Media Sponsor

Thank you Gardner Business Media, publisher of Products Finishing and Production Machining magazines, for your partnership as the official media sponsor of the Product Quality Cleaning Workshop.
Gardner Business Media is the premier publisher in the manufacturing sector and publishes brands that serve all aspects of discrete parts manufacturing. Products Finishing (application of coatings) and Production Machining (small parts machining) magazines have been serving their respective fields for decades. Once a quarter a Parts Cleaning Section is published between both magazines which provides the market the latest trends in technology along with best practices for cleaning professionals. This section publishes to over 50,000 subscribers and is the only trade journal in the US focused on industrial cleaning applications.