Product Quality Cleaning Workshop
Product Quality Cleaning Webinars
---
Future Webinars
Cleaning and Vapor Degreasing with OpteonTM SF80
Wednesday, October 28, at 10:30 AM Central US Time
PQCW hosts Chemours™, makers of Opteon™ and Vertrel™ specialty fluids, to discuss critical cleaning solutions, and Opteon™ SF80, a new, low-GWP hydrofluoroolefin (HFO) based cleaning fluid. This webinar is free of charge. The recorded version of the webinar will be made available to all registrants following the live event. Don't miss out and register today!
About our Speaker
Kathy Colon is the technical sales lead for Opteon™ and Vertrel™ specialty fluids. She champions the growth of several key markets, including the critical cleaning market. In previous roles, she's successfully supported the fluorochemical industry in different functions, including sales and engineering. As a student at heart, she enjoys learning about different markets and applying her technical knowledge in a commercial setting. In her spare time, she's an avid CrossFit athlete, who enjoys starting her day with a challenging fitness routine.
---
Recent Webinars
---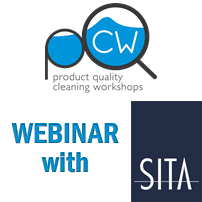 Join the PQCW Team with Andre Lohse of SITA MESSTECHNIK GMBH on October 14th.
Quality product requires effective, consistent parts cleaning. Andre Lohse Of SITA Messtechnik will explain techniques and instrumentation for achieving quality assurance and improving process management, including methods and instruments for bath monitoring and cleanliness inspection of parts.
The webinar is free of charge. Register now!
This is a Product Quality Cleaning Webinar brought to you by the Cleaning Research Group at SHSU and BFK Solutions.
The PQCWebinars keep you informed about the knowledge and skills you will gain by attending the Product Quality Cleaning Workshop #PQCW. This webinar is free because of the generous support of our sponsor SITA MESSTECHNIK GMBH
A link to the recording will be available afterwards.
---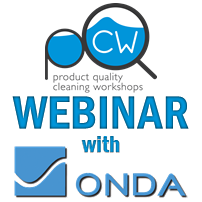 Don't be Foiled! Monitoring Ultrasonic Cleaning Processes with Hydrophones
(9/9/2020)
Watch the video and get the handout.
Ultrasonic cleaning is a dynamic process, and there are ways to monitor it that are more responsive and informative than the traditional metal foil test. With ONDA technology one can systematically monitor and control each parameter that impacts the ultrasonic cleaning process.
About Petrie Yam
Petrie Yam is responsible for sales, marketing, and operations at Onda, an ultrasound measurement instrument company. He enjoys all aspects of the job. However, what gets him most excited is making a positive impact with customers. This often consists of developing new methods to characterize novel ultrasonic devices. He has been actively involved with metrology and inspection in the high tech field over the last 20 years, serving in a variety of leadership roles.
---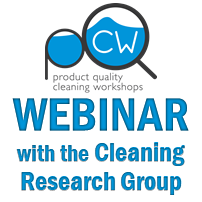 Excellent Dirt! Standard Soils for Evaluating Cleaning Processes
(9/2/2020)
Watch the video and get the handout.
Standard soils can be the fastest way - sometimes the only way – to show whether or not cleaning is effective. Excellent dirt is soil that is consistent. Excellent dirt is stubborn enough to distinguish differences in cleaning systems.
In this PQCWebinar, Tanner Volek of the Cleaning Research Group at Sam Houston State University explains his work designing standard soils and then testing them under different cleaning conditions. One excellent soil is even fluorescent pink!
About Tanner Volek
Tanner Volek is a Senior Chemistry major in the Cleaning Research Group (CRG) at Sam Houston State University. Tanner was born in San Antonio and grew up in Texas. He wasn't sure about going to college since he had a good job that he enjoyed, but a friend persuaded him to apply to SHSU. Once he began his general chemistry course, he switched his major from biology to chemistry, and then met Professor Darren Williams, head of the CRG.
Since joining the CRG, Tanner has determined the Hansen Solubility Parameters for many substances, co-designed a vacuum cavitation device, and has created/tested several standard soil recipes.
---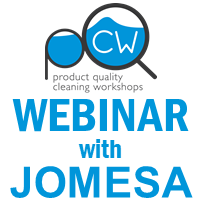 What is this Particle? And will it kill my part or assembly?
(8/5/2020)
Watch the video and get the slides.
Join the PQCW team of Cleaning Lady and the Rocket Scientist Barbara and Ed Kanegsberg along with the Professor Darren Williams, as they interview Peter Feamster from JOMESA about Technical Cleanliness, Particle Counting, and Particle Identification using Scanning Electron Microscopy.

If you are concerned with particle contamination, then this webinar is for you!
Aerospace, electronics, medical, optics, automotive, metal finishing, or additive manufacturing, will learn about the latest technology in particle counting and identification.
About Peter Feamster
Born and raised in Southeast Michigan, he is a fan of all things Detroit. His favorite thing about growing up in Michigan is a love for sports as well as the outdoors. He is a fanatic of the Detroit Red Wings and has been playing hockey since he could walk. He graduated in 2010 from Central Michigan University with a degree in Business Administration. He married his wife in September 2016, and they are happily living in South Lyon, MI with their dog Obie. In his free time, he spends a lot of time cooking, hiking with his wife, or gardening.
His professional career has been focused on manufacturing cleanliness starting with his time at Durr Ecoclean in 2011. There he learned the importance of parts cleaning as well as the technology and science behind it. He is fortunate to now work for a company like JOMESA which is built on technical cleanliness expertise and innovation. In this role he has learned a lot about the industrial production process and all of the ways in which cleanliness is affected. He loves to learn and he looks forward to the future!
---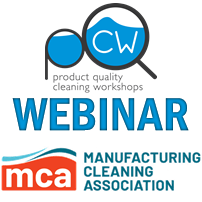 NEW Manufacturing Cleaning Association
(7/29/2020)
Get the video and the slides to learn more.
Learn about the newest association and the only one dedicated specifically to cleaning in the manufacturing sector.
Matt Gilmore will describe how the MCA will benefit YOU.
- Standardization - industry experts answering "how clean is clean?"
- Technical Support - publications, webinars, and virtual groups
- Networking - connecting at conferences, events, and online communities
- Employment - platform connecting members and employers

Don't miss this unveiling of the Manufacturing Cleaning Association!
About Matt Gilmore and Lori Beckman
Director of Membership and Business Development with Gardner Manufacturing Association Solutions (GMAS) and Executive Director of the newly formed Manufacturing Cleaning Association (MCA). Matt has over ten years of experience in association management and strategic development focusing on such areas as: membership growth, sponsorship engagement, program development, and government affairs mostly with manufacturing trades associations. In his off hours, Matt spends most of his time trying to make his sons better soccer players.
Lori Beckman, senior editor for Production Machining, has been reporting on, writing and editing content for the brand since 2003. She is also the editor of the parts cleaning section of Production Machining and Products Finishing brands, covering the manufacturing parts cleaning segment of the industry. She has attended the parts2clean trade show in Germany, is a member of the board of directors for the new Manufacturing Cleaning Association and is co-chairperson of the Parts Cleaning Conference. Lori regularly visits industry trade shows and interviews precision machine shops and OEMs to write valuable content for the industry.
---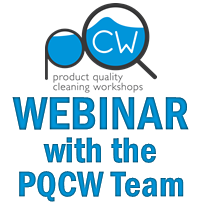 Building a Defendable Cleaning Process
(7/22/2020)
Get the video and the handout.
The Cleaning Lady and the Rocket Scientist Barbara and Ed Kanegsberg along with the Professor Darren Williams gave a 30-minute session covering one of the key topics from our Product Quality Cleaning Workshop - Building a Defendable Cleaning Process.
If you're in aerospace, electronics, medical, optics, automotive, metal finishing, or additive manufacturing, a defendable cleaning process provides confidence and saves money.
You need this webinar to
• Justify current cleaning processes
• Expedite process modifications
• Prepare for an efficient, effective validation
• Achieve successful audits and inspections
• Convincingly present the product to customers
• Cut production costs
• Improve yield, avoid product failure
Who should attend
• Engineering
• Operations
• Marketing
• Regulatory
---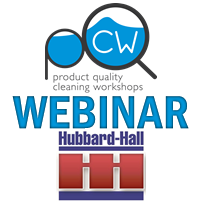 Reduce Downtime, Cut Costs in Aqueous Surface Prep Lines
(7/15/2020)
Get the video and the handout.
Metal finishers rely on aqueous emulsifying cleaners for effective surface prep in operations like plating, anodizing, and galvanizing.
The "pinch point" is the downtime and costs associated with changing out and disposing of the baths.
Mike Valenti of Hubbard Hall explains how a combination of an effective emulsifying cleaning agent with new, efficient filtration can
dramatically reduce process downtime
cut the cost of cleaning chemistry (reclaim 95% of cleaning agent!)
reduce waste and energy costs
improve product quality
About Our Speaker
A graduate of the University of Georgia, Mike Valenti has over 25 years of experience in specialty chemical development and product management. He has been involved in the development and sales of specialty chemicals, detergents and cleaners, and metal finishing products. First with Milliken Chemical, and then with Hubbard-Hall, his experience has included recommending cleaners – both aqueous and solvent cleaning processes – non-ferrous surface preparation, equipment, and testing protocols for a wide range of the requirements for critical metal finishing operations.
---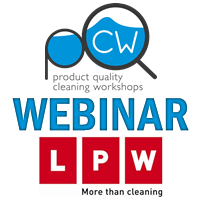 Cyclic Nucleation Process (CNp)
(7/8/2020)
Get the video and the handout.
Gerhard Koblenzer and Hans Hauger of LPW explained the principles of CNp and contrasted the technique with ultrasonic cleaning. They provided case studies and demonstrations from the "LPW Test and Service Centre for Critical and Fine Cleaning," Aqueous cleaning systems designed with CNp technology have been successful in difficult (or seemingly impossible) cleaning situations such as
Interiors of narrow tubes
Blind holes, ornate parts
Additive manufactured parts, porous surfaces
Surfaces that are easily damaged
The dynamic presentation will benefit manufacturers in aerospace, medical and other high-value applications.
About our speakers
Gerhard Koblenzer, managing owner of LPW, has been active in the company for about 20 years. In the past 12 years, he developed the company from an automotive supplier to a specialist in the highest requirements in the field of critical cleaning. Before joining LPW, he was a professional officer at the German Light Mountain Infantry. Gerhard Koblenzer is chairman of the "Process and Fluid Technology" committee of the German cleaning technology association "FiT"

Hans Hauger has been the responsible development manager at LPW since 2015. He supports the expansion of the company's fine cleaning division with a variety of development projects. Based on many years of international experience in the engineering and process design of fluid and cleaning systems (e.g. semiconductor industry), Hans Hauger was involved in the implementation of a large number of patents.
---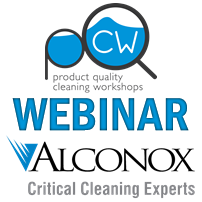 The Dirty Secrets of Cleaning Medical Devices
(7/1/2020)
Watch the video and download the handouts.
Gain essential insights to build defendable cleaning processes and enhance manufacturing opportunities. Jeff Phillips of Alconox – a very entertaining speaker – will discuss critical cleaning and cleanliness validation/verification with PQCW instructors. He will explain how successful critical cleaning means setting up effective, consistent, documented cleaning processes. He will also provide an overview of what is involved in validation/verification – in demonstrating an acceptably low level of residue. Learn about standards and work practices for cleaning process validation.
If your company
• supplies parts or components to medical device manufacturers
• supplies parts for high-value aerospace, optics, or electronics
• assembles medical devices
• assembles high value product
• wants to expand to supply medical device manufacturers
this fast-paced webinar will provide an effective framework for achieving reliable cleaning and demonstrating "how clean is clean enough."
Product Quality Cleaning Webinars are brought to you by the Cleaning Research Group at SHSU, and BFK Solutions.
PQCWebinars keep you informed about the knowledge and skills you will gain by attending the Product Quality Cleaning Workshop #PQCW. This webinar is free because of the generous support of our sponsor Alconox.
About Jeff Phillips
Jeff Phillips has over 20 years of experience in the medical device industry. His expertise includes optimizing and troubleshooting critical cleaning processes, analytical chemistry, training manufacturing personnel in critical cleaning, as well as validation and verification.
---

Cleaning with Modified Alcohols
(5/20/2020)
Watch the video and get the handout.
We discussed.
What are modified alcohols?

What types of soils do they clean?

What equipment is needed for their use?

How can I evaluate if these methods apply to my situation?

And more...
The PQCWebinars keep you informed about the knowledge and skills you will gain by attending the Product Quality Cleaning Workshop #PQCW. These webinars are free because of the generous support of our sponsors. The Workshop is still planned for early next January.
---
The Product Quality Cleaning Workshop
What will this Workshop do for you?
You can make better products and profits with better cleaning.
This workshop provides hands-on training in the lab and comprehensive instruction in the classroom. So you will know how to save money and how to avoid costly mistakes in cleaning.
Surely you want:
Consistently clean parts.

A positive reputation for your company. This often depends upon cleaning.

Technicians and managers who know how cleaning affects the bottom line.
To know how to troubleshoot cleaning problems.
The Product Quality Cleaning Workshop will help you with all of the above!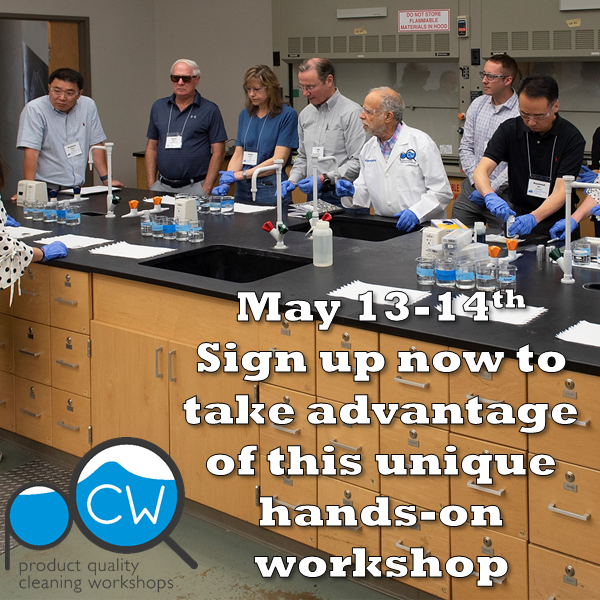 The next Product Quality Cleaning Workshop will be on May 13-14th 2020.
Building on the success of the 2018 workshop, we will feature
more hands-on lab experiences
wider selection of cleaning equipment in the lab
We thought the last program was outstanding, and so did our participants. Here are some of their responses from our workshop evaluations.

PQCW: What activities/information did you find most valuable?
"The various cleaning processes available which I can relay to customers." - Mark
"lab activities & demonstrations - specifically the low-tech analytical techniques. ... Tying things to fundamental chemistry was very helpful." - 2018 Attendee
"One-on-one conversations" - Michael
"vapor degreasing (I had no previous knowledge)" - Chris
"FTIR, Raman, and fluorescence of surfaces" - Don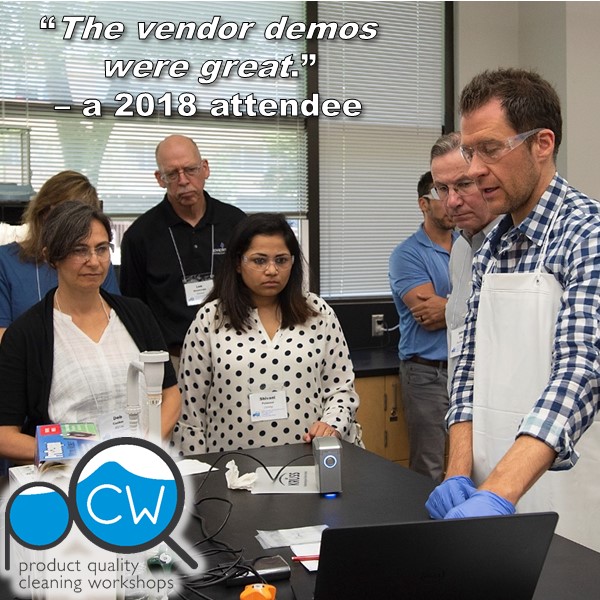 "The vendor demos were great." - Mike
"Excellent workshop. I will recommend to others." - John
"All the lab activities were interesting & made me think about things I need to consider in my own lab work." - Carolyn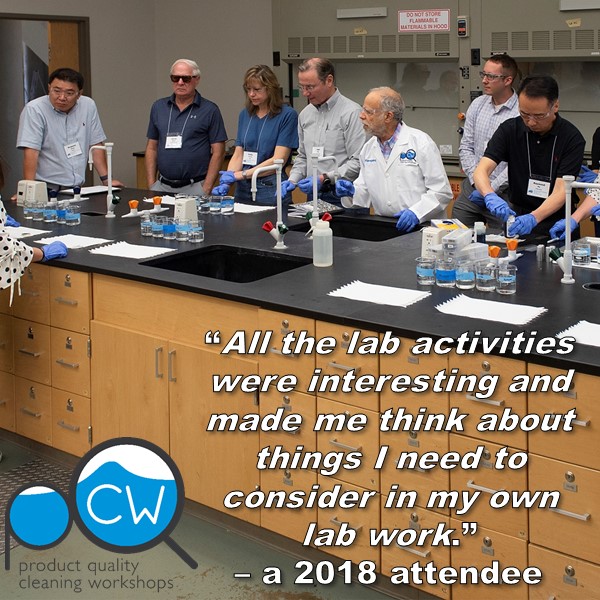 "Hands-on workshop was great. Standards discussion was informative. Overall great program, well organized!" - Mary
"As a chemist, I found the surface energy portions most valuable." - 2018 Attendee
"The general overview of cleaning and the introduction to cleaning processes [were most valuable]. I really enjoyed [the] foil testing explanation." - Rachel
---
Sponsors
Our Table Top Sponsorship space is full. However, there is a possibility of space opening up. Please inquire about a sponsorship to place your name on the waiting list.

Here is a list of our sponsorship opportunities.
Follow us on Social Media to see how your sponsorship is being acknowledged
Official Media Sponsor

Thank you Gardner Business Media, publisher of Products Finishing and Production Machining magazines, for your partnership as the official media sponsor of the Product Quality Cleaning Workshop.
Gardner Business Media is the premier publisher in the manufacturing sector and publishes brands that serve all aspects of discrete parts manufacturing. Products Finishing (application of coatings) and Production Machining (small parts machining) magazines have been serving their respective fields for decades. Once a quarter a Parts Cleaning Section is published between both magazines which provides the market the latest trends in technology along with best practices for cleaning professionals. This section publishes to over 50,000 subscribers and is the only trade journal in the US focused on industrial cleaning applications.