American Democracy Project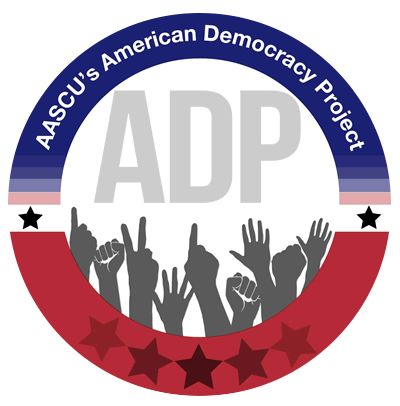 The American Democracy Project (ADP) is a project jointly sponsored by the American Association of State Colleges and Universities (AASCU) and the New York Times.
First, the ADP nationally is a response to a fundamental concern: declining participation in civic life by younger Americans. This decline is symbolized by a decline in voting in presidential elections and is widely documented, e. g., by Robert Putnam in Bowling Alone.
Two keys individuals, Tom Ehrlich, former President of Indiana University, now with the Carnegie Foundation for the Advancement of Teaching, and George Mahaffey, Vice-President, Academic Leadership and Change for AASCU, met at a conference and formulated the outline of a project to turn around this trend, and to move Americans, especially college and university students, toward civic "re-engagement."
Thus was born the American Democracy Project, and now there are nearly 200 AASCU universities participating in the project. In the words of the AASCU ADP website: "The goal of the project is to produce graduates who understand and are committed to engaging in meaningful actions as citizens in a democracy."
ADP Committee Members
Ashly Smith
Beth Shively
Bob Maninger
Chuck Mize
Emily Cabaniss
Steven Koether
Velvet Nelson
Zach Doleshal
Jon Brown
Kevin McGowan
Max Walling
Nathan Jones
Paul Eaton
Susan Strickland
Wesley Boyd
Rebecca M. Bustamante