ELITE/evolve Program Earns National Grant
Feb. 1, 2023
SHSU Media Contact: Campbell Joseph Atkins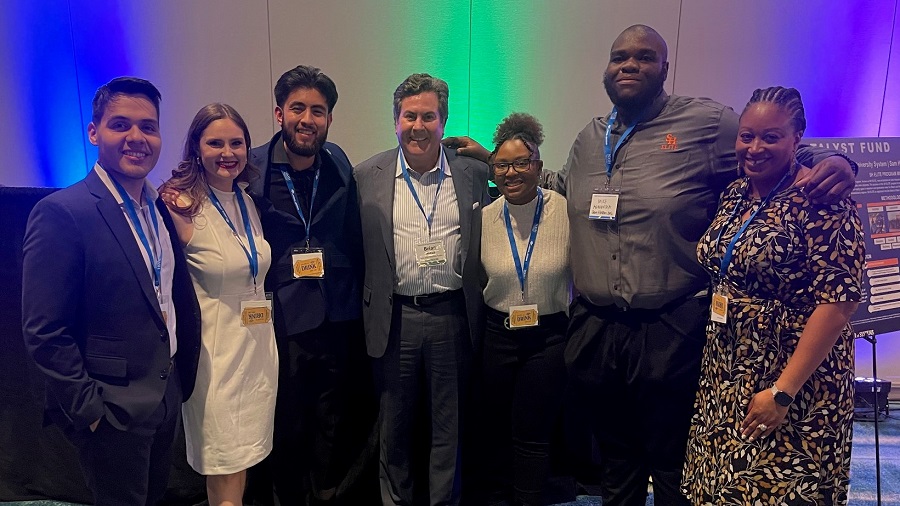 Sam Houston State University's ELITE & evolve programs received a $10,000 grant from the National Association of System Heads' (NASH) newly launched Catalyst Fund.
The fund encourages broad engagement of system members in sharing promising practices that are leading to equitable student success outcomes scalable to fellow systems. The Texas State University System is a member of NASH.
"ELITE & evolve are dedicated to fostering intentional community and meaningful campus engagement," said Tiffany Driver, ELITE & evolve assistant director.
ELITE (Establishing Leadership In & Through Education) is a minority male success program established in 2010 to help increase minority retention and graduation rates. Similar to ELITE, the overall intention of evolve is to provide retention-based support services for female students, especially SHSU's transfer population.
"We want transfer females to value their undergraduate experience and finish at SHSU," Driver said. "The program is comprised of four components that provide holistic educational experiences and opportunities in support of its mission, to help students evolve as scholars, as women and as professionals." 
Evolve participants work towards developing a sense of community and belonging, along with receiving specialized student support services for their success in integrating into the SHSU experience.
Evolve participants attend small group meetings, are mentored by faculty and staff, invited to exclusive speaker series events, attend leadership and professional development programs and monthly social events. Members are also constantly connected with the entire evolve community through messaging platforms.  
ELITE seeks to enhance the University experience for men of color. Through active engagement in extra-curricular activities and events, ELITE supports the achievement of its members by facilitating intentional community, civic engagement and personal and professional development.  
ELITE participants attend small group meetings led by their peers, are invited to exclusive speaker series events featuring program alumni and professional men of color and attend leadership and professional development programs and monthly social events.
"Members are constantly supported by one another through bi-weekly Brotherhood Roundtables," Driver said.
Driver, along with four program students, Rachel Hill, David Alcala, Kayla Hoover and Michael Agwuncha, along with outreach specialist Edwin Cantu, attended the NASH Superconvening Conference in Washington D.C. to share about the programs with other members of NASH and formally accept the grant offer.
Driver also stated that funds would be used to directly to support and enhance events and programming for ELITE & evolve participants and provide funding for study abroad opportunities and academic supplies that aid in overall student success.
Founded in 1979, NASH represents chief executives of the 65 public higher education systems in the United States. Member institutions work collaboratively to advance innovation and change in public systems of colleges and universities.
"As an incubator of best practices, NASH is proud to have launched our innovative Catalyst Fund," said Dr. Nancy Zimpher, director of the Power of Systems at NASH. "Its impact will be far reaching but the concept is simple: through pooled philanthropic support, NASH is recognizing and incentivizing the development of systems' big ideas that, once proven to work, have the potential to be scaled not only within systems but at peer systems across the country."
- END -
This page maintained by SHSU's Communications Office:
Director of Content Communications: Emily Binetti
Communications Manager: Mikah Boyd
Telephone: 936.294.1837
Communications Specialist: Campbell Atkins
Telephone: 936.294.2638
Please send comments, corrections, news tips to Today@Sam.edu