SHSU ELITE Program Recognized For Work With Latino Students
Sept. 22, 2015
SHSU Media Contact: Jennifer Gauntt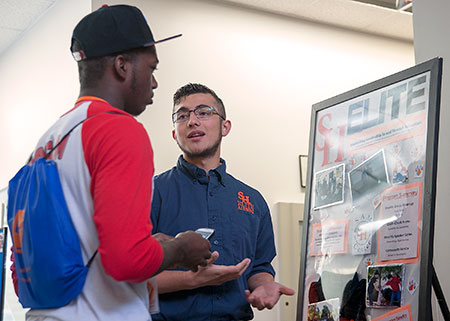 The SH ELITE program actively recruits male minority students in an effort to increase retention and graduation rates for the population. National graduation rates for male minority students are among the lowest and have statistically been between 35-47 percent. —File photo by Brian Blalock
Recognizing that only a fraction of Hispanic and African American men who enter college actually graduate, Sam Houston State University, in 2010, created the Establishing Leadership In and Through Education program.
SH ELITE, as it is known on campus, targets freshman men from those demographics by requiring participants to attend seminars and monthly speaker programs, work together in small groups, and do community service, while receiving support from the university's Student Advising and Mentoring Center.
Because of the strides the program has made in helping male Latino students overcome the odds, SHSU's ELITE program was recently recognized in Excelencia in Education's 2015 edition of "What Works for Latino Student Success in Higher Education," America's largest inventory of proven practices for accelerating degree completion among Latinos.
"Earning a spot in Excelencia in Education's 2015 edition of 'What Works for Latino Student Success in Higher Education' has served as encouragement to continue to fulfill the objectives we strive to achieve," said Miguel Arellano Arriaga, SH ELITE coordinator and program alumnus.
The recognition was announced on Tuesday (Sept. 22), when elected officials and higher education leaders from across the country converged in Washington, D.C., to announce the national finalists. SHSU was selected as one of 20 finalists for the designation from among 265 programs from 30 states, Puerto Rico, and the District of Columbia.
Since its inception, SH ELITE's methodology has proven effective. Participants have demonstrated a double-digit increase in retention following their first year and almost three times the four-year graduation rate.
In addition, SH ELITE students maintain an average 2.98 GPA, more than half a point higher than the GPA of the general population from those same demographics.
Second-year student Xavier Perry, who now serves as an SH ELITE mentor, said the program shaped him into "an all-around study guard" by guiding him through his study flaws and bad habits.
"Being a member of SH ELITE makes me proud to be who I am. I am a member of an elite, no pun intended, group of men who just want to succeed. We are all hungry to do better than what the world may think; we can do we can only build and continue to grow stronger," Perry said. "The most important thing I have taken away from this program is that there are no limits, or ceilings, for those who want better for themselves."
Another program alumnus, Jaren Crist, who now directs study hall and tutoring services, reiterated the "profoundly positive way" SH ELITE has impacted him.
"Through ELITE I learned to rely on others and that I have the potential to do so much more than I thought I could," he said. "ELITE impacted my life by becoming a part of my life. I always feel incredibly proud to wear my ELITE shirt and to reach for the ideals ELITE sets out before its members."
One of the program's most important components is its drawing together of the participants to give them the stability that many young college students lose when they move away from their parents.
"There have been countless times where I have seen fellow ELITE members help one another purely because they are also part of ELITE," Crist said. "There is a certain sense of camaraderie within the program that genuinely makes me happy to be in it. Just like a family, we are there to pick each other up when the going gets rough or you have every major project and tests all due in the same week.
"This family-like connection in ELITE is one of the things that I feel will continue to propel the program to bigger and better things," Crist said.
The SH ELITE program is sustained by the SHSU SAM Center but has also sought out grant funding and other support, as well as volunteer speakers, as it continues to grow.
"Although the university graciously funds our current efforts, we continually seek additional funding through grants and gifts to expand the program thereby allowing SH ELITE to impact a greater number of students," Arellano Arriaga said.
Excelencia in Education is a non-profit organization dedicated to ensuring the success of Latino students in higher education by promoting student achievement, conducting analysis to inform educational policies, and advancing institutional practices while collaborating with those committed and ready to meet the mission.
Examples of Excelencia is the only national initiative to systematically identify and promote evidence-based programs and departments effectively boosting Latino enrollment, performance and graduation.
"As one of this year's finalists, Sam Houston State University is at the forefront improving higher educational achievement for Latino students and we congratulate them for their current and continued efforts," said Sarita Brown, president of Excelencia in Education. "By increasing awareness of top programs like this, informing program strategies, and reinforcing investment in what works, Examples of Excelencia is creating new energy and inspiring a network of action-oriented leaders to discover and implement innovations that are effective with Latino and other post-traditional students."
Examples of Excelencia was inspired by former First Lady Hillary Clinton's 1999 Convening on Latino Youth, a historic, first-ever White House gathering that resulted in the publication, "What Works for Latino Youth." To mark this year's 10th anniversary, Clinton produced a special video tribute that premiered during today's program.
To download "What Works for Latino Student Success in Higher Education," visit EdExcelencia.org.
- END -
This page maintained by SHSU's Communications Office:
Director of Content Communications: Emily Binetti
Communications Manager: Mikah Boyd
Telephone: 936.294.1837
Communications Specialist: Campbell Atkins
Telephone: 936.294.2638
Please send comments, corrections, news tips to Today@Sam.edu