Events
Eight SHSU faculty-undergraduate student teams have the "green light" to begin summer-long research thanks to EURECA Center grants.




The College of Business Administration will award 10 scholarships after three seminars raised $40,000 for students.




Bearkats can learn about the LGBT climate on campus and issues related to sexual orientation diversity on April 21-22.



Earth Week

A series of events designed to make SHSU more sustainable, April 14-22. Click the link above for a schedule.

Good Friday Holiday

Classes will not be held and SHSU will close at noon on April 18.

Bearkat Softball

Series vs. Abilene Christian will include a 4 p.m. doubleheader on April 18 and at noon on April 19 at the Softball Complex.
See Calendar >>
Spotlight
SHSU English students find a source of personal enrichment in their coursework. They develop verbal, analytic, and cultural skills that are readily adaptable to a variety of careers. The department offers a Bachelor of Arts degree in English (with and without a teaching certification), and minors in English, creative writing, technical and professional writing, and a minor in English with a standard secondary certification. Students in the Master of Arts program can qualify for a number of graduate assistantships. The department's 27 faculty members represent a wide range of disciplinary foci, teaching courses in British, American, world, and multicultural literature; creative writing; rhetoric and composition; technical and professional writing; and linguistics.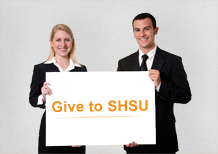 SHSU Main Campus
1806 Avenue J
Huntsville, TX 77340
(936) 294-1111
(866) BEARKAT
The Woodlands Center
3380 College Park Drive
The Woodlands, TX 77384
(936) 202-5000
University Park
20515 SH 249
Houston, TX 77070
(281) 290-2900