Professional Development Conference
In existence since 2011, Staff Senate's Professional Development Conference (PDC) is designed to provide quality professional and personal development in a convenient location at no cost. This annual one-day conference is held the Tuesday of spring break with registration open to all university staff members.
PDC aims to:
Provide a forum for the exchange of ideas and learning experiences
Develop strategies and best practices through collaboration
Assist in the professional and personal development of university staff members
Encourage staff to connect with others across campus to enhance cooperation and camaraderie
---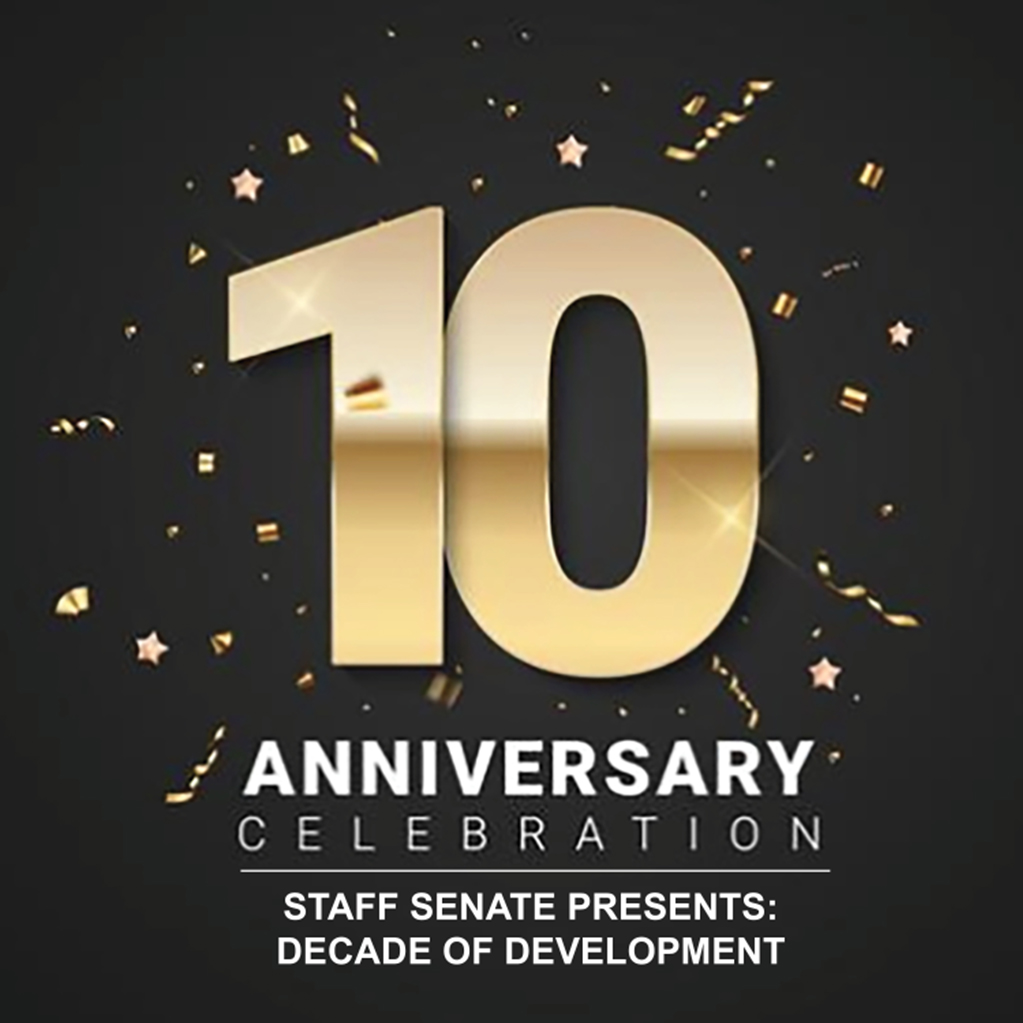 SCHEDULE
Tuesday, March 15, 2022
Lowman Student Center
Check-in/Breakfast
8 – 9:00 a.m.
OPENING SESSION
9 – 9:50 a.m.
10th Anniversary Celebration
Orange Ballroom - Presenter: Past President James Gaertner
SESSION ONE
10 – 10:50 a.m.
Strategies for Increasing Self-Awareness for Leaders in an Intersectional Workplace
LSC 230 - Presenters: Chris O'Brine, Tess Johnson, & Shantha Stokes
Presenters will highlight the growing body of research related to a workplace where intersectionality is undeniable. Leaders will be challenged to increase their self-awareness around their leadership style and leadership practices as it relates to a diverse workplace where there is an increasing presence of employees with intersectional identities. Attendees will have an opportunity to self-examine what informs their current leadership practice, and evaluate their practice of leadership as it relates to supporting employees in a diverse workplace through a lens of intersectionality. Finally attendees will be encouraged to use their own self-awareness as the fuel to implementing culturally sensitive practices and use self-awareness as a conduit to changing systemic patterns of leadership that work against supporting a diverse culture of intersectionality.
Avoiding Disaster: What Simulation Healthcare Can Teach Us About Preparation and Learning
LSC 241 - Presenter: Chas Stephens
The School of Nursing utilizes its simulation lab to expose students to scenarios they may not see prior to entering the workforce. This sort of training reinforces procedures that are instrumental in saving lives. The methods employed in healthcare can be applied to other areas of higher education as well. This session will address gaps in our knowledge, how to better assess ourselves, how we learn, and how we can perform better in our current positions.
SESSION TWO
11 – 11:50 a.m.
What Everyone's Not Talking About: Becoming Aware of Your Emotional Labor, Avoiding Compassion Fatigue, and Renewing Your Professional Energy
LSC 230 - Presenters: Laura Corley, Tess Johnson, and Amber Sechelski
In this presentation, we will define emotional labor and explain how it can contribute to compassion fatigue, especially for higher education staff. We will also discuss the importance of taking care of oneself to maintain the energy needed to engage in daily emotional labor for the long term. We will share various strategies and collaborate with participants in creating their own.
I Heart Inclusion - Creating Access & Removing Barriers
LSC 241 - Presenter: Nu Epps
This session will examine how personal identifiers shape social life and access to opportunity in organizations . Descriptive patterns of behavior will be explored that support systems of oppressive behavior. Interactive case studies will examine types of oppression and provide best practice guidance for establishing social equity in diverse work communities. After this presentation, attendees will be able to: Understand Privilege and Socialization, Understand The Oppression Ladder, Understand Types of Social Oppression, Understand the Cycle of Socialization, and Apply Anti-Oppression Practices to encourage inclusion in the work place and beyond.
KEYNOTE/ LUNCHEON
12 – 1:30 p.m.
Decade of Development
Orange Ballroom - Presenter: President Alisa White
SESSION THREE
1:45 – 2:35 p.m.
Millennials in, Millennials out: The Rapid Departure of Young Professionals in Higher Ed
LSC 230 - Presenters: Victoria White & Jalon Berry
Having lived through the great recession and experiencing instability in the job market, many millennials were dependent on a college degree to provide them with job security and financial stability. Many of these degreed millennials entered the higher education profession fueled by passion and purpose but were hit with a global pandemic. As a result of the pandemic, these young higher ed professionals are experiencing burnout, low morale, and an increase in needs from both students and administrators without adequate compensation. This session will explore the mass exodus of millennials and potential ways to combat the loss of a generation in our field.
Understanding the Clery Act: The Basics
LSC 241 - Presenters: Maegan McKerrow & Paul Morris
Session is intended to give an overview of what the Clery Act is, what you should be aware of and how to stay compliant at SHSU. Being compliant requires all of us to understand our roles and responsibilities.
SESSION FOUR
2:45 – 3:35 p.m.
Elevate: Making SHSU a Heathy Place to Work, Learn and Live
LSC 230 - Presenters: Erica Bumpurs, Melissa Fadler, & Lindsey Lopez
This session will provide an overview of Elevate, our healthy campus initiative and wellness committee for the SHSU campus. It will be an interactive session focused on the 8 dimensions of wellness and resources on campus to support wellness. We will also review past Elevate initiatives and seek input for future events.
The New Career Success Center - Scaling Career Development Across Campus
LSC 241 - Presenter: Benji Cantu
SHSU is reimagining and redesigning Career Development into the new Career Success Center. In this session, participants will hear about the new ideas and plans for scaling these efforts across campus. Participants will also get a chance to provide suggestions for how the Career Success Center staff can partner with campus offices and areas to provide career development to all levels of students at SAM. If your office employs student workers, come hear about how you can provide career development opportunities to those students. Finally, the Career Success Center will highlight the three new functions of the department to provide exceptional services to students, alumni, faculty, staff, and employers.
---