Come join the Staff Senate for a Spooktacular time
Let's get spooky, Bearkats!
Staff Senate is hosting the annual Spooktacular Breakfast on Friday, October 29, from 8:30 – 10:30 a.m. in the Lowman Student Center White Ballroom.
Join your colleagues for scary good tacos complete with all the fixin's, and compete for a chance to win multiple prizes for the most spooktacular individual pumpkin and costume and group costume. That's right; you can enter all three categories if you dare. There will also be a photo booth on-site to capture all of the fun and for you to snap a social media worthy picture! We even conjured up a way for you to participate if you can't attend in person.
Register in-person by 9:30 a.m. on the day of the event or virtually by emailing staffsenate@shsu.edu between 8-9 a.m. Although you may enter each category, you may only enter the contests in-person or virtually.
Rules and registration information below. Please contact Staff Senate at staffsenate@shsu.edu if you have any questions.
We can't wait to see you!
Donations of nonperishable food items to benefit the SHSU Food Pantry are requested (not required) upon entrance.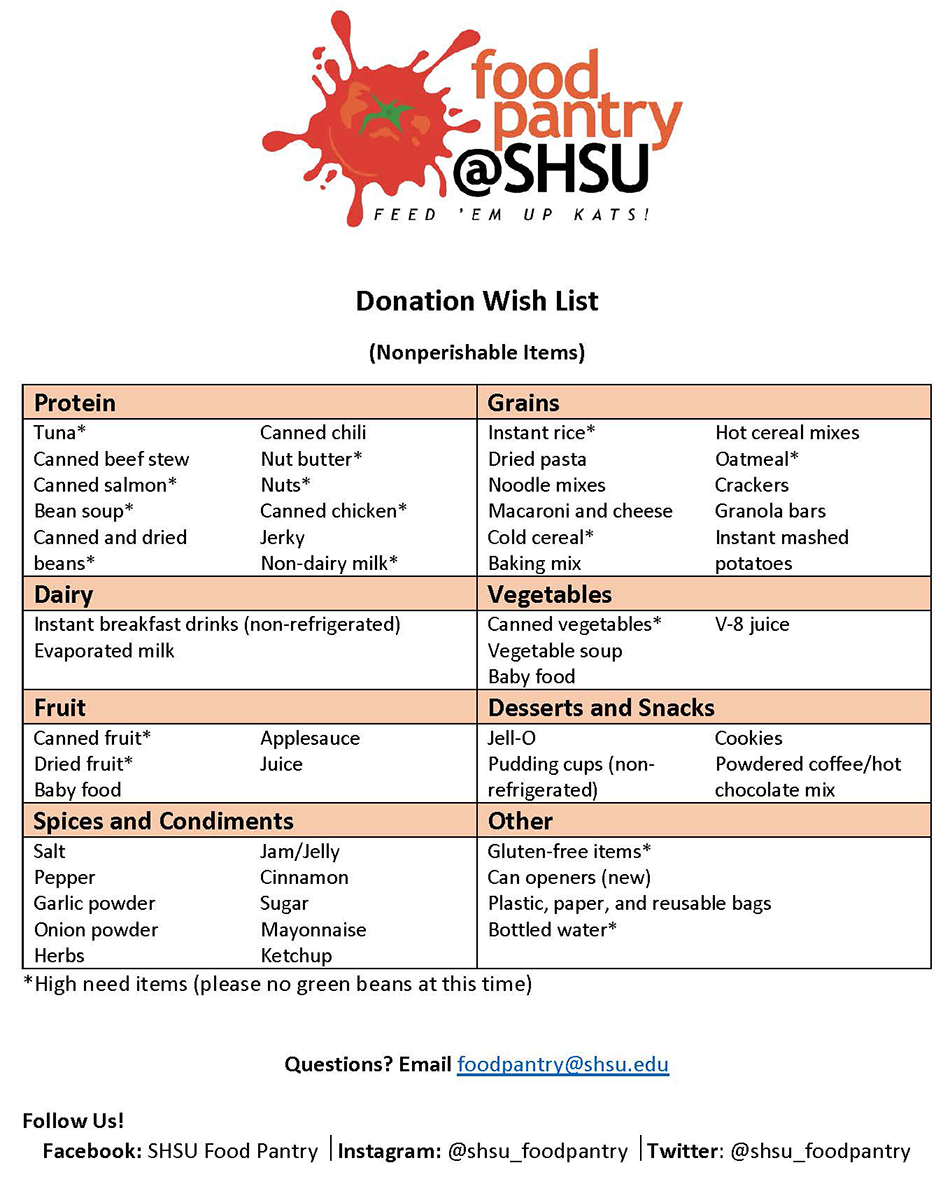 Contest Rules and Registration
Prizes for in-person and virtual participants
• Most Spooktacular Individual Costume
• Most Spooktacular Group Costume
• Most Spooktacular Individual Pumpkin
In-person Contest
• 8:30 – 9:30 a.m. - Register in person the day of for contests
• 9:30 a.m. - Have your pumpkin on the table for judging
• 10:00 a.m. - Costume contestants gather at stage for judging
• 10:25 a.m. - In-person Costume & Pumpkin winners announced
Virtual Contest
• 8-9 a.m. - Submit entries via email to staffsenate@shsu.edu (Entries accepted ONLY during this timeframe)
• Noon - Virtual Costume & Pumpkin winners announced on Social Media (QR codes below)
Additional Information
• Contestants can participate in more than one category. For example, you may enter in the individual pumpkin decorating, costume, and group costume contest.
• Individual or group can only enter in person or virtually – Not both.
• Virtual contestants will be separate, not going against those at the in-person event.
• To be counted in the virtual contest, please email entries on Friday, October 29, 2021, between 8:00 to 9:00 am. Entries before or after will not be considered.
• Virtual participants will need to submit entry photos to staffsenate@shsu.edu and include the following:
o The category you're entering
o Names of the participants
o Department name(s)
o Point of contact name, email, location, and phone number
• The pumpkin decorating contest is an individual entry.
• Staff Senate can participate in the contests. However, they can't judge the contest they enter.