Bearkat Camp Parent Portal
Dear newest SHSU Parents/Guardians:
Congratulations on joining the Bearkat Family!
Our goal with Bearkat Camp is to help your student successfully transition into the campus. We strive to accomplish this with two main goals in mind:
Find a sense of community. Finding a sense of community and friends is vital to the transition process into a campus community. Our goal is for each student to leave with at least one person they can consider a friend and source of companionship and support on starting this new journey. We want your student to find other students like them to attend events with and have familiar faces in the dorms and dining halls.
Experience the Spirit, Pride and Tradition of Sam Houston State University. Your student is the spirit, pride, and tradition of SHSU. We want your student to experience and feel that spirit, develop that pride, and learn the traditions they are now a part of. We don't want your student to just go to school, we want them to be a Bearkat!
So how do we do this?
Activity based programming: This isn't a sports camp, but we do use activity to help students engage on a deeper level. Why? Typically, when we are engaged in activities and play, we are our most authentic selves because we aren't thinking about saying the right thing or looking a certain way. When we are our most authentic selves, we are more capable of making meaning connections with others.
Counselor Mentors: Our volunteer counselors are committed to helping your student have a safe and fun experience at camp. Students are put into groups with two counselors and those counselors assist students in discovering the spirit, pride, and tradition of SHSU both in themselves and others. The counselors also aid those students that need a little extra help in coming out of their shells to make those peer network connections. Our counselor mentors are also available to students after camp and during the school year for questions your students may have and periodically reach out to check on the students as they navigate their first semester at SHSU.
How do we know Bearkat Camp works?
99% of former campers would recommend Bearkat camp. Our campers are also more likely to stay and graduate from Sam Houston State University. Why? Because over 90% of our campers surveyed say they fostered interpersonal relationships at BKC, they felt better prepared to be a student at SHSU, and felt this program generated a sense of pride in SHSU.
What can you do as a parent to help your student prepare for a successful first semester?
Register your student for Bearkat Camp! We talk to many students during every camp season, and while many of them are excited about being at camp, so many students state that their parent/guardian made them come to camp. I would say a majority of those campers that were made to come to camp had an incredible experience and do not regret being forced to come. Which I then get to promote parents/guardians as rock stars that sometimes do in fact know what you need despite what you might want. Check out our student testimonial from our former camper/counselor/lead staff member Julia Garcia below to read her story.
Visit our Parent FAQs for questions we commonly receive and if you have additional ones, please reach out to us at 936-294-CAMP or bearkatcamp@shsu.edu
Thanks,
The Bearkat Camp Team
Student Testimonial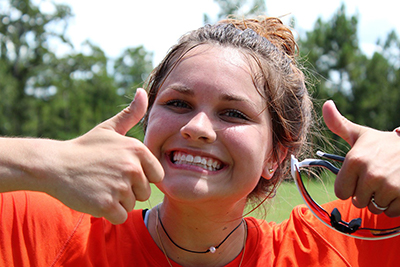 Hi there! My name is Julia Garcia and I graduated from SHSU in the Spring of 2021. Many things attributed to my success and passion for this university. I was involved heavily in many different aspects of college life. But, if there was one program I could thank, it would have to be where my journey started - at Bearkat Camp.
I come from an extremely small school and town, graduating high school with only 60 kids. In places like that, it's very easy to be a big fish in a small pond and much like my college career, I was very involved in high school. Starting college, however, was something very foreign. I was moving over 3 hours away and I chose to attend a university where I didn't know anyone. I'm not typically a shy person but, as I'm sure most of your children can relate, the idea of college was uncomfortable and terrifying.
My mom tagged along with me to my freshman orientation and while she was in a parent session, she decided to sign me up for Bearkat Camp. To say I was furious is an understatement. I was already nervous about starting school and being outdoors was NOT my style; I liked a wall and a window now and then. I couldn't believe that she had done this without my permission. Isn't being able to make your own decisions a part of being in college?! I didn't want to go one bit. But she refused to take my name off the list. "It's already paid for so you're going. You'll make so many friends!", she told me.
I look back almost 4 years later as I'm writing this and have to reluctantly utter the words: my mother was right. While I was hesitant to give Bearkat Camp a chance, by the time Day 4 came, I already knew I wanted to become a counselor and eventually make my way up to Lead Staff – the student directors of camp. I'm so lucky to say that I did indeed return as a counselor for 2 years and was chosen as Lead Staff for my third and final year with the program.
My camp experience molded me into the person I am today. It taught me valuable lessons and gave me a place to grow and thrive. I met my best friends at camp who I still keep in close touch with. Many accomplishments of my college career simply would not have been possible without Bearkat Camp. It is the best way for students to discover their authentic selves and start their college journey. I highly recommend signing your student up, even if they'll be mad that you do. Eat 'Em Up Kats!
Don't Just Go To School... Be a Bearkat!
---
Contact Campus Rec
936.294.1985 | campusrec@shsu.edu
Facebook Twitter Instagram Youtube
Download a map of the Campus Rec Center
---
Fitness Classes | Intramural Sports | Facility Availability Calendar | Reservation Form
---