Military Science Alumni Club
Club Home Heritage Project Scholarships Online Museum
Service * Friendship * Networking
---
Get to know our MSAC Members
Larry Chaney 88'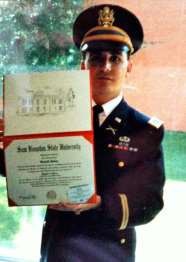 Larry majored in Criminal Justice at SHSU. While there, he was a member of Schuder's Rangers, Scabbard & Blade, and the Cannon Crew. He had prior service in the Field Artillery.
Larry graduated and was commissioned Infantry in 1988 (Class year '89). His assignments include; 8 Years of combined service as both an Enlisted 13B Artillery NCO (E-5) and Commissioned 11A Infantry Officer (O-2). 42nd Field Artillery Brigade, V Corps, Giessen, Germany; 1st Cavalry Division, III Corps, Fort Hood, Texas; 49th Armored Division (now the 36th Infantry Division), III Corps, TXARNG/SMP- ROTC Cadet, Palestine, Texas; U.S. Army Infantry School, Fort Benning, Georgia; 2nd Armored Division (Forward), VII Corps, Garlstedt, Germany and later attached as the 3rd Maneuver Brigade to the
1st Infantry Division (Mechanized) during deployment to Saudi Arabia for Operations Desert Shield/Storm (Saudi Arabia, Iraq and Kuwait); Walter Reed Army Medical Center, Military District of Washington, D.C.
During that time, he received Combat Infantryman Badge, Ranger Tab, Parachutist Badge, Army Achievement Medal w/oak leaf cluster, Good Conduct Medal, National Defense Service Medal, Southwest Asia Service Medal w/individual campaign stars, Army Service Ribbon, Army Overseas Ribbon w/numeral 2, Kuwait Liberation Medal (Saudi Arabia), and Kuwait Liberation Medal (Kuwait).
LC was medically retired from the Army from wounds received in Iraq. He now works for the DOJ.
Advice for Cadets: Besides trusting the very-experienced and Senior NCOs, Land Navigation should never be taken lightly-especially in the Combat Arms. EVERYTHING I learned about proficient LandNav was in SHSU ROTC. I later went on to max the night LandNav course in U.S. Army Ranger Class 6-90. A GPS system is only good as long as it doesn't lose power or is destroyed. You must be proficient in "old-school" LandNav techniques. During Operation Desert Storm/ODS, I took part in one of the largest tank battles in history as part of the VII "Armored" Corps out of Germany. I was involved in the horrendous nighttime passage of lines through the 2ACR and Movement to Contact engagement at the famous Battles of "73 Easting" and "Objective Norfolk"/a/k/a "75 Easting") in Iraq. Entire U.S. Coalition and Iraqi Armored and Mechanized divisions clashed in a chaotic nighttime battle that in my sector alone, crushed the Iraqi Republican Guard Forces Command's 3rd Mechanized "Tawakalna" Division (and other supporting Iraqi Armored Brigades).
In an incredible sight and as far as the eye could see on either flank, there were Battalion-sized armored wedge formations from the huge VII Corps' 6 on-line Divisions (technically 5 Divisions because during Operation Desert Storm, 2AD (Forward) was attached to the 1st Infantry Division (Mechanized) as their 3rd maneuver Brigade while the 2AD "Tiger" Brigade based at Fort Hood, was attached to the 1st Cavalry Division in the same manner, then later detached and then re-attached to the 2nd U.S. Marine Corps Division). The 2ACR (the same unit which made the current LTG McMaster a "household" Armored Cavalry hero during ODS) was VII Corps' probing element. The 1st, 2nd, and 3rd ADs; 1st CAV, 1st ID (Mechanized), and the British 1st AD, rounded out VII Corps. In 1991, the U.S. Army had 18 Active Divisions. 8 Army Divisions and 2 ACRs alone took part in ODS-and that doesn't include the 1st and 2nd Marine Corps Divisions for a grand total of 10 U.S. Divisions and 2 ACRs. You wouldn't believe it unless you saw it with your own eyes.
Since GPS was new technology in Operation Desert Storm in 1991, only 2 GPSs were issued per company-1 for the C.O. with the Rifle Platoons and 1 for the 1SG following in the HQ Platoon and Combat Trains. Operation Desert Storm was mainly fought in a featureless desert terrain Armored/Mechanized combat domain. You had to constantly maintain disciplined vehicle formation and distance while simultaneously engaging Iraqi Armor and Dismounted Infantry in bunkers. On top of that, it was pouring rain, late at night, and burning and exploding Iraqi armored vehicles (and hundreds of Iraqi KIA laying in the sand) had to be navigated around. Night Vision Goggles/NVGs were difficult to use due the incredible amount of destroyed brightly-burning vehicles. Constant dismounted compass azimuths and the odometer on our M-2 Bradley Infantry Fighting Vehicles was how we navigated in Iraq almost 30 years ago if a vehicle fell out of formation and needed to catch up to the main element. Eventually, there was intense Close-Quarter Combat where friend and foe were badly intermixed. The result was record amounts of U.S. fratricide ("Friendly Fire"). Of the 148 U.S. battle deaths alone, 1/3 were due to fratricide-especially by the 4th day of the nonstop ground combat such as at the Battles of "73 Easting" and "Objective Norfolk"/a/k/a "75 Easting". Positive target identification is very difficult at best when you've been in combat for 96 hours straight, in inclement weather, confusingly intermixed with the enemy, and it's also nighttime.
I was but one of the many victims of battlefield fratricide. I'm not angry because I myself, will never know if I too accidentally engaged U.S. troops in all the incredible 360-degree chaos. I commanded a Platoon of 33 Soldiers and 4 M-2 Bradley Fighting Vehicles/BFVs in combat. Both mine and my wingman's BFVs (the Alpha Section) were accidentally engaged and destroyed by 2 American M-1 Abrams MBTs during ODS. The driver of my wingman's BFV was KIA. Our Battalion as a whole lost 7 KIA and 6 BFVs destroyed. I finished my career recuperating at Walter Reed Army Medical Center (WRAMC) for 4 months until I was medically discharged. With the Soviet Union collapsing shortly thereafter, 8 Active Army Divisions were retired as the Army rapidly shrunk due to the end of the Cold War. The 5th ID, 6th ID, 7th ID, 8th ID, 9th ID (Motorized), 24th ID (Mechanized), 2nd AD, and 3rd AD all sadly folded their very historic flags. I have no regrets and I treasure the incredible training in Army Leadership and Comraderies which made for a smooth transition for me into a very successful and rewarding career with the U.S. Department of Justice. Remember, one day, the Army uniform will go into the closet-whether it's 3 or 30 years of service. I always smile when I think of where I am today, beginning with my ROTC training at SHSU. Hooah!
---
About The MSAC
The Military Science Alumni Club (MSAC) officially came into being on July 26, 2013, when the Alumni Association Board of Directors approved the charter petition for the club. Made up primarily of former military officers, all having been in the Army ROTC Program at Sam Houston State University, the club is open to anyone who completed at least one semester of the military science curriculum at the University, is a spouse of someone who has done so, or has been recognized by the club for his or her military science education or participation during their lifetime.
The primary mission of the Military Science Club is to provide scholarship, financial, and leadership support to the Military Science Department of the University, working closely with the Professor of Military Science, the Military Science cadre, and the student members of the Bearkat Battalion. Informally formed several years ago, the group has provided scholarships to deserving cadets each semester for more than a decade. The scholarship is named after Army Captain Rowdy J. Inman, Class of 2000, who was killed in Iraq in 2007, while leading his men in combat. Captain Inman was the first Military Science graduate of Sam Houston killed in the War on Terror.
There is a social side to the new club as it brings together so many old friends from times past who met at Sam Houston and developed life-long friendships and associations based on the shared experiences of the Bearkat Corps of Cadets, student life at the University and their military experiences. Periodically, the group gathers informally to share memories and catch up with one another, family and friends.
The Military Science Alumni Club is literally international in its reach, with members currently living throughout the Unites States, Central and Eastern Europe, and in other parts of the world. The club leadership is dedicated to growing the club into a significant, contributing member of the Alumni Association.
Anyone interested in helping support the Bearkat Battalion by joining MSAC can email the club directly at shsumsac@gmail.com. Those already associated with the regional clubs of the Alumni Association are encouraged to associate with the Military Science Alumni Club as no additional dues are required.
---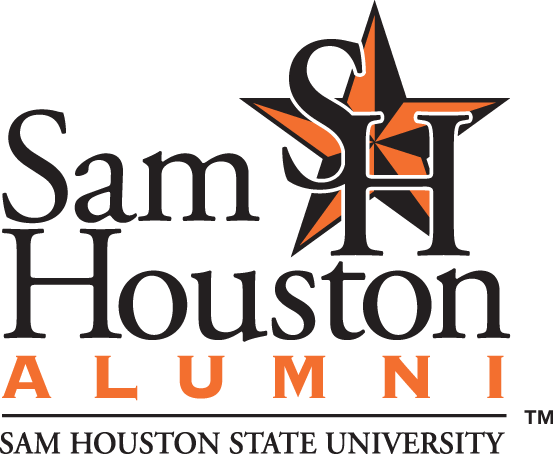 If you would like to receive communication about Military Science Club events,
please email shsumsac@gmail.com.