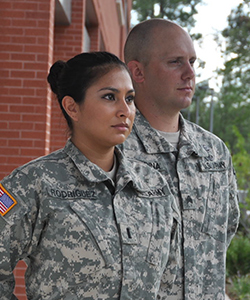 Discover What Sam Houston State University Can Do For You
SHSU has the programs and people in place to help you pursue your goals. The Veterans Resource Center (VRC) is dedicated to assisting veterans and dependents of veterans with the transition into university life.
Additionally, veteran students receive unprecedented support from VetSuccess on Campus, a collaboration between SHSU, the VA, and Vet Center personnel in order to better serve the men and women who have honorably served our country.
Apply for Admission to a Degree Program
The same application is used for admission to a bachelor's degree program or master's degree program with on-campus or online classes.
2. Send transcripts to SHSU
Send applicable transcripts (college/university transcripts and military transcripts).
Mail official college transcripts to:
Sam Houston State University
Undergraduate Admissions Office
Box 2418
Huntsville TX 77341-2418
Or send electronic official college transcripts to Sam Houston State University (code: 003606).
Please note that the Undergraduate Admissions Office does not accept fax or emailed college transcripts.
3. Apply with the VA
Visit va.gov to learn which benefit you are eligible to receive and to complete the Veterans Online Application for GI Bill benefits.
If the VA finds you eligible, they will mail you a "Certificate of Eligibility" or an "Award Letter" with information about your benefit. Please contact the Veterans Resource Center at 936-294-1046 to learn how to submit your Certificate of Eligibility on the MySam Portal.
4. Review benefits and procedures
Learn more about the policies and procedures for requesting and processing your GI Bill benefit and/or Hazlewood Exemption.
Financial Aid Benefits
For tuition assistance programs, service members should begin the process by contacting their education advisors or ESOs or seek approval from installation commanders.
6. Complete the "Request for Certification" form
Please contact the Veterans Resource Center at 936-294-1046 once you have applied, been accepted, advised and are registered for classes. The VRC will put links on your MySam Portal where you will submit your request form and documents. Emailed, faxed and paper documents and forms are no longer accepted.
You must do this every semester and complete a separate request for summer, if applicable.
Transfer on Military Credits
Eligible veteran students may be automatically accepted if they meet the following requirements:
Graduated from an accredited public or private high school
Completed at least two years of active duty in the armed forces
Honorably discharged from the US armed forces
Has no college credit or has less than 12 hour
If you meet the requirements please complete the Military Service Credit Request (HB 269). Please email the completed form to admissions@shsu.edu.
---
Application Deadlines for Undergraduate Applicants
Fall: August 1
Spring: December 1
Summer: May 15