With a personal passion to give back, faculty show why SHSU is a great name in service.
In addition to the multiple ways our esteemed faculty exemplify the university motto every day through their profession, it is no surprise that many are also leading by example outside the classroom in their service to others and their community. Devoting personal time, talents and passion to serve the public good, here are just a few examples of how SHSU faculty are making important, personal contributions to society.
---
Vicky Lantz, PhD
Assistant Professor, Department of Theatre & Musical Theatre
Volunteer, Camp Goodtimes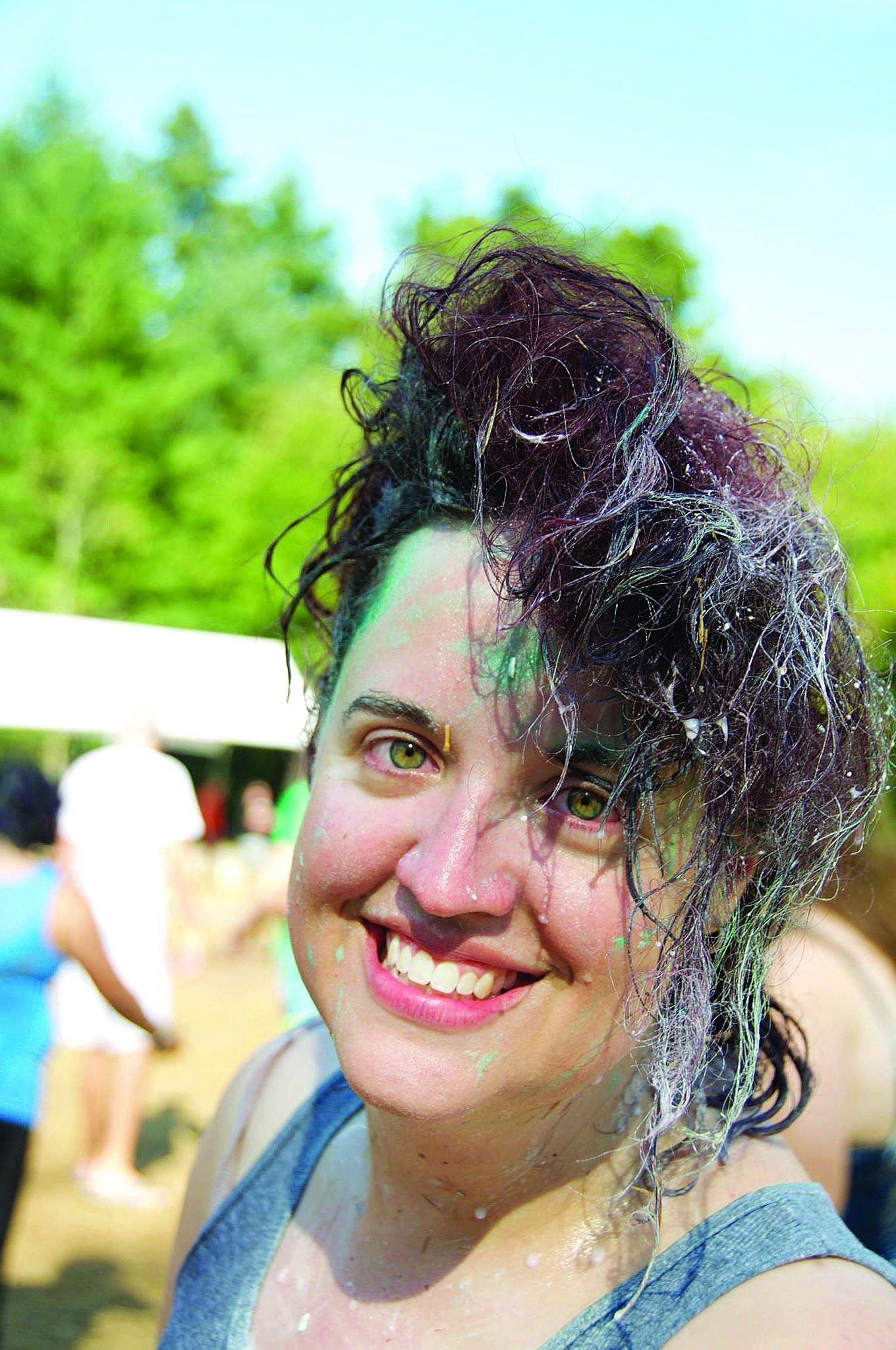 When Vicky Lantz's husband, Nick, was diagnosed with cancer in 2013, there was no way of knowing the positive impact those challenging six months at M.D. Anderson would have on her future.
"It was incredibly difficult, and after his treatment, I wondered how to be productive after such an experience with cancer," she said.
Less than a year later, she learned one of her closest friends had applied to volunteer for a pediatric oncology camp in the Pacific Northwest and Lantz found her calling. In summer 2014, the Camp Goodtimes chapter of her life began.
The Goodtimes Project is a non-profit organization that brings hope, love and joy to families dealing with a pediatric cancer diagnosis through camps, events and community. Camp Goodtimes embraces the concept that regardless of experience and health, campers can and should have a week where cancer takes a backseat to fun.
Lantz has held various positions over the past six years as a camp volunteer. Starting out as a "Spontinator," she was in charge of bringing spontaneous joy all around camp.
"It is explosive, dynamic and fun. As a 'Spont', you do the camp-wide whipped cream fight, which is messy and one of the most fun experiences you never knew you were missing out on."
To engage more directly with campers, she became a part of Cabin Assistance Personnel, working with one cabin for a full week, helping kids adjust to camp to ensure a successful experience.
Lantz sees drama as an opportunity for genuine expressions of fun and emotion.
"It also encourages empathy, and helps people connect through play. I utilize my years of experience in theatre for youth to help campers emotionally engage with each other, dive into imaginative play and problem solve in positive and proactive ways," she said.
Her theatre skills also come in handy for emceeing camp events, leading songs and creating skits and movies. Plus, her amusing costume creation talent is (clearly) top-notch.
"I always love the way we welcome kids to camp, with a gauntlet of super- excited staff dressed up in fun, bright outfits dancing and singing as all the kiddos parade in. It is two hours of amazing energy."
---
Diane L.H. Neudorf, PhD
Sibyl Bucheli, PhD
Chris Randle, PhD
Professors of Biological Sciences
Girl Scout Troop Leaders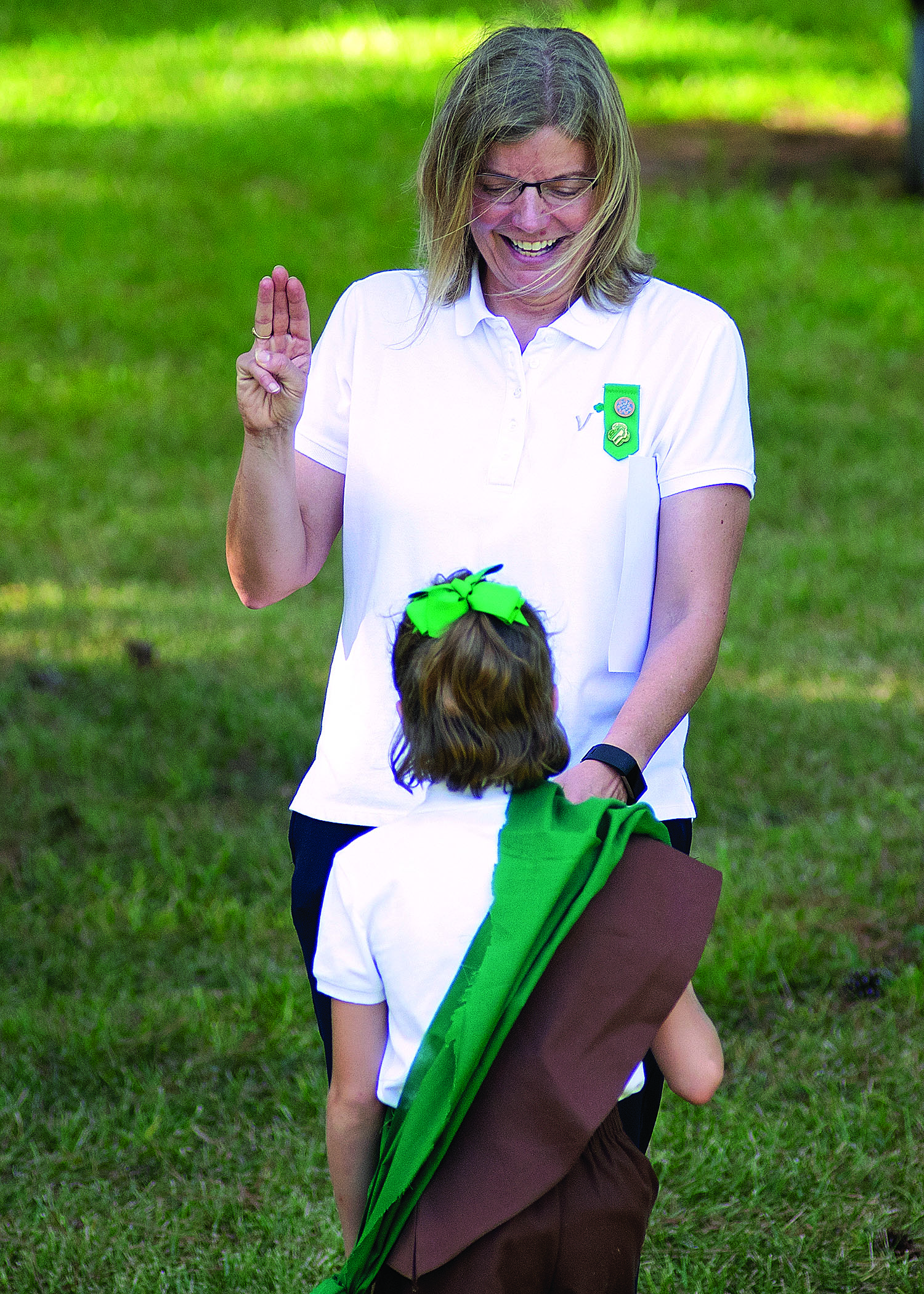 Being a troop leader wasn't exactly what Diane Neudorf had in mind when she signed her daughter up for Girl Scouts five years ago.
"It is a great organization for empowering girls and I wanted her to be a part of it," she said. "I planned to help with campouts but I enjoyed working with the girls so much I decided to become a leader."
In addition to campouts, she organizes weekly meetings where scouts do service projects and work to achieve badges. She also coordinates field trips and supervises the cookie booth.
As a professional field biologist, the outdoors are her comfort zone. She is passionate about sharing knowledge of ecology and the environment, along with her colleagues in the department of biology, Sibyl Bucheli and Chris Randle.
"Recently, Sibyl and I led a workshop on campus for the Huntsville Girl Scout troops on citizen science where we taught the girls about making scientific observations and analyzing data. They learned how to collect data in their own backyards and neighborhoods to help with various scientific projects across the country," Neudorf said.
Like Neudorf, Randle's connection to the troop started through a desire to get his daughter involved. Four years into it, he is now in charge of coordinating the fall product sales, all cookie sales and managing finances for the troop. He also played a role, along with help from the community, in restoring and remodeling the local Girl Scout house following damage from Hurricane Harvey.
---
Maria Alexander Holmes, EdD
Associate Dean, Elliott T. Bowers Honors College
President, The Woodlands Arts Council Board of Directors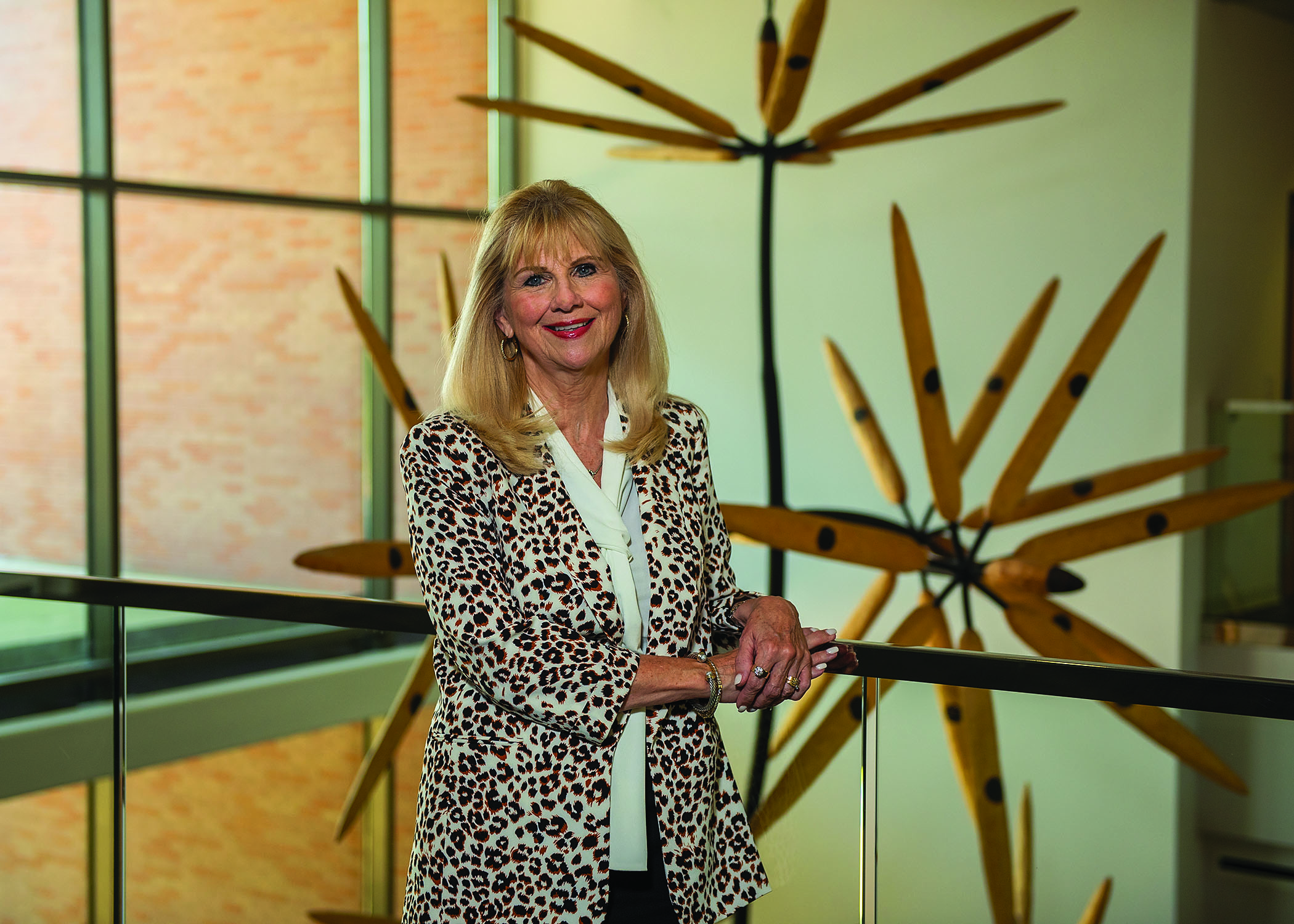 As far back as Maria Holmes can remember she has been drawn to art in many forms.
"Although I am not an artist, I am an advocate of the arts on three levels of society: education, health, economy," she said. "Art intersects with core issues in our daily lives and throughout our communities."
From fostering critical thinking, creativity and communication to multiple health and economic benefits, Holmes sees creative expression as vital. Her long-time personal passion as an arts advocate recently allowed her to take on a new role as president of The Woodlands Arts Council Board of Directors. She sees the position as an opportunity to advance the publicly perceived value of the arts.
"Funding and support is threatened more than ever. I hope to promote new dialogues about how powerful the arts are in creating a better quality of life," she said. "I'd like to encourage a deeper investment in the performing and visual arts through sharing information and research about how it integrates and influences many different sectors."
Professionally as an educator and researcher, Holmes is typically focused on topics like positive psychology, emotional intelligence, educational leadership and student success. Through her work, she has discovered strong links between the arts and those areas of interest.
On the horizon for her and the TWAC board—planning the organization's biggest fundraising event—The Woodlands Waterway Arts Festival. Held each spring, over 10,000 guests enjoy works from top artists across the nation along with performances on four stages. Money raised supports student art scholarships, art education and numerous outreach programs.
"I hope to use my role with the Arts Council to advocate for all the ways that the arts have a social impact. The arts can—and do—permeate community life and connect us to our humanity and to each other."
---
Courtney Banks, PhD, LP, LSSP
Assistant Professor, Department of Psychology and Philosophy
Volunteer, Children's Books on Wheels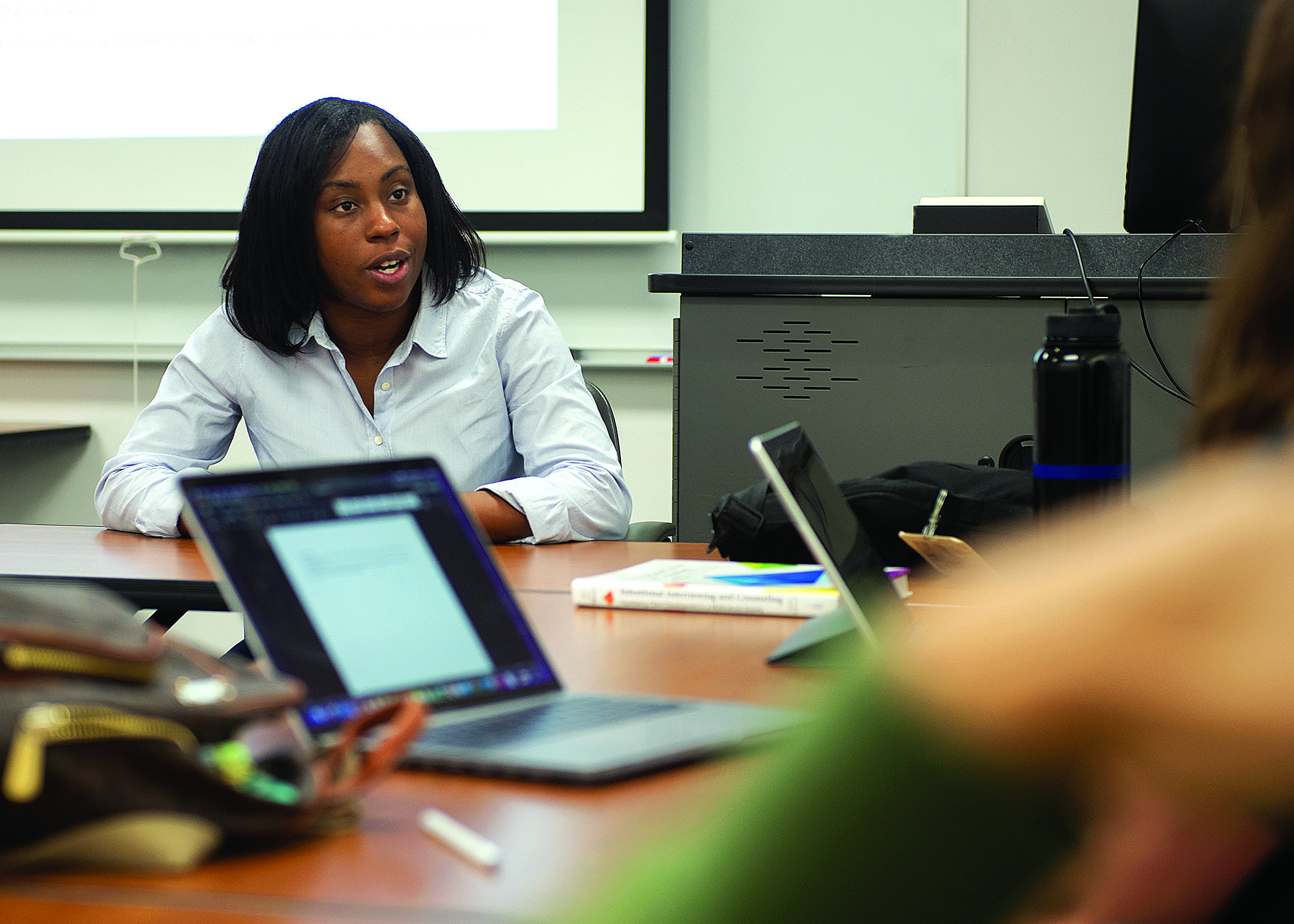 In the rural areas of Montgomery County where Children's Books on Wheels (CBOW) serves, 75 percent of the population is at or below the poverty level. Providing educational and community resources to those families is what caught Courtney Banks' attention.
"After attending their Hats Off to Literacy event, I wanted to be more involved. I started volunteering to support their Mothers and Daughters group, providing free tax services to the community and mentoring youth," Banks said.
What started more than 10 years ago as a nonprofit with a mission of delivering free books to underserved children, has grown into a diverse network of volunteers like Banks who work to support other area nonprofits by providing a variety of free services to those in need.
Banks is devoted to educating and mentoring children in CBOW's after- school program. She is also a member of their leadership development team. In the organization's annual Camp Noah, where children develop resiliency skills to prepare them for the future, she utilizes her professional background as a licensed psychologist to provide mental health services to over 40 children.
At SHSU, Banks is assistant professor in the department of Psychology and Philosophy. Her research focus involves promoting home and school engagement in K-12 schools, understanding parent socialization of education and behavior engagement, and examining ecological factors that influence bullying.
"CBOW is about supporting students to help them socially, emotionally, and academically to be productive adults, so volunteering within this nonprofit is an extension of my personal passion and love to help people," she said. "Working with the organization continues to be extremely rewarding. I am able to support youth and adults within the community who have instantly become extended family members."
Back to Previous Section Go to the Next Section