SHSU Offers New, Free Password Protection Service
Dec. 18, 2020
SHSU Media Contact: Stephanie Smith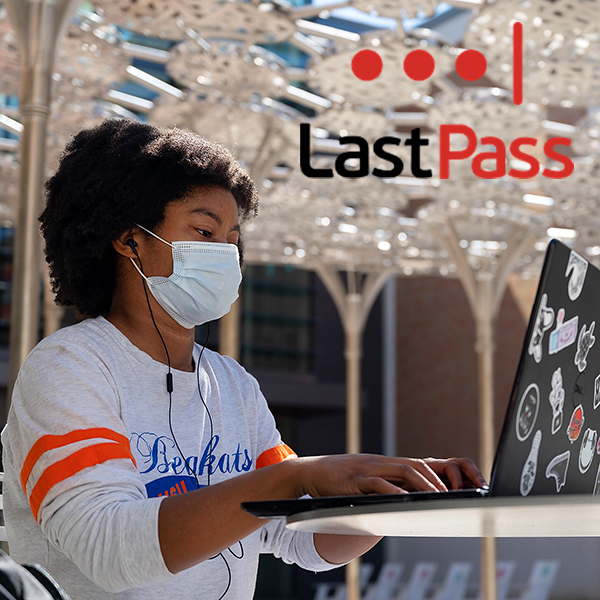 To protect you and the university, IT@Sam is always reminding you to create complicated passwords, never write them down and never share them. They know how difficult this is because they are IT and they have to keep track of a lot of passwords, personally and professionally. That is why they are providing you with Sam Houston State University's newest, free benefit service, LastPass Premium. LastPass is a password manager that securely remembers and protects all your passwords, so you don't have to.
What better time to get started using your free account than during the holidays? As you are encouraged to shop the online deals to avoid crowds and keep your family healthy, you can also use LastPass Premium to remain cybersecure. In addition, LastPass can help you after the holiday season by securely storing all of your social media accounts, billing accounts, online shopping accounts and your bank details.
How does it work?
Use our technology tutorials to register for the SHSU LastPass Premium account or upgrade your free version of LastPass to Premium.
Add log in details for your bank, shopping, credit card accounts and more.
Any time you need to log in to an account that you added to your LastPass vault, LastPass will automatically fill in your username and password, all you have to do is select "sign in."
Not sure about one tool having access to so many of your passwords? Consider this, LastPass is so secure that even their employees cannot see your passwords.
Besides password security, what are the benefits to using LastPass Premium?
LastPass Premium is not only free to all SHSU faculty, staff and students for personal use, but also provides the below features to simplify your life:
Log in and go– Save your passwords in LastPass and you will always have access to them when you need it from anywhere, on any device.
Simplify online shopping– Make an online purchase and let your LastPass profile auto fill all of your payment and shipping details for you, all you have to do is click "submit."
Generate strong passwords– Ensure your passwords are strong by using the built-in password generator to create long, randomized passwords that protect against hacking.
Encrypted file storage– Securely back up and store files such as tax returns, passports, and photo IDs, using LastPass's 1 GB of encrypted storage.
Share effortlessly– Conveniently and safely share passwords and notes with anyone (Because some things shouldn't be sent in a text.)
Dark web monitoring– Get alerts if your personal information is at risk.
Multifactor Authentication– Protect your passwords from anywhere by requiring facial or thumbprint recognition to access your account.
Emergency Access– Make your account safely available to another LastPass user of your choice to ensure you are never locked out in unexpected situations.
Of course, IT@Sam's favorite benefit of LastPass is that is helps protect you against cyberattacks. For instance, if a cybercriminal gets the password to your social media, they can hijack your profile and post embarrassing content. Even worse, if you use the same password for every account such as your bank and credit cards, they can steal your hard-earned money. This lets the cybercriminal walk away with an instant payday and leaves you with a major mess that could take years to clean up.
If you are ready to live a simple password life, register for your LastPass account and start experiencing the benefits today.
- END -
This page maintained by SHSU's Communications Office:
Director of Content Communications: Emily Binetti
Communications Manager: Mikah Boyd
Telephone: 936.294.1837
Communications Specialist: Campbell Atkins
Telephone: 936.294.2638
Please send comments, corrections, news tips to Today@Sam.edu