First-Year Experience - Commencing New Challenges
May 22, 2018
SHSU Media Contact: Wes Hamilton
Editor's note: Every summer, sophomores share some of their experiences and offer advice to SHSU's newest cohort of freshman. In his "First-Year Series" discussion, Julio Valdez shares how joining the First-Year Experience organization helped push him to network with the right people to help him succeed.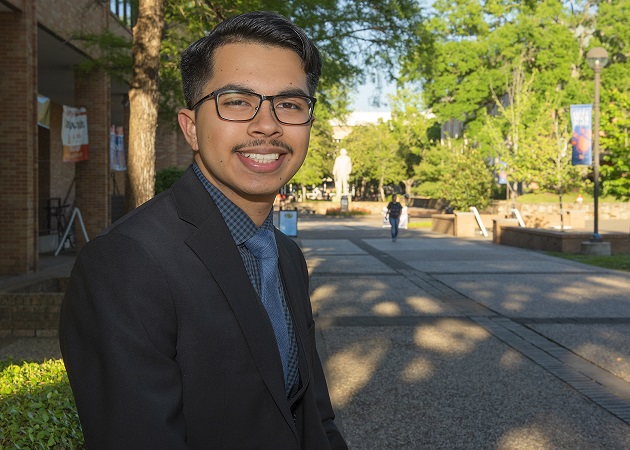 Dear Future Bearkats,
Challenging myself to begin college as a first-generation student placed a lot of pressure on me. Luckily, I had the pleasure to be mentored by a former honors ambassador who guided me through the unfamiliar process. She introduced me to Sam Houston State University, which fascinated me right away. Through my mentor, I learned to embrace challenges as an opportunity to grow as a person. Becoming a member of the Honors College was my first priority and being accepted meant the start of my journey.
When I got to SHSU, there was one word I kept hearing from my peers and professors: network. As an introvert, engaging in conversations with others is not in my comfort zone. I always worried about how to start conversations and gain attention from people while networking. Conquering my fear was a challenge I had to overcome in order to reach the positions I envisioned. I did that by taking a series of actions to teach myself how to conduct conversations. I interviewed prominent leaders of organizations, professors who taught courses of interest and professionals who had experience in the field. Through gradual growth in confidence in myself, I laid the path for many opportunities to open.
Enrolling in the Business Learning Community is an opportunity I will always cherish. Through the program, I was exposed to the services available for any student, such as the student money management, math tutoring, the writing center and many more. Those services enhanced my assignments and helped me maintain my high grades. The 4.0 GPA I earned would not have been possible without them. Additionally, it was through the University 1301 that I met two important figures who assisted my growth as a person: Dr. Dana Bible and Dr. Valerie Muehsam.
It was through Dr. Muehsam that I met Mrs. Thaler from the Banking Department. Thanks to conversations with Mrs. Thaler about career options, I declared my third major and I started attending Banking and Finance Club meetings where I met many people who had similar objectives.
Engaging in school activities has created a deep school spirit within me. Not knowing where to start participating, I tried out several organizations. Each one had a different personality and provided opportunities to learn. Besides the Banking and Finance Club, I am involved with the Investment Club, Diversity Council, ELITE, the Student Government Association, and the Pre-Law Society. Being actively involved has allowed me to meet various leaders with different backgrounds.
Attending college is a big step in life, but you must not be intimidated by the challenges it entails. By tackling my fears, I have been able to network with people who have helped me grow as person. Campus organizations have expanded my knowledge about different leadership positions. University 1301 exposed me to various services that are there to help achieve academic success. The entire Sam Houston community is willing to lend a hand, do not hold back, reach out.
Julio A. Valdez
- END -
This page maintained by SHSU's Communications Office:
Director of Content Communications: Emily Binetti
Communications Manager: Mikah Boyd
Telephone: 936.294.1837
Communications Specialist: Campbell Atkins
Telephone: 936.294.2638
Please send comments, corrections, news tips to Today@Sam.edu