---
"Success is the attainment of the goals you've set for yourself in life." - Howard L. Terry
---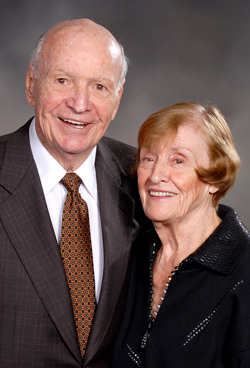 The Terry Foundation was established in 1986 by Houstonians Howard Terry (1916-2012) and Nancy Terry (1927-2012) out of a desire to help young people to help themselves. The Foundation's goal is to strengthen the state of Texas by identifying Texas high school graduates and transfer students who have promise of future leadership distinction and assisting them in developing their future and the futures of those around them.
In the fall of 2014, Sam Houston State University welcomed its first class of Terry Scholars, a group of freshmen students who have demonstrated promise as future leaders of the state of Texas and the nation. Selection as a Terry Scholar includes a generous scholarship award that covers six to eight full semesters of tuition, books, and expected on-campus living expenses at SHSU. Terry Scholars also benefit from specialized mentoring, as well as outstanding opportunities for personal and professional development through service activities.
Terry Scholar candidates are recommended to the Foundation by SHSU and must attend a personal interview with the Terry Foundation Scholarship Selection Committee. The Terry Foundation selects the scholarship recipients from among the candidates who are recommended for interview.
In keeping with the Foundation's desire for Terry Scholars who are "well rounded" and "hard working", applicants will be evaluated with respect to three evenly-weighted criteria:
Record of academic performance, as evidenced by grades, class rank, and ACT or SAT scores
Demonstrated leadership skills, especially within one's school and local community
Financial need
To apply for the Terry Scholarship (both applications for traditional freshmen and transfer), complete the Scholarships4Kats general application. Then search your recommended opportunities for the Terry application and complete it by the deadline posted on this site. Questions can be sent to terryscholar@shsu.edu
***Deadline is January 15th for Entering Freshmen***
To be considered for the Terry Foundation Incoming Freshman Scholarship, applicants should:
Demonstrate a record of leadership and service
Demonstrate strong academic abilities, as evidenced by grades and standardized test scores
Demonstrate financial need
Be a citizen or permanent resident of the U.S.
Be attending a Texas high school or be a home-schooled Texas resident during the 2018-19 academic year
Apply for admission to SHSU by January 1, 2020
Apply for financial aid, using the FAFSA, by November 1, 2019
***Deadline is April 15th for Terry Transfer Applicants***
Terry Transfer Scholarship applicants should:
Demonstrate a record of leadership and service in school and in the community
Demonstrate strong academic abilities, as evidenced by a minimum 3.0 cumulative GPA in 30 hours of transferable, post high school credit, in Texas
Be of 20 years of age on May 1, 2020
Demonstrate financial need
Applicants must be a U.S. citizen or a Permanent Resident and meet Texas residency requirements. Candidates must also qualify for in-state tuition and for federal financial aid assistance.
Be a current continuous resident of Texas for at least 3 years at the time of application
Be admitted for the summer 2020 or fall 2020 at SHSU
Apply for financial aid, using the FAFSA, by November 1, 2019

Must have been granted admission to Sam Houston State University for the Summer or Fall semester immediately following the application deadline

Must be admitted as a full-time Transfer student for the purpose of completing a first baccalaureate degree.
Since 1986, the Terry Foundation has operated with the goal of helping young people to help themselves. Today, the lives of nearly 2,000 college alumni and nearly 1,000 current undergraduate students at universities across the state of Texas have been changed for the better by the Terry Foundation's unique combination of academic scholarship support and strong emphasis on personal guidance and mentoring.
The Terry Foundation application for the 20-21 year is now available through Scholarship4Kats. Use the link on the left menu to access your application.
---
For more information, please contact:
Dr. Maria Holmes, SHSU Terry Scholarship Coordinator
terryscholar@shsu.edu
936.294.1477