September 10, 2020
SHSU Community,
Medical experts still have no clear answers as to what is driving an increase in the positivity rate for COVID-19 in Texas while the hospitalization and ICU rates remain flat, and are even declining in some areas.
Finding answers in an overwhelming sea of data can be difficult and downright confusing. Cities, counties and the state all report data related to COVID-19, but format, timing and methodology are not always apples-to-apples.
Right now, the only clear answer we have is the virus is still prevalent in Texas and not going away any time soon. With thousands of new cases reported daily, we still need to be vigilant in our efforts.
COVID Q&A
What mask should I be wearing?
As we now know, the best mask is the one you wear. Masks can be worn to protect the wearer from getting infected with COVID and can be worn to protect others by preventing transmission.
There have been numerous studies to-date on masks. Mask testing has consistently shown that any face covering will block at least a small percentage of droplets generated when we speak or cough. A recent Duke University study stated that if 95 percent of people wear cloth masks when within 6 feet of other people in public, it will reduce COVID-19 transmission by at least 30 percent. So, if every infected person transmits the virus to 30 percent fewer people, it improves the chances of subduing COVID-19's spread.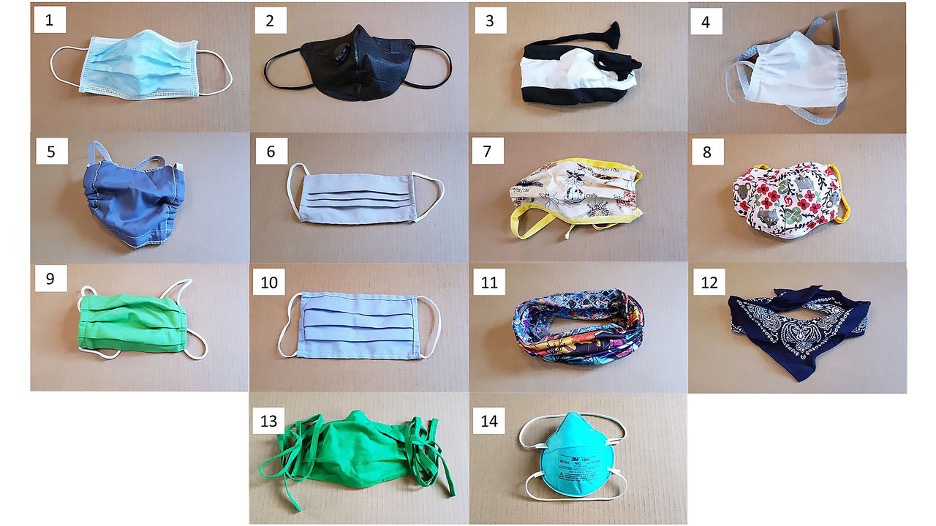 Photo: Raleigh News and Observer/Duke University
Below is a list of masks used in the Duke University study. Each mask is identified by a number in parenthesis corresponding to the photo above.
Fitted N95, no valve (14)
3-layer surgical mask (1)
Cotton-polypropylene-cotton mask (5)
2-layer polypropylene apron mask (4)
2-layer cotton, pleated style mask (13)
2-layer cotton, pleated style mask (7)
Valved N95 mask (2)
2-layer cotton, Olson style mask (8)
1-layer Maxima AT mask (6)
1-layer cotton, pleated style mask (10)
2-layer cotton, pleated style mask (9)
Knitted mask (3)
Double-layer bandana (12)
Gaiter-style neck fleece (11)
What about face shields? Research now shows that clear plastic shields and masks with exhale valves allow large plumes of particles to escape and may also expose the wearer to more germs. The findings suggest that a cloth or surgical mask offers more protection. Although a clear plastic face shield will keep some portion of large coughs and sneezes from splattering around, its primary benefit is for those who are hearing impaired.
For most people, a cloth mask of at least two layers, which covers the face from the nose to under the chin, is the best option. A face shield combined with a mask would offer additional protection and may be useful to those who have regular indoor contact with other people.
Still confused? The CDC offers guidance on how to select, wear and clean your mask.
I have already had COVID-19. Do I have to quarantine again if I have another exposure?
Serology (or antibody test) for COVID-19 does not prove immunity and cannot be used to determine whether or not someone must quarantine if exposed to a lab-confirmed case of COVID-19.
There is still concern for the possibility of reinfection for those who previously had COVID-19, but limited data available indicates reinfection is highly unlikely within three months of proven COVID infection. The CDC currently recommends a "90-day rule" - If an exposed individual was previously infected with COVID (proven by PCR or antigen test) within the last 90* days and does not have symptoms, the individual does not need to quarantine based on current CDC guidelines.
*The 90-day rule does not apply to the serology or antibody test.
Are we retesting students who previously tested positive before they are allowed to return to class in-person?
The Student Health Center is not retesting students. If students are symptomatic and in isolation, they must be medically released before returning to class in person. If students are not showing symptoms and in quarantine, they must quarantine for 14 days from their last date of contact prior to returning to class in person.
Helpful Reminders
Face Covering Policy
SHSU has had a long-standing policy of being a tobacco-free campus and since everyone on campus is required to wear a face covering on campus property (indoors and outdoors), there are no allowable exemptions for masks with regards to smoking.
Visitors on Campus
The university requires all individuals, including visitors, to follow all safety regulations, including wearing of facial coverings while on campus. Individuals who violate the regulations by not wearing a face covering will be reminded of the policy and provided a face covering, if supplies are available.
Visitors who continue to fail to comply will be asked to leave campus property. For students, faculty and staff who fail to comply with the face covering requirements, the matter will be handled through existing employee discipline or the student code of conduct.
Communal Spaces
Breakrooms are considered shared spaces. For lunch or coffee breaks, stagger use and restrict the number of people allowed in at one time to ensure everyone can stay at least 6 feet apart, and clean and disinfect between use.
Resources
Since COVID-19 information seems to change on a daily basis, please refer to official university sources for the most accurate information. For the most current information, visit the Restart 2020 website daily.
During the next two weeks, we will most likely see an uptick in cases due to social gatherings held over the Labor Day weekend, similar to what we saw after the Fourth of July weekend. We all need to be extra vigilant in acting responsibly which includes wearing face coverings on campus, washing your hands, practicing social distancing guidelines by keeping 6 feet between yourself and others and avoiding large gatherings and indoor events where distance cannot be maintained.
COVID-19 Work Group
Members

| Name | Department |
| --- | --- |
| Drew Miller | Student Affairs |
| Brian Loft | Academic Affairs |
| Robert Williams | Health Center |
| Joellen Tipton | Residence Life |
| Ann Theodori | SAM Center |
| Stephanie Knific | Marketing & Communications |
| Rachel Shorter | Tech/Desktop Services |
| Dustin LeNorman | Athletics |
| Matt Roberts | Facilities Services |
| Rhonda Beassie | Human Resources |
| Candace Walkley | College of Osteopathic Medicine |
| Erica Bumpurs | Health Center |
| Mary-Katherine Breen | Academic Success Center |
| Wayne Barrett | College of Arts & Media |
| Anne Gaillard | Biology/College of Science & Engineering Technology |
| Steve Jeter | Public Safety |
Ad Hoc Members

| Name | Department |
| --- | --- |
| Jerrell Sherman | Dean of Students Office |
| Jessica Smith | Human Resources |
| Rachel Valle | Student Activities |
| Clint Lockwood | Enrollment Management |
| Terry Blaylock | Client Services |
| Kristy Vienne | Auxiliary Services |
| Bill Angrove | SHSU Online |
| Julie Schwab | Provost's Office |