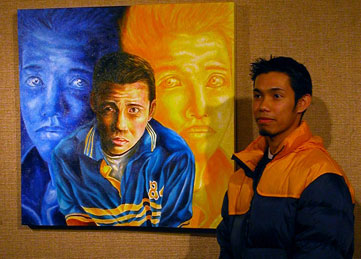 A meaningful way of honoring a loved one-and to help a deserving SHSU student-is to establish a scholarship or endowment.
By being part of the SHSU giving community, you are ensuring that no student is denied an exceptional SHSU educational experience due to a lack of financial resources.
Annual Scholarships
Through a one-time or recurring gift, you can establish an annual scholarship that will benefit SHSU students. You can direct your gift to our general scholarship fund or to other existing scholarships, or you may establish a named scholarship. For the latter, we suggest a gift of at least $1,000 per year.
Our Development staff will assist you in establishing the criteria for your scholarship and will also work with the appropriate University department to create the ideal selection process for recipients.
Annual Scholarships, interested? Please contact us and we'll help you become an integral part of the SHSU giving community.
Did you know?
More than half of SHSU's graduates are the first in their families to obtain a degree
68 percent of current first-generation students receive some form of financial assistance and 80 percent work while attending SHSU so that they can afford their education
Two decades ago, SHSU received nearly 70 percent of its budget from state appropriations; now it receives less than a third, which means students must absorb more of the costs of their education
Endowed Scholarships
By establishing an endowed scholarship, you become part of the very foundation of SHSU's future. Through your generosity, you directly impact students who benefit from merit and need-based scholarships.
You may earmark your gift for an existing endowed scholarship or you may create a named scholarship. For the latter, we suggest a gift of at least $25,000. You may pay this pledge over a five-year period. The first award would be made after the minimum gift level is achieved.
Interested? Please contact us and we'll help you make an educational dream come true for future SHSU students.
Division of University Advancement
Sam Houston State University
Box 2537
Bobby K. Marks Administration Building, Suite 120
Huntsville, TX 77341-2537
Phone: (936) 294-3625
Fax: (936) 294-1993
"There is an old proverb that says if your name is repeated and never forgotten, you will live forever. We felt the endowment would mean that Erica would live forever and her name would be repeated forever."—Mike Czerwinski, who, along with his wife, Nancy, established the Erica Starr Memorial Theatre Endowed Scholarship and the Erica Starr Live Your Dream Memorial Theatre Endowed Scholarship in memory of their late daughter.