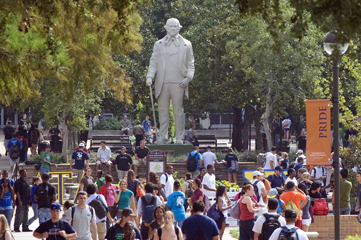 Throughout its history, Sam Houston State University has honored its historical roots by providing students with an excellent education marked by distinctive programs, faculty who are experts as well as mentors, and state-of-the-art facilities. We continue to be able to do this thanks to the support of alumni, friends, faculty and staff, parents and corporations who are part of SHSU's powerful giving community.
Annual giving programs include the Phonathon that features student "Campus Callers" reaching out to thousands of alumni, the Faculty & Staff Campaign, and the Senior Class Gift Campaign.
With gifts through the SHSU Annual Fund, our donors are helping us to bridge the gap between education costs and tuition income so that we are able to meet critical needs such as:
Student scholarships
Equipment
Technology
Academic program enrichment
Faculty enrichment
Your gift can be directed to a particular college, department or program so that you make an impact where you desire. Your gift can help provide financial assistance to deserving students or to where the needs are the greatest.
Your employer may participate in a matching gifts program, which can double or even triple your gift.
Just two decades ago, SHSU received nearly 60 percent of its budget from state appropriations. Now we receive less than a third. Through your generosity, we can ensure that SHSU continues to offer students a high-quality educational experience for years to come.
Interested in becoming part of SHSU's remarkable giving community? Please contact us. We welcome the opportunity to talk with you.
Division of University Advancement
Campus Location:
Bobby K. Marks Administration Building, Suite 120
Huntsville, TX 77340
Cindy R. Truax
Director of Annual Giving
Phone: (936) 294-3625
Mailing Address:
Division of University Advancement
Sam Houston State University
Box 2537
Huntsville, TX 77341-2537
"I think this [scholarship] is a nice heritage to leave for them. They would be pleased with it. One thing that Joe's dad said was that he'd like to give a kid an education and then just sit back and see what they would do with themselves; he was that kind of guy." — Winnie Sandel, who, along with her husband, Joe, established the H.H. "Tubby" and Nuna Sandel Endowed Scholarship to honor Joe's parents, both SHSU alumni.