Upcoming Events
Baroque Opera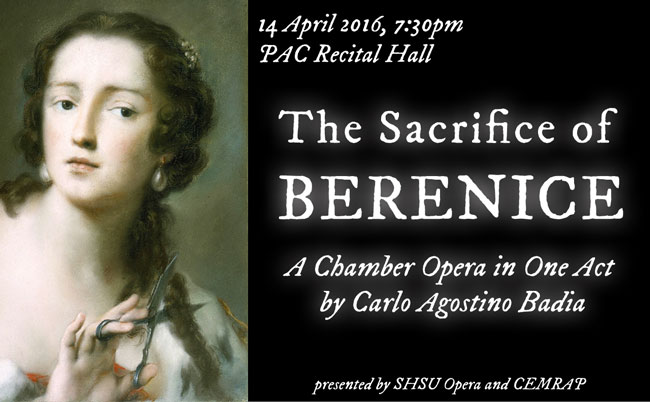 The CEMRAP Baroque Ensemble and the SHSU Opera Workshop are teaming up in this exciting performance of Carlo Agostino Badia's chamber opera Il sacrificio di Berenice. It will be the first performance since 1712—and surely the first on this side of the Atlantic.
Soon after its arrival at the court of the Holy Roman Emperors in Vienna in the late 17th century, opera became one of the primary means of imperial representation and political propaganda. For more than 150 years every marriage and birthday in the imperial family would be honored with a newly composed opera as the cherry on top of the celebrations. Court composers and poets carefully chose classical plots and characters that could serve as "avatars" for the monarch and his family in their spectacular displays of imperial virtue, greatness and splendor.
When in 1712 it was court chamber composer Carlo Agostino Badia's duty to compose an opera on the occasion of empress Elisabeth Christine's 21st birthday, he chose the myth of Berenice II of Egypt (267 or 266 BC – 221 BC), who sacrificed her hair to Aphrodite for her husband's safe return from an expedition to Syria. In the eyes of the 1712 audience Berenice very clearly represented both the image but also the expectations of their empress: Elisabetta Cristina was famous for her beauty, but just like Berenice she was expected to readily sacrifice everything in support of her husband in times of need.
Court operas were always only produced once—who would give the same birthday gift twice!—and then stored in the court music archives. Tonight's production has therefore included tracing the original manuscript in the Austrian National Library and transcribing it into modern notation. The resulting new edition will subsequently also be published.
Baroque Birthday Party
Harpsichord Recital