The Center for Early Music Research and Performance
About CEMRAP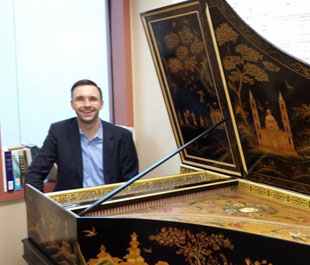 The successful 21st-century musician is fluent in the widest possible range of musical styles, thus positioning historical performance practice as one of the essential components in the formation of performers for tomorrow. The Center for Early Music Research and Performance (CEMRAP) has set as its mission the embracement of the past, present, and future through its research, performance, and teaching activities. At the interface of theory and practice, students and faculty explore applications of historical performance aesthetics in 21st-century musical cultures. With core issues of historical performance including instrumental technique, ornamentation, and style as its focus, CEMRAP promotes a unique approach to early music by using improvisation as the cornerstone of its transhistorical quest, and it provides innovative platforms to present results of its scholarly and artistic activities.
The Center maintains an Italian organ in the style of a 17th-century organo di legno, specially built in 2015. Students can pursue undergraduate and graduate degrees in performance with an emphasis in early music while being provided opportunities to apply early music performance practices in ensemble and solo settings. For more information about CEMRAP and the undergraduate and graduate degrees offered by the SHSU School of Music, visit https://www.shsu.edu/academics/music/.
-Dr. Mario Aschauer, director
Students about CEMRAP
Refunds and Cancelations:
Please note the $75 registration fee required for initial registration is non-refundable. If it is determined your camper will not be able to attend, please contact Kelli Irwin at kli003@shsu.edu and she will work with accounting to process a refund for payments made over the initial registration fee of $75.00. All refunds are processed upon the conclusion of summer camps and are issued in the form of a university check which will be mailed to the address listed on your camper's registration. Refunds take approximately 3 to 4 weeks for processing. For questions concerning refunds or refund status, please contact Phyllis Finley at PMF2009@shsu.edu. Thank you.
Email
Please make sure to check your junk and spam folders for emailed payment confirmations sent from Touchnet. In addition, we ask that you not use an ISD email address, if possible, as your institution's firewall can prevent the receipt of emailed messages from Touchnet/Marketplace regarding payment confirmations.
Medical Release
Each camper must have a Medical Release Form, which can be found on the SHSU camps website. The medical release form can be emailed to muscamps@shsu.edu or brought with you to registration. Front and back copies of the camper's insurance card are required if the camper is insured.
---
School of Music
Sam Houston State University
1751 Avenue I, Huntsville, TX 77340
Phone: 936-294-1360
A Member of the Texas State University System