We are pleased that you have registered to attend (or are seeking more information about) the Product Quality Cleaning Workshop on May 13-14, 2020. Use this travel and logistical information to plan for a successful experience.
You will need to make hotel and airline reservations, soon. Here are our recommendations.
Hotels
SHSU University Hotel
1610 Bobby K Marks, Huntsville, TX 77341, 936-291-2151
www.shsuhotel.org
Check In: Tuesday, May 12, 2020
Check Out: Thursday, May 14, 2020
Rate: $92.95 + tax
Booking Code: Online Booking ID = 2005CHEM
Confirmation Number = 327450
Reservation Deadline: April 13, 2020
Holiday Inn Express
148 Interstate 45 S, Huntsville, TX 77340, (936) 295-4300
Check In: Tuesday, May 12, 2020
Check Out: Thursday, May 14, 2020
Rate: $119.00
Booking Code: SHSU Product Quality Cleaning Workshop
Reservation Deadline: April 21, 2020
Other hotels in Huntsville are the Fairfield Inn and Suites and the Hampton Inn and Suites, If searching on your own, be sure you are reserving a room in Huntsville TEXAS and not Alabama.
Airlines
We recommend flying into Bush Intercontinental Airport Houston (IAH).
American and United fly into Easterwood Airport in College Station (CLL).
IMPORTANT ***Houston Hobby is the closest Southwest Airlines airport, but Houston traffic counteracts the lower price. Google Maps may say that Houston Hobby is only 1.5 hours from Huntsville. THIS IS NOT ACCURATE. You have to drive through the very center of the fourth largest city in the USA. It is not worth the "savings" on the airfare. Trust us.
Airline Reservations:
Plan to arrive Tuesday afternoon or evening.
On Thursday, you can finish the workshop at 3:45 PM and still make a 6:45 PM departure from IAH comfortably (1 hour drive + 1 hour rental return/security + 30 min boarding + 30 min cushion).
Driving
Shuttles: We do not know of any shuttles that reach Huntsville. Experience has shown that Uber rates (apx $70) are lower than the taxi rates. However, an economy rental car may be less expensive than an Uber if you have rental discounts.
If you rent a car, take the Hardy Toll Road North. Merge with I-45 North. Huntsville is at Exit 116 about 1 hour drive time from the airport without construction or traffic stoppages.
There will be some construction near New Waverly, Texas. It is rare, but they have closed I-45 in the past. I will update this page with suggestions the week of the workshop if they announce a closure.
The Google Maps Location of the Workshop is accurate. If you are using another map app, you should be able to type in Chemistry and Forensic Science Building, Sam Houston State University. Or you can type in the corner of Bowers Blvd and Ave J. The parking lot is on the South side of the CFS building.
Parking
Provide the make, model, color, and license plate before or as soon as you arrive so that you may park for free in the lot South of the CFS building. We understand that you may not have this info until you rent your vehicle at the airport. **When you have it, please email it to pqcw@shsu.edu.**
Local Maps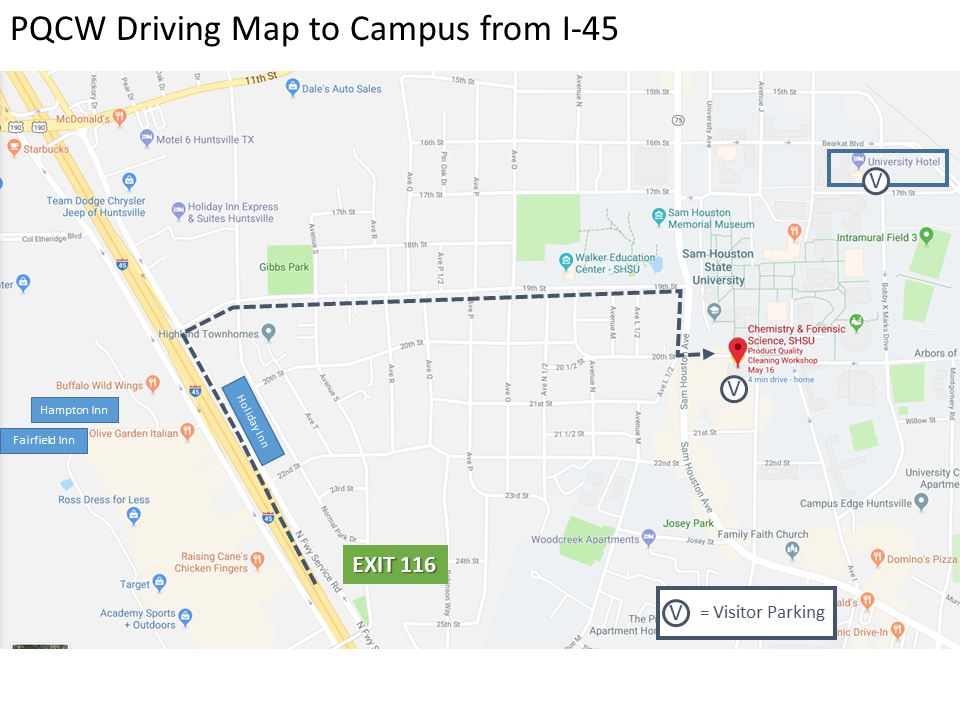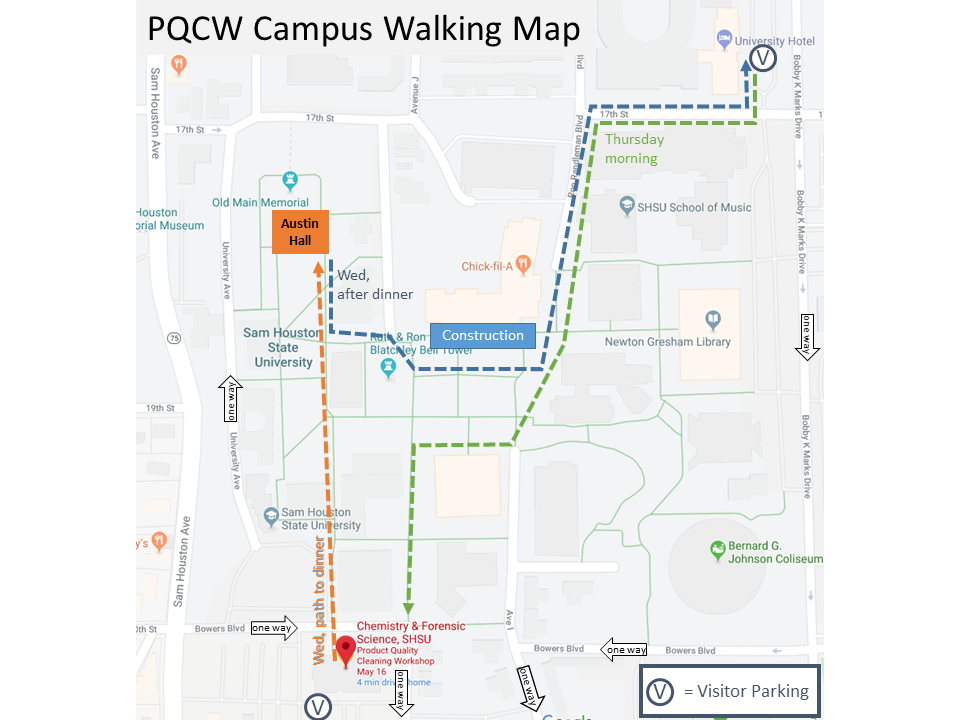 Table-Top Sponsor Setup
Table-top setup can begin at 1 PM Tuesday May 12th. The building will be open at 7 AM on Wednesday May 13th for final touches on your display areas. We are providing one standard 8-foot table and a chair. Please let us know if you need power for your display. We have limited extension cords, so you may want to bring one with you.

The Table-top area will be where we have our breakfasts and morning/afternoon coffee breaks.
Sponsor Demos
Some of you are bringing demonstration items. Please email us with the relevant information: What are you bringing? What is the foot-print? What power needs does it require? Does it need cooling water? We can set it up in the laboratory where we will do the hands-on activities. (FYI: We will not be able to supply high voltage or high current power. Your device should run on 20 Amp 115 V AC power.)
Laboratory Dress Code
The workshop dress is casual. Dress comfortably.
To participate in the hands-on laboratory activities, you must have close-toed shoes. We will provide nitrile gloves and splash protection (lab aprons) as needed. We will have safety eyeware available, but you may bring your own safety glasses as long as they have side shields. Goggles are not required. If you wear contact lenses, please bring your prescription glasses for the laboratory activities.
Official Media Sponsor

Thank you Gardner Business Media, publisher of Products Finishing and Production Machining magazines, for your partnership as the official media sponsor of the Product Quality Cleaning Workshop.
Gardner Business Media is the premier publisher in the manufacturing sector and publishes brands that serve all aspects of discrete parts manufacturing. Products Finishing (application of coatings) and Production Machining (small parts machining) magazines have been serving their respective fields for decades. Once a quarter a Parts Cleaning Section is published between both magazines which provides the market the latest trends in technology along with best practices for cleaning professionals. This section publishes to over 50,000 subscribers and is the only trade journal in the US focused on industrial cleaning applications.