FACTS ABOUT THE BBA PROGRAM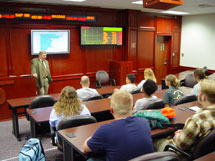 The BBA in Banking and Financial Institutions is the most tenured accredited under-graduate degree in Banking in the United States. The program brings the student the best practical experience with academic training from faculty with banking experience. The latest technology is offered in the banking center, including teleconferencing, internet connections at each table, LED picture wall, and stock ticker quotes delayed only 15 minutes from Wall Street.
Over 1300 students have been placed as interns. The banking and regulatory internships allow the student to receive college credit and earn money while learning the banking industry.
Over 600 students have been placed in full-time banking or regulatory positions upon graduation.
The Banking and Finance Club is available to all Banking and Finance majors. This group meets on a monthly basis bringing in industry leaders to speak and network with students. The Chair of Banking partners with RMA Texas Chapter in a Mentorship Program providing mentors for students that are members of the club.
The Banking and Finance majors participate in an annual field trip to the Federal Reserve Bank of Dallas, Houston Branch, for a tour and reception with Bank Executives and RMA Members. This event, implemented in Fall 2006, has developed into an annual event each fall semester with a group of approximately 80 students and 40 bank executives attending each year.
Scholarships are available to Banking students by completing the Scholarships4Kats Application. Banking students that have completed a Banking Internship are also eligible to apply for the Future Bankers Scholarship through the Texas Bankers Foundation.
A few career opportunities for graduates:
Credit Analyst/Financial Analyst
Loan Officer
Bank Examiner
Loan Review Services Consultant
Investment Banker
Bank Management
Financial Manager
Operations Manager
Financial Services Sales (Securities, Commodities, Investments)
Insurance
Government
COURSE OFFERINGS IN BANKING
FINC 3310 - Financial Institutions & Markets
FINC 4335 – Financial Statement/Credit Analysis
FINC 4325 - Selling Financial Services
ECON 4373 - Monetary Theory
FINC 4320 – Commercial Banking
FINC 4330 - Commercial Bank Lending
FINC 4389 – Undergraduate Internship in Finance