The Day in the Life of an Online Professor
Today, faculty and staff at SHSU go to extensive lengths to create an online classroom that mirrors an in-person experience.
A list of assignments in the syllabus, a reading assignment in the textbook and a weekly quiz or test. That is the old stigma of online learning from the past. A bland and boring way to learn, but it at least provided a way to go about studying at your own pace and away from campus.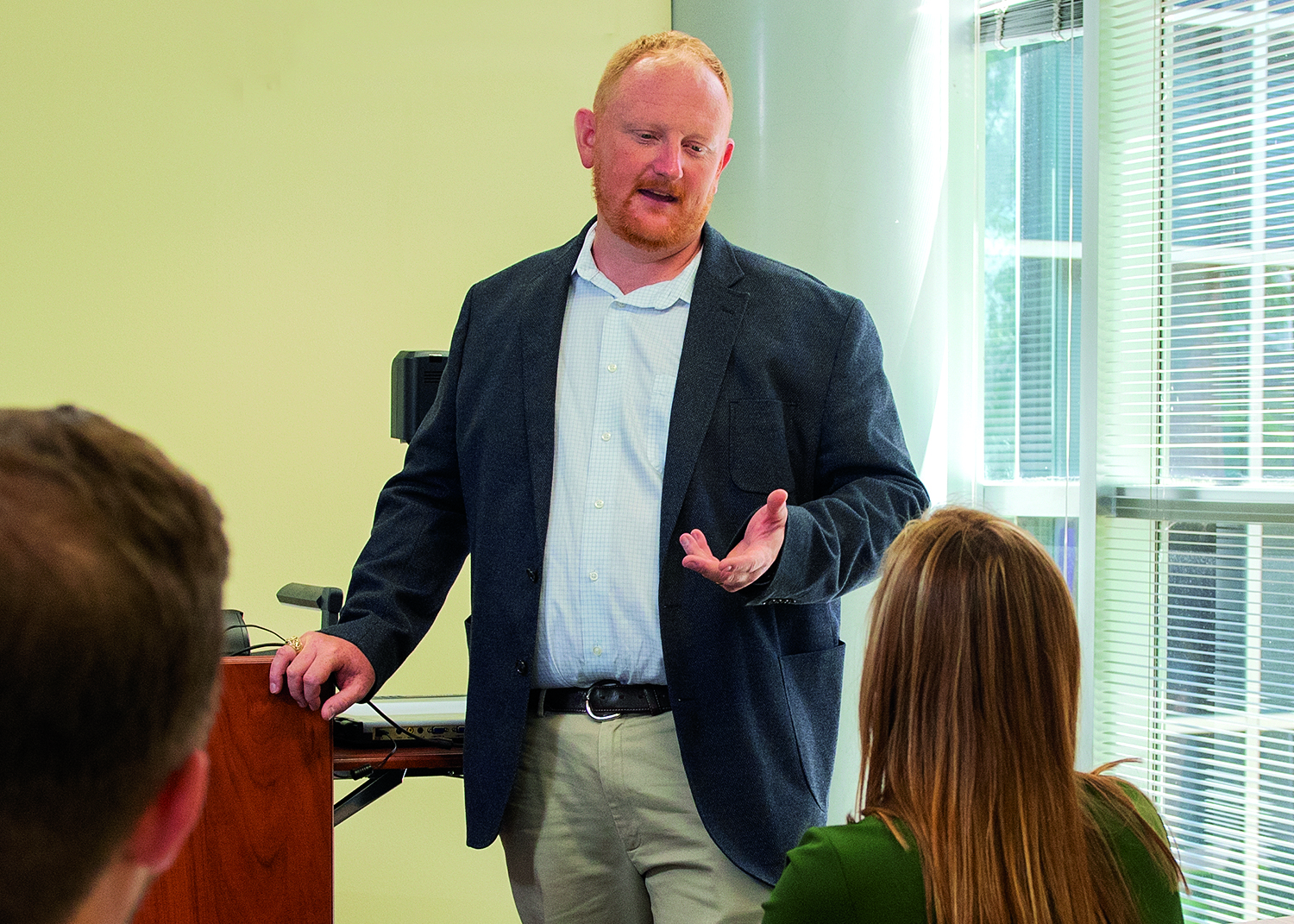 Today, faculty and staff at SHSU go to extensive lengths to create an online classroom that mirrors any in-person experience. A typical day in the life of a hybrid faculty member who teaches both online and on campus is no different than stepping into another classroom.
"SHSU Online has tremendous support from instructional coaches and other team members who can help me put together quality content in a moment's notice. From the professor's perspective, it is really no different than preparing for your typical classroom learning experience," said Matthew Fuller, associate professor in the Department of Educational Leadership. "I have never had to forgo anything that I wanted to do in an online environment because of their hard work. In fact, I have found that on some topics, online learning is even better."
A day of teaching on campus involves a commute for both the professor and students that can add stress to performing during that limited class time. Fuller further explains that the lesson plans may be the same, but the way he expects students to engage in the material while he is teaching are different.
"In a classroom setting, once I start, I have two hours or so to convey the intended learning outcomes. That may sound like a lot of time, but it does not allow for students to go on many tangents," Fuller said. "In the online setting, if a student wanted to go into greater depth on any given topic they are not restricted by only engaging me on the materials I wanted to go over in the classroom. I even highlight different resources that I would not get to cover in a face-to-face environment given the time constraints. I have learned in all these years of teaching that the tangents are often what students are most passionate about."
While Fuller has office hours available to on-campus students, and sees them face-to-face each week, he is active and intentional in engaging his online students as well.
---
"I believe it is important that online learners in my classes see the people and not just the pixels. I want online students to have just as much of a personal relationship with me as face-to-face students."
– Matthew Fuller
---
"On any given day, I will create a series of short podcasts to discuss the content we will be reviewing as we begin learning about a topic and treat it like an enhanced lecture," Fuller said. "I am able to offer links, discussion opportunities, and current news articles to bring the topic to life for students. I have also known colleagues that make video games, GoPro recordings, interviews, panel discussions and mock case studies. Again, all of this is possible because of the great resources SHSU Online brings to the table."
Thanks to the engaging features of SHSU Online, Fuller says he finds himself interacting more often with online students. He also continues to find innovative ways to help others absorb the knowledge he hopes to pass on because the overall wave of students to online learning is not slowing down anytime soon.
"Sam Houston State is doing a great job of supporting professors who teach both online and in-person in bringing their passion and innovation to a worldwide audience," Fuller said. "The qualities of the best face-to-face professors are the same qualities that the best online instructors have. They ask big questions, provide the expertise and information needed to answer those questions, and help students apply that learning in real-life situations. If we bring a certain level of academic rigor and teaching method soundness to the online experience—as we do at SHSU—online learning will likely be the main way in which many institutions provide their services in the future."