Building an ELITE Legacy of Leaders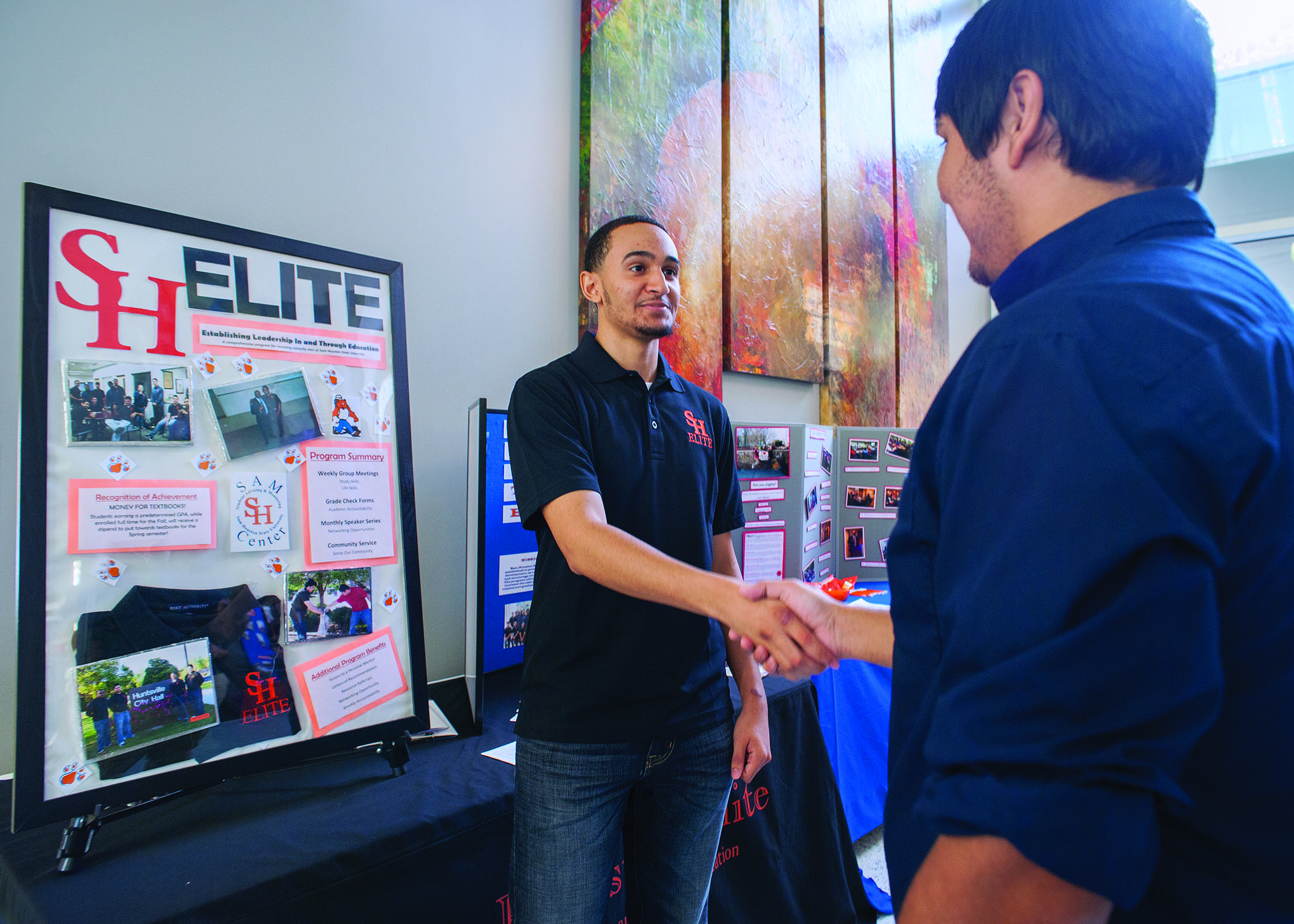 Sam Houston State University's values, culture and leadership play a critical role in promoting student success.
One way the campus community supports its students has been through the launch of programs such as Establishing Leadership In and Through Education (ELITE).
Since its formation in 2010, ELITE has worked to embolden the academic and civic engagement of African American and Hispanic men through objectives that specifically focus on educational, professional, and personal development, as well as leadership and service engagement.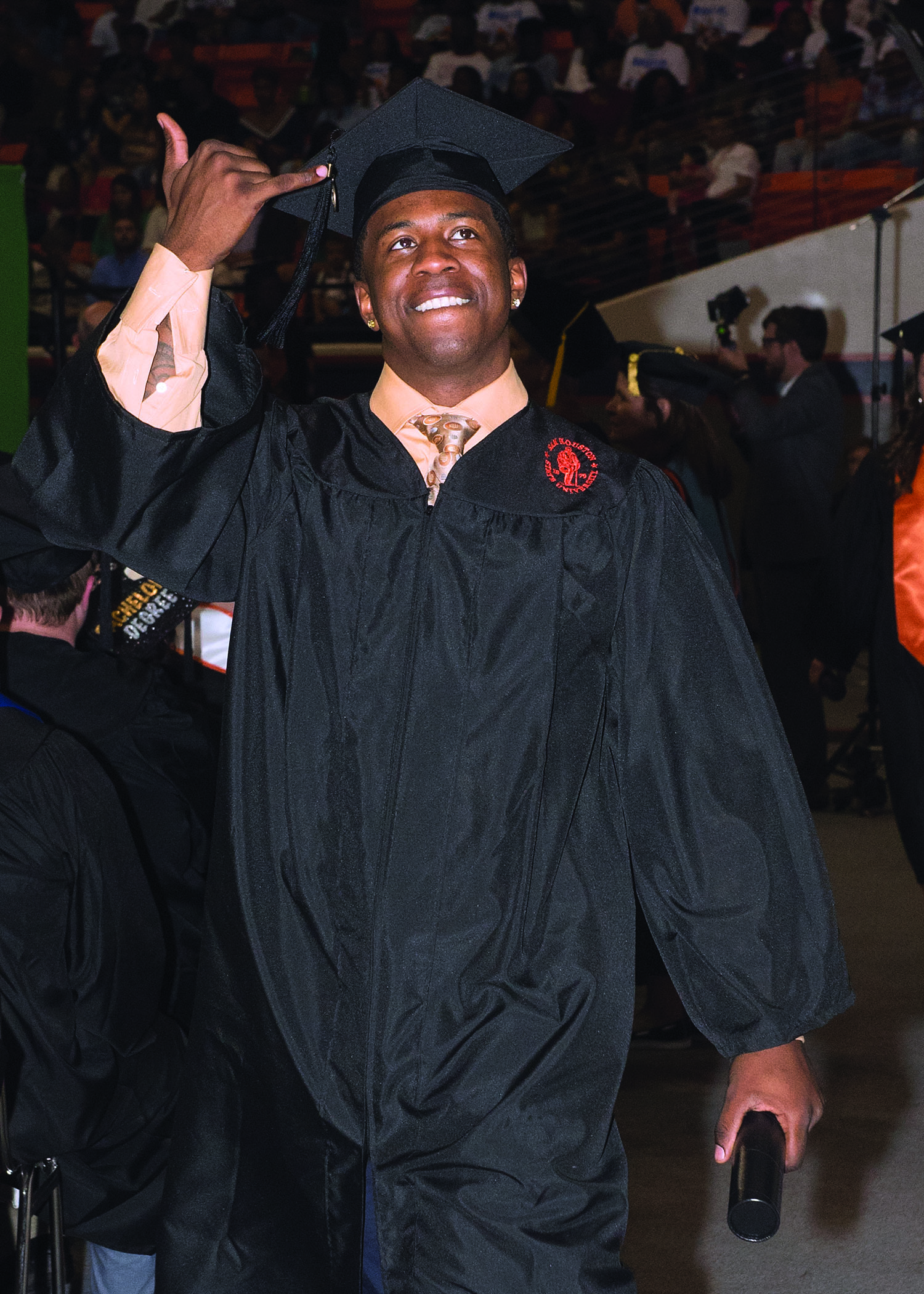 As a result, ELITE students on average, consistently outperform their first-time freshmen minority male counterparts.
"This past year, our freshman cohort in ELITE achieved a 3.01 GPA. This significantly exceeds the average of minority male first-time freshmen who did not participate in ELITE," Christopher Maynard, associate vice provost said.
ELITE students' four-year and six-year graduation rates are 87 percent and 51 percent greater, than their first-time freshmen minority male counterparts' graduation rates. The organization's one-year retention rate is also 7 percent greater than their first-time freshmen minority male counterparts' retention rates and their GPA is 12 percent greater than their first-time freshmen minority male counterparts' GPA.
"Organizations like ELITE are important because they facilitate the success of an already talented group of students who may not have the requisite experience to navigate the confusing world of academic and extra-curricular life at the university," José R. Herrera assistant director of Advising Projects for Student Advising & Mentoring (SAM) Center said.
The program's success stems from offering continuous support for participants through individual and group advising, workshops and a strong sense of community.
"The individual and group advising provides the foundation for the students' purpose on campus ensuring the direction of their course of study and creating a robust college experience in and out of the classroom," Herrera said.
The workshops provide information on study skills, time management and financial literacy. Additionally, there are a number of student-led initiatives including peer mentoring, volunteer service activities, and the ELITE Exchange guest speaker series that focuses on leadership development.
"ELITE has helped my leadership abilities by teaching me how to get more done with less," junior Xavier Coleman, student assistant supervisor for ELITE, said. "Overall it has helped me develop self-discipline which has resulted in an exceptional GPA during my time here at Sam."
The program curriculum impacts minority males in different ways throughout their four years at SHSU. The first-year cohort receives peer mentoring from upperclassmen, academic support, study skills, resource management and personal development. Students in their second-year receive information about internships, interviewing skills and professional skills development.
Key components of leadership include accountability, problem-solving and navigating hurdles, and people skills. The students are held accountable to the program and to the other members for their participation and engagement.
Sophomore Christian Martinez, a criminal justice major, believes the mentorship aspect of the program has helped him visualize his own success.
---
"My mentors have shown me what tools I need to be successful in and out of the classroom." - Christian Martinez
---
Third-year students have the opportunity to serve as mentors for first-year students, receive training in public speaking and leadership, as well as obtain information about graduate studies. In their senior year, ELITE students continue to serve as mentors, receive guidance on entering and leading in the workforce, as well as other post-education resources and development.
"The best part of the program is watching the incoming freshman students develop themselves into professional individuals. As a mentor, this is intrinsically rewarding," Coleman said.
Through their involvement in these activities and their participation in workshops, the students develop people skills, the ability to navigate hurdles, and they learn how to initiate and implement a project from beginning to end.
"ELITE focuses the attention of the participant on the aspects of university life that will increase success and avoid pitfalls. ELITE supports students in creating a robust university experience that will lead to personal, academic and career success," Herrera said.
The ELITE program is supported by various departments on campus and institutional funds.
"The key takeaway is that the academic and civic engagement offered within the ELITE program does have a transformational impact on student success and we are aggressively recruiting more students to become part of it," Maynard said.