Art Complex Naming Approved By Regents Among Other Items
August 14, 2020
SHSU Media Contact: Emily Binetti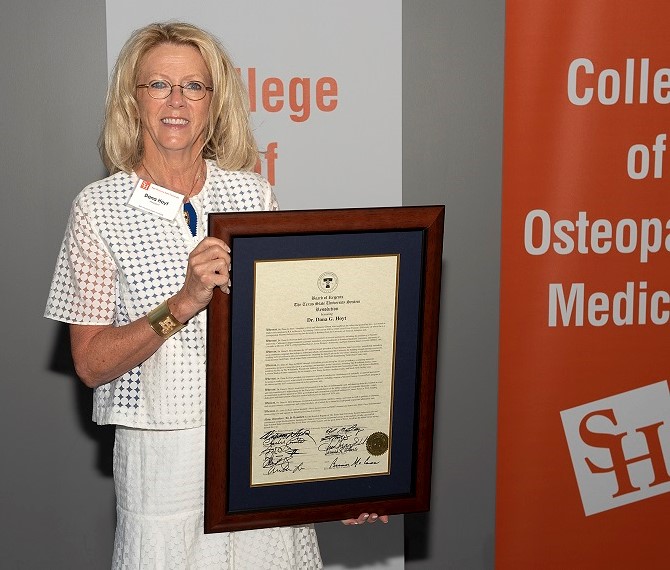 During the Texas State University System Board of Regents quarterly meeting on August 13-14, at Sam Houston State University College of Osteopathic Medicine in Conroe, Texas, a resolution passed conferring President Dana G. Hoyt with President Emeritus status. Additionally, the naming of the new SHSU Art Complex in recognition of Hoyt's service was approved.
Approval was also given for the naming of SHSU's future tennis complex to the Chuck and Wanda Beckner Tennis Center. To be located south of Bowers and Sanders Stadiums, the facility will provide more (and better) courts for matches and practice, opportunities for revenue generation through collegiate and high school tournaments, and an upgrade in the overall experience for student athletes and spectators.
In academic affairs, SHSU received approval for modifying undergraduate admissions criteria. The university will temporarily use a test-optional approach for freshman admissions requirements for students entering in the following semesters: spring 2021, summer 2021, fall 2021, spring 2022, summer 2022 and fall 2022. Based on the pandemic's disruption of the normal ACT and SAT exam cycle, uncertainty regarding effects on the availability of standardized testing during fall 2020 and beyond, having a test-optional policy provides an avenue to make thoughtful and consistent admissions decisions without the need of standardized testing. This change allows first time freshmen applicants a pathway to admission based on high school GPA in lieu of an ACT or SAT score.
Also in academic and health affairs, Regents authorized a new degree program and new course additions leading to the Master of Science in Athletic Training, in the Department of Kinesiology.
Consent was given for degree program reinstatement; designation change and title change for the Master of Arts in Teaching. Due to student demand, as well as the vision of department leadership to support potential students wishing to build upon their existing degrees, the faculty of the School of Teaching and Learning will reinstate the degree.
Consent was given for an online certificate program addition for an Undergraduate Certificate in Criminal Justice Equity and Inclusion. To be housed in the Department of Criminal Justice and Criminology, the 12-credit hour program was developed for criminal justice working professionals and current students who plan to work in the field.
Consent was given to relocate the non-degree Graduate Certificate in Effective Online Instruction from the School of Teaching and Learning to the Department of Library Science and Technology.
All academic affairs program changes are to be implemented upon final approval by the TSUS Board of Regents and the Texas Higher Education Coordinating Board.
In planning and construction, Regents approved design development documents for the Ron Mafrige Field House renovation. The project renovates 27,000 square feet of building interior with an additional 2,700 square feet by enclosing an exterior observation deck, to create new functional and modern environments.
In contracts, an agreement with Van Wagner Sports & Entertainment LLC was approved for the services of managing and securing multi-media marketing, promotional, broadcasting and commercial rights.
Also approved, an amendment contract with AHI Facility Services, Inc. for additional custodial services to include sanitizing for COVID19.
An amendment to the contract with Barnes & Noble College Booksellers for the addition of the First Day Complete textbook program and modification to royalty structure was approved.
An approved contract with Assessment Technologies Institute will provide online comprehensive review and test prep services to support SHSU's School of Nursing.
The next meeting will take place on Nov. 19-20, 2020 at Lamar University, Beaumont, TX.
- END -
This page maintained by SHSU's Communications Office:
Director of Content Communications: Emily Binetti
Communications Manager: Mikah Boyd
Telephone: 936.294.1837
Communications Specialist: Campbell Atkins
Telephone: 936.294.2638
Please send comments, corrections, news tips to Today@Sam.edu