Financial Literacy Week To Teach Students A, B, C's Of 'Adulting'
Jan. 29, 2018
SHSU Media Contact: Hannah Haney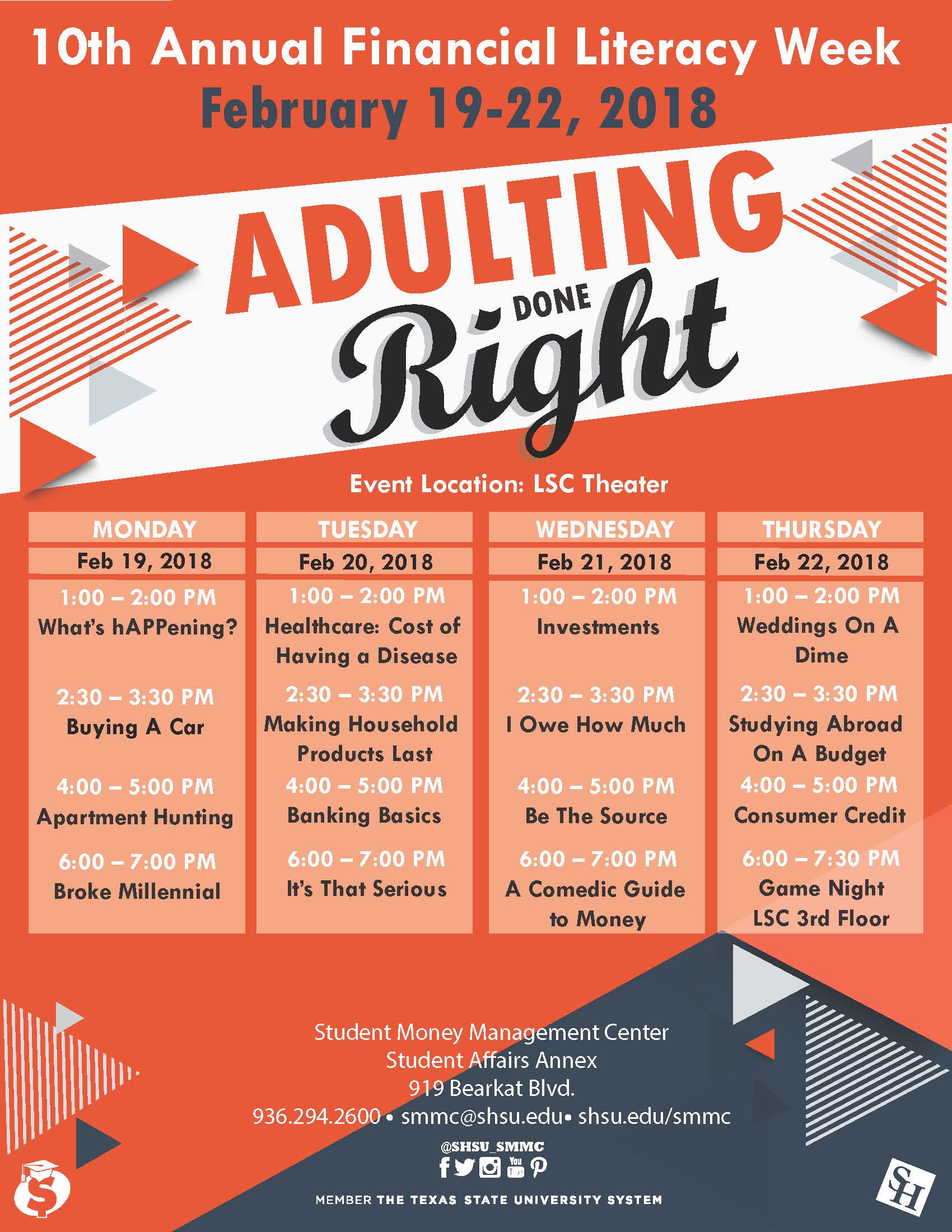 The Student Money Management Center will host its Tenth Annual Financial Literacy Week Feb. 19-22, in the Lowman Student Center.
"Adulting Done Right" is the theme of the week and aims to educate students from all walks of life on making smart financial decisions regarding big life events such as apartment hunting, buying a car and planning a wedding.
"The goal of FLW is to encourage students to think about their personal finances and ultimately empower them to achieve financial independence. We want to provide students with a resource for their questions related to budgeting, saving, investing, credit, student loans and so much more," Haley Rothrock, program coordinator for the SMMC said.
On Monday, Feb. 19, the first workshop of FLW kicks-off at 1 p.m. with, "What's hAPPening," hosted by the SMMC peer coach, Makayla Mason, who will explain current apps that help with budgeting, saving money and meeting your financial goals. Then at 2 p.m. the "Buying a Car" workshop will provide in-depth information on best practices when looking to purchase a vehicle. The 4 p.m. workshop, "Apartment Hunting," will review money saving ideas that can be instrumental when thinking about moving into an apartment. The final event of the day will end with Erin Lowry, millennial personal financial expert and author of "Broke Millennial: Stop Scraping By and Get Your Financial Life Together."
Tuesday, Feb. 20, students will be treated to another full schedule of educational workshops with "Healthcare: The Cost of Having a Disease" beginning at 1 p.m., "Making Household Products Last," at 2:30 p.m., then "Banking Basics," which will review basic banking principles such as balancing a checkbook at 4 p.m. The second headliner for the week will be Anthony O'Neal. He has committed to students turning their life around and helping them find their passions.
"He is fun, intelligent and a great financial speaker. I can't wait for our students to meet him," Patsy Collins, director of SMMC said.
Then on Wednesday, Feb. 21, beginning at 1 p.m. students can participate in a workshop titled, "Investments" which will review basic information on various types of investments including Roth IRAs, CD's and 401(K)'s. Another important topic of the day will be a presentation discussing student loan repayment and various ways to possibly decrease the amount owed. This event is titled, "I Owe How Much," and begins at 2:30 p.m. Later at 4 p.m., the SMMC will discuss entrepreneurship and creative ways to increase student income. The final headliner of the week will be Colin Ryan, comedic financial speaker and author at 6 p.m.
"This event is something very new to FLW, we are bringing in financial comedian Colin Ryan. Money is usually a very serious topic for most individuals, but Colin has a way of breaking down the barriers that prevent individuals from discussing personal finances in a way that allows the conversation to really start following. I am very excited to see his presentation and also see the reaction from the students in attendance," Rothrock said.
For those planning a wedding, the workshop, "Wedding On A Dime," will focus on money savvy ways to plan, decorate, and host a dream wedding at 1 p.m. on Thursday, Feb. 22. Later in the day, "Studying Abroad On a Budget" will take place at 2:30 p.m.
"I am looking forward to Studying Abroad on a Budget" Mason said. "I, like many other students, would like to participate in a study abroad program before graduating, but the one thing that may hold me back is the funding to do so. I hope this presentation helps me get one step closer to studying abroad."
FLW will wrap up with its final two events, "Consumer Credit," which will discuss consumer credit and financial credentials required to be approved for loans such as a home mortgage at 4 p.m. and a game night at 6 p.m. In conjunction with all the events, the center will be giving two different scholarships to all of those in attendance. Individual scholarships equaling a total of $2,200 will be awarded. Following the lectures titled, "The Broke Millennial, It's That Serious and A Comedic Guide to Money," there will be a drawing for a $200 scholarship. The other events will offer a possibility of winning a $100 scholarship.
"The potential for a personal financial gain and an organizational win should motivate students to attend. Plus, attendance at one FLW event will also count as one of the eight required events to play Jeopardy at the end of the spring semester. The winner of Jeopardy earns the title SMMC Student of the Year and a $1,000 scholarship. Free pizza will be served on a first come, first serve basis, at the 6 p.m. events," Collins said.
In order for organizations to participate they must be a registered organization on campus, they must submit their organization roster and organization name, e-mail and phone number to the SMMC by Feb. 9, there must be an organization representative at a minimum of three FLW events and all representatives must check in at the conclusion on the events.
"Our students have come to realize that intentionally structuring your finances while they're in college is one of the key factors for aggregating wealth after graduation. These workshops teach students how to do just that," Collins said.
For more information on FLM and a list of events, visit https://www.shsu.edu/dept/smmc/FLW
- END -
This page maintained by SHSU's Communications Office:
Director of Content Communications: Emily Binetti
Communications Manager: Mikah Boyd
Telephone: 936.294.1837
Communications Specialist: Campbell Atkins
Telephone: 936.294.2638
Please send comments, corrections, news tips to Today@Sam.edu