Veteran Supports Fellow Heroes Through VAN Presentations
Aug. 24, 2016
SHSU Media Contact: Jennifer Gauntt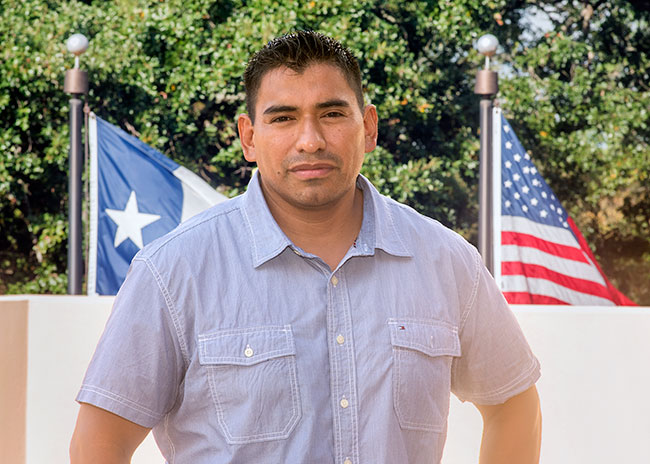 "I can't regret anything that happened because everything brings me to right here; that's what I believe," said Pablo Sanchez.
A sophomore management information systems major at Sam Houston State University, Sanchez is different from many of his peers; a non-traditional student and father of four, he is thoughtful and serious in conversation, even when joking, clearly the result of his 19-year, four-month career in the military.
He talks about regrets because he's begun sharing some of his military experiences—and the post-traumatic stress disorder that has resulted from four tours of duty in Afghanistan and four tours of duty in South America with the U.S. Army Special Forces—for a new program being launched this fall by the SHSU Veterans Resource Center.
The Veterans Alliance Network will include a panel of campus professionals and Sanchez, who will discuss issues related to SHSU's approximately 750-veteran-student population as a means of helping faculty and staff members enhance the overall college experience for this group.
Statistically, 31 percent of active duty veterans meet the criteria for PTSD within a year of returning from deployment, and 22 veterans die by suicide each day. Sanchez has made talking about his experiences a personal mission to raise awareness of these issues and continue to be a leader off of the battlefield.
Going Active Duty
"The first time I presented, I was in a bad way for two days; I was very angry and irritable. I called Fernando (Chavez, VRC director and VAN creator) and said I didn't think I could do it anymore," Sanchez said. "But I wasn't trained to quit, so I called him back and said I'd continue to do it. I've had Vietnam vets come up to me and thank me or people will email me and say they understand why their uncle or brother is that way; I'm hoping that it reaches people and changes a lot of attitudes."
Sanchez enlisted in the Army during the "Clinton years" before Sept. 11, 2001. Born in Mexico, he was just 9 weeks old when his parents emigrated to the U.S. for better opportunities, and because his family was poor and his grades were not the best, he saw the military as a way to turn his life around.
"I've never been one to ask for handouts; that's the way my father raised me," he said. "I joined the military because it offered me that opportunity. It offered me education, a steady paycheck, insurance, all the benefits that come with it. They get something from me; I get something from them."
Initially a parachute rigger, Sanchez thrived in military life, and eventually, his desire for adventure led him to apply for the Green Berets.
"Ever since I was a little kid, I always wanted to be (John) Rambo—I guess I became 'Juan Rambo'—but I didn't read the fine print," he said. "I didn't realize I was going into a different brotherhood, different challenges, different missions, smaller groups. That was a very positive change in my life. Riskier, but it was very well worth it."
It was during the grueling, three-week Special Forces try-out, during which 300 applicants were whittled to just 40, that the 9/11 attacks happened.
"I was toward the end of my training when the towers came down. I remember watching it—we all ran to the chow hall because it was the only TV that we had to watch; they kept us isolated while we were training," he said. "We were told that some of the guys were going in immediately, depending on our unit."
Working in teams of just eight allowed Sanchez and his compatriots to bond intensely as they experienced all of the highs and lows associated with being "boots on the ground."
During one incident in Afghanistan, Sanchez and a new team were ambushed, completely surrounded by opposing troops. When they had initially set up for the mission, Sanchez had strategically ordered a vehicle to be placed in a specific area, and during the ambush, the man inside the vehicle was killed by a rocket-propelled grenade.
He tells the story during VAN presentations to highlight some of the survivor's guilt many veterans return with.
"I have many, many, many incidents just like this, but this one sticks out to me more because these guys were new, and I felt like as a senior leader, I should have brought them all home," he said. "It's war and people are going to die in war, it happens, but I felt this one more personally because I made that decision. It stays with me."
Following that incident, for which he was awarded a Bronze Star for Valor, Sanchez began drinking heavily to "self medicate" and started to display symptoms of PTSD, though he didn't realize it.
"I didn't know what was going on. I didn't know about PTSD, the nightmares or hearing things, being quick to anger, the inability to deal. The emotional connection with people, it was gone," he said.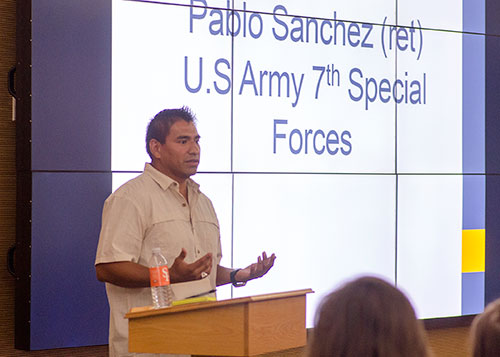 Sanchez says his VAN presentations are among the ways he's coping with his PTSD and hopes speaking out will help de-stigmatize the disorder, while also helping his fellow soldiers.
"I took a month vacation and went to Colombia to visit family. I heard fireworks, because it was Christmastime and they pop fireworks on Christmas morning, and I grabbed my wife and threw her on the floor, telling her we're getting shot at," he said. "I would hear helicopters in the middle of the night and tell her we had to go. I didn't know what was going on. Everything was starting to manifest itself but I didn't know what it was."
After his vacation, he trained and went on two more missions, including nine more months in Afghanistan, before his wife approached him about seeking help. He was diagnosed with 70 percent PTSD and medically retired.
Today, he's focusing on being the best father and husband he can be, while working to complete his degree in a setting that can, in itself, present stressors of its own.
"One day I was sitting in class taking notes and the next thing you know, I had a flashback, right there in class, and missed the entire thing that the professor had said," Sanchez said. "I don't want professors to treat us differently but I do want them to be aware if they have a veteran in their class; sometimes we just need professors to be more patient."
He's continued working to cope with his PTSD by becoming more aware of his triggers and learning to recognize the symptoms. He sees sharing his story through VAN both as part of a coping mechanism and also as a way to continue serving his brothers in arms.
"Nobody wants the stigma of PTSD; I don't want it, but it is what it is," Sanchez said. "I just have to be completely aware of what's going on with me in order to minimize the damage. I don't drink now; I try to talk it out.
"People see PTSD and think of mass shootings, murderers, and that's not what it's like. I thought if I told people I had PTSD, they'd run from me," he said. "But I know a lot of my brothers who have PTSD are killing themselves, so here's my opportunity to change it and hopefully help them. I accepted the fight in a different manner. We can't live in the shadows, we can't live in hiding; the more people who know about it, the more it becomes acceptable."
- END -
This page maintained by SHSU's Communications Office:
Associate Director, Communications: Emily Binetti
Telephone:936.294.4406
Communications Manager: Vacant
Telephone: 936.294.1837
Communications Writer: Campbell Atkins
Telephone: 936.294.2638
Thomason Building: Suite 102
Please send comments, corrections, news tips to Today@Sam.edu