Alliance Program Targets Veteran Student Success
Aug. 24, 2016
SHSU Media Contact: Jennifer Gauntt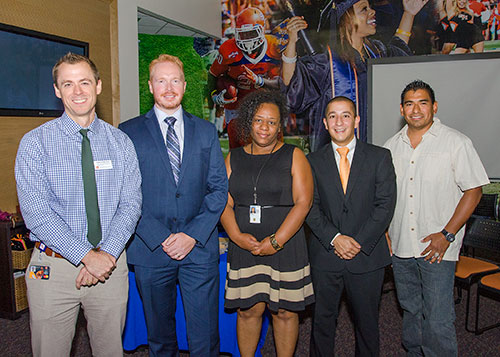 Veterans Alliance Network presenters (from left) Drew Miller, Jeremiah Dancy, Roberta Ardoin, Fernando Chavez, and Pablo Sanchez share their expertise with faculty and staff in an effort to highlight different perspectives on the student veteran experience on campus. —
Photo by Brian Blalock
The percentage of active duty veterans who meet the criteria for post-traumatic stress disorder within a year of returning from deployment: 31.
The average number of veterans per day who die by suicide: 22.
The typical age range of student veterans on college campuses: 24-40.
To help Sam Houston State University's approximately 750 veteran students in dealing with the predominant issues associated with transitioning back to civilian life, the Veterans Resource Center will deploy a new program this fall that will aid faculty and staff in guiding those students to success.
The Veterans Alliance Network will comprise an hour-and-a-half training that raises awareness of statistics and experiences related to students' military experiences in an effort to provide them with an encouraging, structured environment on campus.
Like the HAVEN program, designed to help faculty and staff understand issues relevant to the LGBTQI community, VAN presentations will explore veterans' experiences from several perspectives, including defining the different roles military personnel play, examining frustrations that can accompany veterans returning to school, and introducing the Bearkat community to the resources offered on campus through the VetSuccess on Campus program.
Presentations will be led by Fernando Chavez, Veterans Resource Center director and U.S. Navy Veteran; Drew Miller, assistant vice president for Student Services and executive director for SHSU's Counseling and Health Services; Jeremiah Dancy, assistant professor of history and U.S. Marine Corps veteran; Roberta Ardoin, VetSuccess on Campus counselor; and Pablo Sanchez, an SHSU student and retired U.S. Army veteran.
"Some veteran students have a hard time adjusting to the bureaucracy of higher education; they can't always understand why some processes move so slowly," Chavez said. "By introducing the resources available through the VetSuccess on Campus program, faculty and staff will have a better idea of what SHSU offers and where they can direct veteran students to receive the assistance they need."
A big portion of the presentation is devoted to understanding the mental effects of military life on both combat and non-combat veterans, issues related to transitioning back, and how the SHSU community can best support that transition.
"The purpose of the VAN sessions is to help the Bearkat community consider their own biases and assumptions and then think about these issues from the perspective of those who experience them, the brave men and women who have chosen SHSU for their educations," Chavez said.
VAN sessions are scheduled for Sept. 27, Oct. 18 and Nov. 8 during Veterans week. All three presentations will be held from 2-3:30 p.m. in Lowman Student Center Room 320.
Participants earn Talent Management credit and receive a sticker that can be placed outside their offices to denote that they've been through the training.
"From the time I started my job here at SHSU on Aug. 1, 2011, I have gotten to know countless veteran students, many whom I've had conversations with concerning the struggles they face daily, in life and as students here," Chavez said. "More commonly, we discuss how it is hard for students, staff and faculty members to relate to them and the experiences they have been through."
Because there was no blueprint or model at the time, Chavez worked for three years to create VAN, which he feels is the culmination of both a lot of hard work but, also, loss.
"The Veterans Alliance Network means everything to me. Last year, the SHSU community had an unfortunate loss. I failed a veteran student and now with the VAN training, another tragic loss can hopefully be prevented," Chavez said. "I think about that veteran every day and ask myself what could I have done differently to save him.
"I know in my heart that a veteran student will reach out to someone because of trainings we are conducting on campus," he said. "A veteran student might be walking down one of our halls and see the VAN sticker and be more inclined to ask for help because they know that individual is aware of VAN and is there with an open mind and to support."
For more information, contact the Veterans Resource Center at 936.294.1046.
- END -
This page maintained by SHSU's Communications Office:
Director of Content Communications: Emily Binetti
Communications Manager: Mikah Boyd
Telephone: 936.294.1837
Communications Specialist: Campbell Atkins
Telephone: 936.294.2638
Please send comments, corrections, news tips to Today@Sam.edu