Criminal Justice Major Keeps Eye On Prize In His First Year
July 13, 2015
SHSU Media Contact: Jennifer Gauntt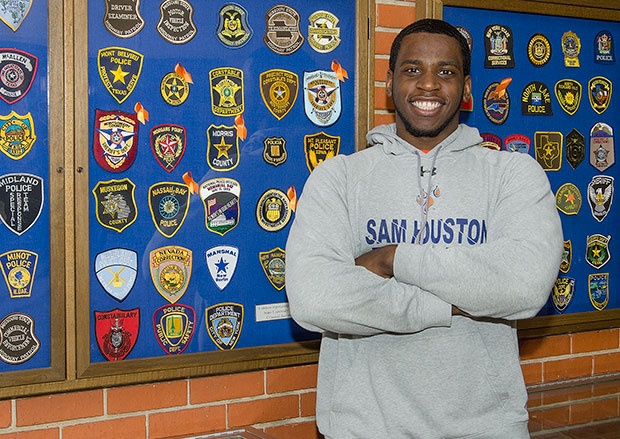 Every summer, sophomores share some of their experiences and offer advice to SHSU's newest cohort of freshmen. Below, criminal justice major Trey Taylor, from Brookshire, shares how starting over as a "little fish" in a big pond was made easier by his decision to get involved on campus. Also, see pre-nursing major Emmanuel Adebogun's discussion pursuing a perfect GPA here and accounting major Kaitlyn Tyra's discussion on her decision to get involved as a commuter here. —Photo by Brian Blalock
Dear Newest Bearkats,
When I came to college last year, I saw it as a time to completely start over. It was a strange feeling, going from being a senior back to being a freshman, but coming to Sam Houston was the best decision I could have made for my higher education. Sam Houston is big, but not too big for you to find yourself and start meeting new people. The first day I moved into the Criminal Justice Living-Learning Community, I met a lot of wonderful people, and I still have the same friends I met on that first day. Since then, I also have learned about some of SHSU's resources that may also help some of you.
When I came to Sam Houston, I knew the people I surrounded myself with would reflect my image. So I decided to join Sam Houston ELITE, which was established to promote academic development, as well as promote and encourage civic engagement. The program ultimately serves to increase the rate at which SHSU retains and graduates men of color. Sam Houston ELITE has made a big difference in my college life. Miguel Arellano, the coordinator of the program, helped me choose the classes that fit best for me and keep track of my grades. Also, Sam Houston ELITE helps freshman pay for books and will give you an official ELITE polo shirt.
Another program that I decided to join was Project Connect, which currently serves 165 highly motivated first-generation, low-income, and/or disabled students. Project Connect has programs that help with time management and budgeting, so you don't run out of your financial aid during the first semester, which is a bigger problem than you might think. When I received my first refund, I went spending crazy and eventually had to get budgeting advice from Rosalind Lambey. Rosalind works with Project Connect and spent as much time with me as I needed when getting advised. Another good thing about these groups is that they have on campus Grassroots events, where professionals come back to Sam Houston and share their experiences and how they got to the place they are today.
When it comes to classes, college courses are really based on your relationship with the professor. Building a good relationship with my professors benefitted me because I felt more comfortable going to class and their office hours to speak one-on-one with my professors. There is also a website called "Rate My Professor" where you can find out which professor will suit your specific learning style. I know that I have multiple learning styles and certain things work differently for me. Rate My Professor gave me the opportunity to make the right choice for deciding to whom I'm entrusting my GPA.
Since I'm a criminal justice major, I also try to attend all the CJ events that I can. The College of Criminal Justice's "Real Talk w/CJ" series brings in professionals who describe their job and how they got there. I've had a chance to speak with a Texas Ranger, Department of Public Safety Officer, and an FBI agent. When I came out of my shell and started networking, Sam Houston became more of a home. I made sure to surround myself with the right crowd and also distanced myself from the wrong people so that I could be more responsible and productive here. There are a lot of different social gatherings that I attended, but it's your decision to prioritize your time and find out what's most important.
Because of the relationships I built in high school, I received enough support to attend college. No matter what my friends were doing, I was going to college to be somebody. After I lost my dad in 2013 to a heart attack, it was the staff at my high school that kept me focused on graduation. Mrs. Richardson and Mrs. Peschke from Royal High School pushed me to keep working hard and it paid off; I worked hard filling out numerous scholarships my senior year to get here, and now that my freshman year is over, I have a chance to reflect on the person I have become. One thing that I am proud of is my 4.0 GPA in criminal justice. Because of my GPA, I was one of the four recipients of the R.W. Gordy Memorial Scholarship for the 2015-2016 academic year. My hard work will continue to pay off if I keep my eyes on the prize.
If there is anything this first year has taught me, it is that networking is the most important thing. Don't just go to Sam Houston; be a Bearkat. Open up yourself to the endless opportunities that this college offers and get something out of it before your four years are up.
Good luck, new Bearkats!
Trey Taylor
- END -
This page maintained by SHSU's Communications Office:
Associate Director, Communications: Emily Binetti
Telephone: 936.294.1836; Fax: 936.294.1834
Communications Manager: Wes Hamilton
Telephone: 936.294.1837; FAX: 936.294.1834
Communications Writer: Hannah Haney
Telephone: 936.294.2638; FAX: 936.294.1834
Thomason Building: Suite 102
Please send comments, corrections, news tips to Today@Sam.edu
---