Accounting Major Shares Lessons Learned In First Year
June 17, 2015
SHSU Media Contact: Jennifer Gauntt
Editor's note: Every summer, sophomores share some of their experiences and offer advice to SHSU's newest cohort of freshmen. Below, accounting major Kaitlyn Tyra, from Spring, shares how her decision to get involved, despite commuting to classes, has paid off and enriched her college experience. Also, see pre-nursing major Emmanuel Adebogun's discussion pursuing a perfect GPA here.
Dear Newest Bearkats,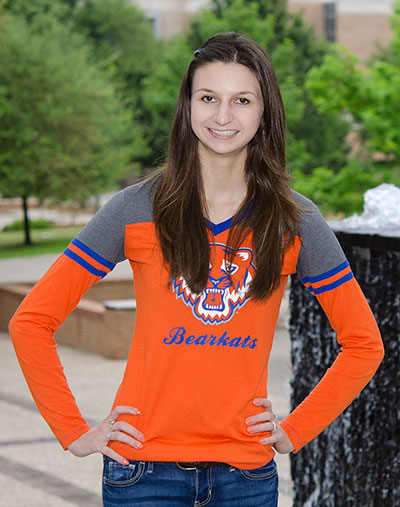 Kaitlyn Tyra, a sophomore accounting major, chose to commute to SHSU for her freshman year, in lieu of living in the residence halls. In order to stay connected to her fellow freshmen, she took advantage of several on-campus opportunities, which have ultimately enriched her experience here. —Photo by Brian Blalock


Welcome to Sam Houston State University! It truly is a limitless place, especially if you take advantage of all the opportunities the university has to offer. As I look back on my first year of college, I can hardly believe all the new experiences I've had! Less than a year ago, I was a nervous excited freshman ready to embark on one of my most important journeys in life.
Since then, I have grown an enormous amount intellectually and professionally. When I started college, I didn't know anyone on campus. College offered me a completely fresh start, one that I welcomed. However, it also was intimidating to realize that I was completely outside of my comfort zone. One of the best decisions I made was joining a Freshman Learning Community because it connected me with students who had the same career aspirations I did. The program enabled me to take multiple classes with the same group of people, which made it easier to make connections. At the time, I didn't realize how important my decision to join the Pre-Law Freshman Learning Community would be.
One of the biggest differences between college and high school is the atmosphere college offers. The majority of the students in college want to be here, and the professors are enthusiastic about his/her field, which makes learning more interesting. For me, it was a welcome change from the requirement of high school, where many students were disinterested. In addition, professors notice students who are truly interested and engaged. Within my first week of college, my University 1301 professor, Mike Yawn, asked me to help volunteer at future Texas governor Greg Abbott's campaign visit to Huntsville. This opportunity led to more events and eventually a leadership position within his campus organization, the Center for Law Engagement and Politics.
Unlike most college students, I decided to commute to campus and live at home instead of in a dorm. However, I knew when starting college that I didn't just want to "go to school;" I still wanted to be involved in the campus community. Being a member of the Elliott T. Bowers Honors College and the LEAP Center has allowed me to find my place within the university. As a result, I have made my own friends and have enjoyed a fun college experience.
If I could give you newest Bearkats one piece of advice, it would be to get involved. Being involved will lead to so many opportunities. Because of the LEAP Center, I have had the opportunity to travel, participate in fun community service, and learn about civic engagement and politics. Also, I have grown in my cultural awareness and increased my professionalism skills immensely. The Honors College also offers some great benefits to students, such as smaller class sizes in which honors students are challenged and given the opportunity to interact with great professors. Advanced registration is also a nice benefit.
The experiences I have had this year are invaluable and will help to define my time at Sam Houston State University. I hope that you will enjoy SHSU as much as I do and take advantage of the numerous opportunities SHSU offers. If you work hard and get involved, you will make your own college experience memorable and successful.
Sincerely,
Kaitlyn Tyra
- END -
This page maintained by SHSU's Communications Office:
Associate Director, Communications: Emily Binetti
Telephone: 936.294.1836; Fax: 936.294.1834
Communications Manager: Wes Hamilton
Telephone: 936.294.1837; FAX: 936.294.1834
Communications Writer: Hannah Haney
Telephone: 936.294.2638; FAX: 936.294.1834
Thomason Building: Suite 102
Please send comments, corrections, news tips to Today@Sam.edu
---