Psychological Services Center To Host Open House At Newest Location
Oct. 8, 2015
SHSU Media Contact: Romney Thomas
For years the Psychological Services Center at Sam Houston State University has offered valuable services to individuals, families and agencies in Walker County and beyond.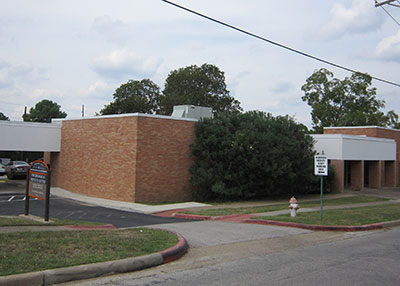 The Psychological Services Center is now located at 1528 Ave. J, formerly the Student Health Center. The staff will have an open house on Oct. 16 to reintroduce the community to their services and show off their new home. —Photo by Romney Thomas
During this time, the center has continued extending and expanding its services, and because of the need for a larger venue, this fall, the PSC moved to its third on-campus location since 1999.
"We've simply outgrown the facilities we've occupied over the years," said director Mary Alice Conroy. "We are quickly growing into our new space and we look forward to being able to continue expanding."
The center will host an open house on Oct. 16 from 4-6 p.m. at its new location at 1528 Ave. J, formerly the SHSU Student Health Center, to familiarize the community with its services. Refreshments will be served.
The PSC provides therapy and assessment to families and individuals, and offers these services via a sliding scale that keeps costs low.
"Right now we have a record of serving people in 21 counties in this area," Conroy said. "Services like the ones we offer are very limited around here, and part of our mission is to provide mental health services to an underserved rural population."
Among the services the center offers are individual psychotherapy to adults and children, according to Conroy.
"We have provided therapy to individuals as young as age 3 and as old as 79," Conroy said. "Of course, we do not stop there. We are fortunate not to have limitations in the terms of demographics we are able to serve."
Doctoral candidates at SHSU perform all the services offered at the PSC under the supervision of licensed professionals.
"We are happy to provide doctoral candidates with a large number of clinical hours here," Conroy said. "All sessions are confidential and supervised by trained professionals who are ultimately responsible for the therapy and evaluations provided."
The center also offers services in Spanish.
"We are fortunate to also have a very well-qualified, Spanish-speaking evaluator and four Spanish-speaking doctoral candidates working with us," Conroy said. "We were unable to accommodate requests for services in Spanish for a while, and now we're thrilled to also assist the community in this way."
In order for staff members to evaluate the doctoral candidates who provide the therapy, PSC sessions are recorded by a state-of-the-art system and stored for 10 days so that a designated supervisor can review sessions.
In addition to individual therapy, the PSC also offers family and couples therapy, assessment.
"We provide psychological and clinical evaluations for a myriad of things," Conroy said. "Very commonly, we will provide assessments for academic accommodations, but we also provide assessments for behavioral problems."
Finally, the PSC also provides forensic assessment and evaluation.
"We have performed forensic services over the years for 40 judges in 21 different counties," Conroy said. "Last year we completed 100 such evaluations, and by my estimation we will perform about 130 this year."
For more information about the services offered by the PSC, call 936.294.1210 or email clinpsy@shsu.edu.
- END -
This page maintained by SHSU's Communications Office:
Director of Content Communications: Emily Binetti
Communications Manager: Mikah Boyd
Telephone: 936.294.1837
Communications Specialist: Campbell Atkins
Telephone: 936.294.2638
Please send comments, corrections, news tips to Today@Sam.edu