It Only Hurts When I Try To Find A Parking Space On Campus
July 8, 2015
SHSU Media Contact: Julia May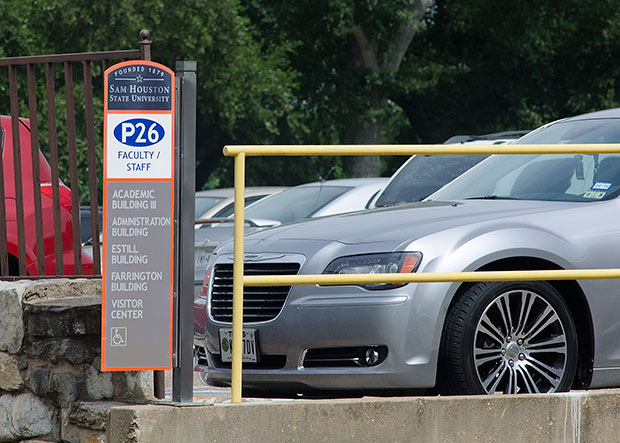 As SHSU grows, so does the campus parking problem. University officials understand the frustration many are feeling and know that decisions being made this year are not going to be popular. However, the Parking and Transportation Office is offering several new ways and suggestions to make parking issues less uncomfortable.
Please note: This is the first in a two-part series about parking changes at SHSU.
If you are thinking that parking spaces at Sam Houston State University are getting harder to find—you're right.
By the numbers…
12,750* – the number of annual and semester permits issued to faculty, staff and students
6,712* – the number of temporary permits for faculty, staff, students and visitors issued by the Office of Parking and Transportation
57,686* – the number of timed parking exits from the Sam Houston Parking Garage
7,700 – the number of parking spaces available on campus
$ .49 – the daily cost for a faculty/staff general permit to park on campus, based on a full calendar year
$ .19 – the daily cost for a faculty/staff remote permit to park on campus, based on a full calendar year
$ .34 – the daily cost of a commuter student permit
$ .38 – the daily cost of a resident student permit
$2 – if you happen to go over the first 20 minutes of free parking in the garage, your cost will be $2 versus a $40 citation for parking in the wrong permit area
$4 – the cost of a daily permit to park on campus, without the purchase of an annual permit
$10 – amount of payroll deduction each pay period for the 9-month extended pay plan to purchase a faculty/staff general permit
$396 – the amount that those "Reserved for No. ______" places near your building cost. No, they are not given to administrators free of charge.
July 17 – online registration for parking permits begins
Aug. 3 – in-office registration begins
*Based on activity monitored by Parking and Transportation for 2014-15
Call it growing pains.
While 761 new parking spaces will become available over the next two years, 852 spaces will be lost to new construction. That's 91 fewer spaces than last fall, when parking spaces were difficult, if not impossible, to find during peak occupancy times.
The problem doesn't just stem from additional new buildings, however. SHSU enrollment has increased by 43 percent in the past decade, and along with more students comes the need for additional faculty and staff. And it seems that everyone wants to bring their vehicles to campus.
"We hear the complaints, and we understand the frustration," said Matt McDaniel, assistant director of SHSU Public Safety Services. "We are constantly looking at solutions, and unfortunately, the university has come to a time where some very difficult decisions are having to be made."
One of those decisions is an increase in parking fees for faculty, staff and students beginning in the fall 2015 semester—certainly an unpopular move, but one that is necessary if SHSU is to move forward with plans to ease the parking situation in the future, according to McDaniel. (See the 2015-16 fee schedule.)
To help employees plan for parking costs, the university is offering extended payroll deduction—with as many as 18 deductions over a 9-month period— as well as the "one-and-done" payment.
The good news is that some of the positive changes will start happening as early as this fall.
The new South Residential Parking Lot will be available for faculty/staff and commuter permit holders, providing approximately 420 spaces, until the South Residential Complex is completed in fall 2016.
A planned expansion of P5, also known as the Colony Lot located across Bobby K. Marks Drive from the LEMIT Building, will provide 94 spaces.
Making the most of technology, Parking and Transportation will begin providing updates on available parking via Twitter during peak hours, between 7:30-11 a.m.
"We can be found at @SHSUParking, and we are also asking the university community to actively participate in sharing available parking by using #SHSUParking," McDaniel said. "Obviously, we want drivers to use the app safely and not look at their phones while driving."
McDaniel encourages commuters to consider biking as an option, even if it means bringing your bike in your vehicle. He also hopes that the public will help identify new areas for bike racks to be installed.
"The best method of navigating campus after parking your vehicle is to walk or bike," he said. "We issue bicycle parking permits as well as vehicle permits from our office. You can park your bicycle at one of the several bike rack locations to get to and from your destination without having to relocate your vehicle. Having multiple modalities of transportation on campus helps remove pressure and the dependency on parking spaces for vehicles."
Another change will make it easier for commuters to unload heavy items on campus by utilizing the parking garage.
"The garage will be available at no charge for the first 20 minutes to avoid parking in 'no parking' areas, service drives or fire lanes," McDaniel said. "If you need more time, the hourly charge for parking is far less expensive than receiving a citation for parking illegally."
Those making the tough decisions affecting employees' pocketbooks wish that managing the parking situation were as easy as constructing new lots or building more garages. But at SHSU, there are two problems: no land and no money.
Anyone who has walked the grounds of the main Huntsville campus understands that there is simply a limited amount of room for expansion. But parking spaces also are surprisingly expensive. According to an article in the online publication "Inside Higher Ed," it costs about $18,000 per space to build a parking garage.
"At a time when demands are for new and updated academic buildings, it's hard to justify spending funding on parking," said Carlos Hernandez, vice president for finance and operations. "And donors would much rather see their names on the front of an academic building than they would on a parking garage."
So where does the money from fees and tickets go?
All parking fees, hourly parking fees and parking citation fines go toward funding the Department of Public Safety Services, which includes the police department and the office of parking and transportation, as well as efforts to maintain and implement additional parking on campus.
Online registration for 2015-16 parking permits begins July 17, with in-office registration beginning Aug. 3.
Next week, read about plans for fall 2016 and options under consideration for the future.
- END -
This page maintained by SHSU's Communications Office:
Director of Content Communications: Emily Binetti
Communications Manager: Mikah Boyd
Telephone: 936.294.1837
Communications Specialist: Campbell Atkins
Telephone: 936.294.2638
Please send comments, corrections, news tips to Today@Sam.edu