SHSU Update For Week Of March 22
March 22, 2015
SHSU Media Contact: Tammy Parrett
Students Encouraged To 'Let it Out' For Mental Health Awareness
Suicide is the second leading cause of death for college students and claims the lives of more than 1,100 students each year, according to the American Foundation for Suicide Prevention.
Organizations like Active Minds, the National Alliance for the Mentally Ill, and the National Coalition for Mental Health Recovery are helping students and campus communities to remove the stigma associated with mental health and no longer treat these issues as something that should be swept under the rug and not talked about.
The Global Center for Journalism and Democracy is teaming up with SHSU's chapter of Active Minds to encourage students to #LetItOut for Mental Health Awareness Week.
Events include a screening of the Academy Award Nominated film "Silver Linings Playbook," which tackles the bipolar disorder of several characters in the movie, on Monday (March 23) at 6 p.m. in the Lowman Student Center Theater.
Before the movie, several guest speakers will talk more intimately about mental illness and coping mechanisms.
Students can attend "Sammypalooza Alternative" on Wednesday (March 25) from 6-8 p.m. in the Kat Klub, where they can play games for free and have snacks while enjoying a night of socialization with fellow Bearkats and friends.
"Social isolation is often one of the first steps down the road to more serious illness, so we want to provide an opportunity for students to come out and meet new people," said Jesse Starkey, program manager for the GCJD.
"This is a societal challenge that is increasing in urgency, but not being talked about enough," said Kelli Arena, executive director of the GCJD. "It is vitally important to start this conversation and to remove the stigma so people can get the help they need. Our aim is to start the conversation with the events we are hosting during the week."
Admission to all events is free.
For more information, contact Arena at 936.294.4399, or visit the GCJD website and Facebook page.
'Oh Snaps!' Event To Offer Professional Headshots
With the end of the semester rapidly approaching, many students are beginning to look for summer internships, jobs and volunteer opportunities.
To help students make a good first impression when contacting potential employers, Sam Houston State University's Public Relations Student Society of America chapter will team up with Logan Hickle Photography to present the second annual "Oh Snaps!" professional headshot fundraiser on Tuesday (March 31) from 4-6 p.m. and Wednesday (April 1) from 2:30-4:30 p.m. on the ground floor of the Dan Rather Communications Building.
For $10, SHSU students, faculty and staff who attend the event will receive three professional photos to use for auditions, job applications, social media, portfolios and other personal uses.
"Headshots make a great first impression," said PRSSA president Misti Jones. "We want to give the community an opportunity to get high quality photos at a great price."
Participants are encouraged to wear business attire.
The departments of Career Services and Alumni Relations will also provide tips for creating a professional LinkedIn account, applying for jobs and becoming involved with the Bearkat Alumni Association upon graduation.
Proceeds will help PRSSA members attend professional agency tours, seminars, assemblies and conferences all over the country in order to network with professionals, enhance their knowledge of the public relations field and prepare for their future careers.
For more information, contact samhoustonprssa@gmail.com or visit loganhickle.com.
Artist To Select Work For Juried Student Exhibit
SHSU's Department of Art will present the 16th annual Juried Student Exhibition beginning March 30 through April 10 in the Gaddis Geeslin Gallery.
Jim Nolan, artist-in-residence at the Lawndale Art Center in Houston, will judge student artworks for entry in the exhibition and discuss his own ideas about art during a juror lecture on Monday (March 23) from 5-6 p.m. in Art Building E Room 108.
A reception and awards ceremony for the exhibit will be on April 2, from 5-7 p.m. in the 3G.
Originally trained as an experimental filmmaker, Nolan has since expanded his talents to include sculpture, photography, video, and sound.
His work has been included in many group shows, including a project by multimedia and installation artist Tony Oursler at the Metropolitan Museum of Art in New York City titled "Studio: Seven Months of My Aesthetic Education (Plus Some)." He has held solo exhibitions at the Soap Factory in Minneapolis, Minnesota; ArtMoving in Brooklyn, New York; and Art Palace Gallery, in Houston.
While on campus, Nolan will view and select a variety of student artworks that will compete for prizes. These include photography, video, sculpture, ceramics, painting, printmaking, drawing, animation, and design pieces.
"The number of works selected is ultimately up to Nolan, and the exhibit will be installed in the gallery after his visit," said Melissa Mednicov, assistant professor of contemporary art.
All events are free and are open to the public.
For more information on the juried exhibit or juror talk, contact Mednicov at 936.294.4572.
Workshop To Provide Students With Professional Wardrobe Tips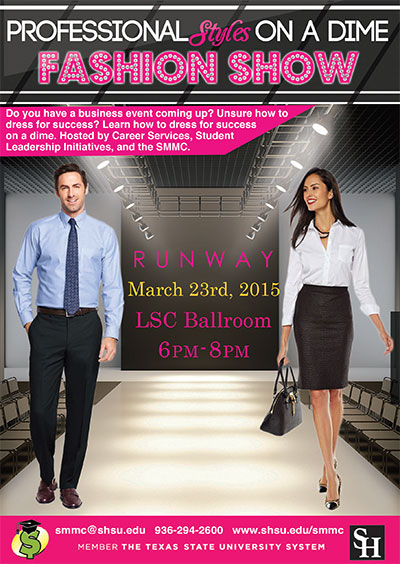 In college, it can be an accomplishment for a student to show up to class wearing anything other than running shorts or sweats. Many college students have wardrobes consisting exclusively of either yoga pants and oversized T-shirts or sweatpants and their favorite hoodie.
However, when they graduate and begin their job search, students are forced to accept that their usual wardrobe is no longer appropriate.
SHSU's Student Money Management Center will help students and recent graduates find clothes that are affordable, stylish and professional during "Professional Style on a Dime Fashion Show" Wednesday (March 25) from 6-8 p.m. in the Lowman Student Center Theater.
Student volunteers will model appropriate business attire for business casual and business professional settings, according to Andrea Rabon, program coordinator for the SMMC. Volunteers will also model inappropriate attire, and there will be a table to demonstrate the art of wearing a tie in the workplace.
Students who attend three or more SMMC events will be entered into a drawing for one of two $400 scholarships.
Pizza and refreshments will be provided on a first-come, first-served basis.
Admission to the event is free.
For more information, contact Rabon at 936.294.1726.
Three Faculty Members Receive Prestigious Awards
The American Counseling Association awarded three members of the Sam Houston State University counselor education faculty prestigious awards at the 2015 ACA conference in Orlando, Florida.
Richard Henriksen was named an ACA Fellow, David Lawson received the ACA Extended Research award, and Richard Watts received the ACA Professional Development award.
Each of the men were nominated by their colleagues and were chosen by the ACA awards committee to receive their awards, according to Lawson, professor of counselor education.
"SHSU has a long-standing tradition of faculty who are very encouraging and student-focused," said Watts, SHSU distinguished professor of counseling. "It has been my experience, both university wide and within my department, that leaders and fellow faculty members are also very encouraging and person-focused.
"It always feels good to have one's work recognized, and it is nice to think that I've made a positive contribution to the profession," Watts said. "It is also meaningful to me because it brings positive recognition to the Department of Counselor Education, the College of Education, and SHSU."
Exhibit To Open 'In Medias Res'
The SHSU Student Satellite Gallery will host the work of three senior art students in "in medias res," which will be on display from March 24-28. A reception will be held Thursday (March 26) from 6-8 p.m.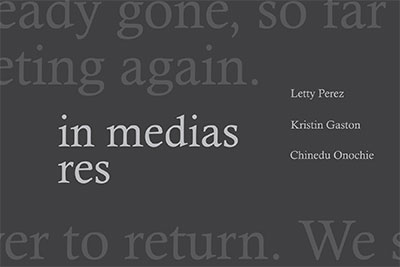 The exhibit will display the works of Letty Perez, Kristin Gaston and Chinedu Onochie.
"In medias res" addresses the nature of the work as opening "in the middle of things." The works will display fleeting moments, with no clear beginning or ending, according to associate professor of photography Rebecca Finley.
Collectively, the exhibit will explore invented realms and life documented on paper, showing a number of settings, from light-hearted encounters to frightening surroundings. Through different works, these anecdotes portray the artists' separate manifestations of emotions, reality and imaginative oddities, according to Finley.
The SHSU Student Satellite Gallery is located at 1216 University Ave., in downtown Huntsville.
For more information, contact Finley at 936.294.3418.
Saturdays@Sam To Invite Potential Students To Campus
Sam Houston State University's biannual campus visitation day, Saturdays@Sam, is scheduled for Saturday (March 28.) from 8 a.m. to 2 p.m., beginning at Johnson Coliseum.
Participants, including parents and friends of prospective students, will hear presentations on SHSU and college life and have an opportunity to visit with professors and representatives from Financial Aid, Residence Life, Student Orientation, Student Life and Undergraduate Admissions.
Visitors will also have an opportunity to preview the academic programs in which they are interested and speak with faculty to answer any questions they may have about SHSU.
For more information, contact the Visitor Center at 936.294.1844 or visitsam@shsu.edu.
Staff Council Spotlights Library Business Manager For March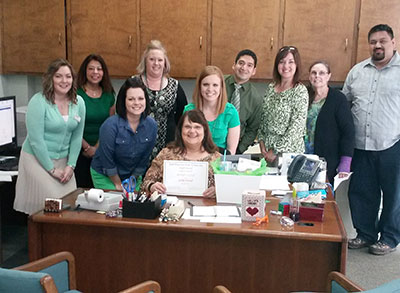 Jackie Conrad (center, sitting) was recognized by the Staff Council for their March "Spotlight on Staff." — Submitted photo
The Sam Houston State University Staff Council selected Jackie Conrad, library business manager in the Newton Gresham Library, for its March "Spotlight on Staff."
Conrad, who has worked in the library for 31 years, began her career as the serials clerk and worked her way up to secretary in the director's office.
She was promoted to library business manger in 1989 and helped set up the university's record retention schedule by organizing individual records and combining them into one retention schedule for the university, which is now maintained by the university archivist.
"I think everyone should enjoy coming to work," she said. "I have a built-in determination to try to be the best I can be each day. If you are excited about a project or a task, others will be excited as well, and it will catch on."
She currently attends Central Baptist Church in College Station in an effort to spend more time with her three children and 10 grandchildren. She enjoys supporting her family at sporting and school events and loves to watch romance movies on the Hallmark channel. In her free time, she likes to read and crochet.
Submit Update Items Here
In order to assist members of the Sam Houston State University community in publicizing events, the SHSU Communications Office (Today@Sam) is now requesting that students, faculty and staff submit information about events, accomplishments or ideas for feature stories online.
Submission criteria and guidelines, including deadlines, have now been placed online, at shsu.edu/~pin_www/guidelines.html. This information is also accessible through the "Submissions" link in the right-hand navigation on Today@Sam.
From there, those submitting ideas can access forms that will allow them to provide detailed information about their idea, as well as attach event calendars, vitas/resumes or photos, depending on the type of submission.
Ideas submitted to the SHSU Communications Office are directly utilized in several ways: as news stories, "slider" or SHSU home page stories, hometown releases, and on the Today@Sam calendar.
If your submission qualifies for distribution, we will either contact you for more detailed information, or we will edit the information using SHSU/journalistic style and forward the final release to the appropriate media.
All information is verified before release, so please provide complete, accurate and timely information. Please type all responses in appropriate upper and lower cases.
For more information, contact the Communications Office at 936.294.1836 or today@sam.edu.
- END -
This page maintained by SHSU's Communications Office:
Director of Content Communications: Emily Binetti
Communications Manager: Mikah Boyd
Telephone: 936.294.1837
Communications Specialist: Campbell Atkins
Telephone: 936.294.2638
Please send comments, corrections, news tips to Today@Sam.edu