SHSU Update For Month Of July
July 17, 2015
SHSU Media Contact: Tammy Parrett
Students Provide Relief To Nepal Earthquake Victims
On April 25, an earthquake with a magnitude of 7.8 struck the country of Nepal, leaving more than 8,000 people dead and even more without homes, electricity or running water.
When Sunil Thapa, president of the Nepalese Student Association at SHSU, heard about this tragedy, he knew that sitting by and not helping his country was not an option.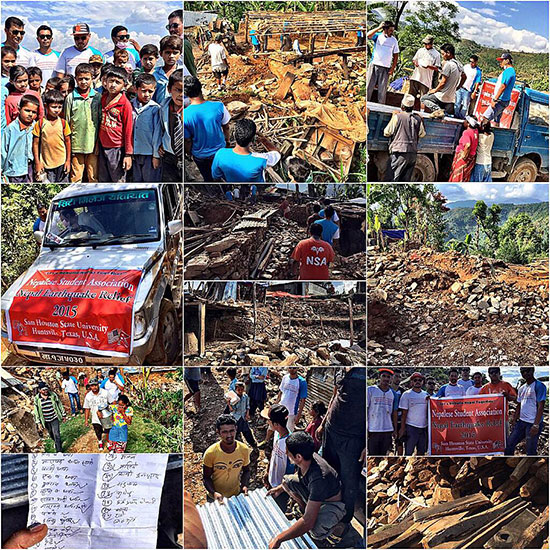 Thapa received his bachelor's degree in management information systems in spring 2015 and teamed up with fellow NSA members Shiva Poudel, Sangita Thapa, Rasmita Karki, Sishir Bhattarai, and Bishwadeep Sudepi, Susila Shakya, Pujan Bhandari, Parameshor Bhandari, Yudeep Poudel, Santosh Limbu, Suraj Pratap Singh, Rajendra Bade, Suabsh Maharjan, Sunil Kutu, Subash Ghimire, Ratna Lama, Irina KC, Sagar KC, Aashish Gauli, and Neelam Sijapati to hold a fundraiser, collecting clothes and money to help those who were affected by the earthquake. The students raised a combined total of $2,789 to donate to earthquake relief.
"We originally planned to donate the money to the Red Cross or to relief efforts already in place in Nepal. However, being away from our families during this difficult time proved to be much harder than realized, so a group of us decided that we wanted to go home to check on our families and take our relief efforts to the front lines with us and do what we could to help the citizens of Nepal," said Thapa.
The group first traveled to Harrisiddhi City, approximately 10 miles outside of Kathmandu, where they distributed 50 umbrellas and torchlights.
"It's monsoon season in Nepal, and many people in this city had been without electricity for more than a month," he said.
When the students arrived in Shindhupalchowk, a small village approximately 60 miles outside of Kathmandu, they found those who were affected by the disaster the most. These villagers were without food and shelter, and they had lost many of their friends and family members in the earthquake.
"This was the most difficult part of the trip," he said. "The trip took all day because most of the roads were closed, and the roads that were open were extremely narrow, making it hard for us to carry our supplies to the villages."
The incredible aftershocks made the journey even more dangerous; however, the group was eventually able to provide more than 40 steel sheds to serve as shelter for these citizens.
The NSA is still collecting money and clothes to continue their relief efforts for their home country.
For more information on how you can help their relief efforts, contact Thapa at sxt010@shsu.edu or 713.933.5439.
Sorority Donates $6,000 To Local Shelter
SHSU's Delta Kappa chapter of Alpha Chi Omega recently hosted a flag football tournament to continue their support of the SAAFE House, with all proceeds benefitting the organization.
The event raised $6,000 for the SAAFE House, which will help the organization to maintain the office and shelter as well as assist with keeping their services free of charge to those in need of them.
"We decided to host a flag football tournament because we wanted something that would be different from other events on campus," said Magda Gonzalez, vice president of philanthropy for AXO. "We wanted people to enjoy themselves, but we also wanted to raise money and help the SAAFE House."
With the sorority's philanthropy focusing on domestic violence awareness, this event was also part of a movement to create awareness of different types of domestic violence.
"Physical abuse is just one type of domestic violence," she said. "While it's important to help those who suffer from physical abuse, we also want people to be aware of the different types of domestic violence, such as verbal abuse and sexual assault."
For more information on Alpha Chi Omega's donation or upcoming events, contact Gonzalez at meg046@shsu.edu.
CJ College Produces Third Journal On School Violence
A third journal—this one on school violence—will be co-produced by faculty at the College of Criminal Justice, adding to the number of peer-reviewed publications on qualitative criminology and psychology in criminal justice already edited by professors at Sam Houston State University.
Assistant professor of criminal justice Ryan Randa was recently named co-editor of the Journal of School Violence, which he will produce along with Brad Reyns, of Weber State University in Utah.
The journal examines urgent issues involving school violence, such as threat assessments, hostage situations, stalking behaviors, and student safety. It helps to guide administrators and policy makers on effective ways to deal with school safety issues and provides insight on social policy, staff training and international cross-culture studies.
"If it is a contemporary issue involving schools, it is what people are writing about," Randa said. "I've been enjoying it. It is a different experience being the first to see real cutting edge research."
The journal is published four times a year and recently included such topics as bullying, the perspective of teachers in hitting students back, psychosomatic complaints in bullying, and cyber peer aggression.
"Taylor & Francis is excited to have Ryan Randa, Sam Houston State University, and Brad Reyns, Weber State University, co-editing the Journal of School Violence," said David C. Hamilton, managing editor of behavioral science and social care publications at Taylor & Francis. "Ryan and Brad have great ideas for the journal and we look forward to the continued success of the Journal of School Violence."
Although the journal primarily has been targeted to an educational audience, Randa hopes to expand its offerings and articles into the fields of criminal justice and criminology by participating in conferences for professional organizations such as the Academy of Criminal Justice Sciences and the American Society of Criminology.
Randa also hopes to grow the journal by applying for an official impact factor score, a component of a comprehensive ranking system among peer-reviewed journals in academia. The score is based on a journal's circulation, how often its articles are cited, and the quality of the publications that cite them. The higher the score, the more prestigious the journal.
Having three academic journals produced at the College of Criminal Justice provides wider national exposure for SHSU in the academic world.
College faculty also produce Applied Psychology in Criminal Justice and the Journal of Qualitative Criminal Justice and Criminology, edited by Randy Garner and Willard Oliver, respectively.
The Journal of School Violence can be found at tandfonline.com/loi/wjsv20#.VW7_Ak10zcs.
Students Share Europe Narrative Through Art
The SHSU Student Satellite Gallery will host an exhibit by students in the 2015 art summer study abroad program every Saturday from 10 a.m.-2 p.m. until Sept. 12. During the fall semester, the exhibit will be open Thursday through Saturday from noon to 5 p.m.
In May 2015, SHSU students from the Department of Art traveled to Rome, Florence, Paris and London, to visit art museums and experience the life and culture of these cities that are so important to the history of art.
Students were enrolled in one or two of the art study abroad courses that incorporated the trip into the curriculum: "Art in Rome, Florence and Paris," taught by assistant professor of art history Melissa Mednicov, and "Narrativity," taught by associate professor of art Michael Henderson.
The exhibit displays from where the students' inspiration stemmed: a variety of experiences, including their encounters with works of art in museums, street art and graffiti, and the people and landmarks of the cities they visited.
"Visitors to the Satellite Gallery will be able to see the students' experiences through their work," said Henderson. "Hopefully, viewing the works will provide an aesthetic experience that communicates something of what the artists' experiences in Europe were like."
An opening reception will be held Thursday (Sept. 10) at 6 p.m.
The SHSU Student Satellite Gallery is located at 1216 University Ave., in downtown Huntsville.
For more information, contact Henderson at mhenderson@shsu.edu or 936.294.1314.
Program To Offer Peer Mentor Training For Veterans, Family
Sam Houston State University's Veterans Resource Center is teaming up with Tri-County Behavioral Healthcare to provide Military Veteran Peer Network basic training for those who want to become a peer mentor on Friday (Aug. 7) from noon to 4 p.m. in the Lowman Student Center Room 315.
Any veteran, service member, family member of community advocate for military and veteran is encouraged to attend and learn what goes on with the mentoring program through the MVPN.
Participants will learn peer support fundamentals, interpersonal skills, depression, suicide and PTSD recognition and awareness, veteran resources and modes of peer support. They will also have the option to volunteer as a peer mentor, peer group leader, hiking group leader, peer court mentor, TDCJ volunteer for veterans and community outreach positions.
"No one wades a stream without getting wet and no one comes back from war unchanged," said Ashley Taylor, program coordinator. "Sometimes, people need a hand in slowing the internal disquiet and conflict that combat, deployment, military sexual trauma, or other abnormal situations produce. No one is better prepared to speak with a veteran about his or her experiences than another veteran, a peer."
For more information, contact Taylor at ashleyt@tcbhc.org or 936.521.6132.
Dietetics Program Receives Reaccreditation
Sam Houston State University's Department of Family and Consumer Sciences recently received reaccreditation from the Accreditation Council for Education in Nutrition and Dietetics for two of its degrees, the Combined Master of Science and Dietetic Internship Program, as well as the dietetic Bachelor of Science degree in food science and nutrition, a didactic program in dietetics.
The ACEND board voted at their June 24 meeting to continue full accreditation of the programs for a term of seven years through December 31, 2022.
Per the reaccreditation terms, the dietetics internship program may enroll up to 10 full-time interns annually with a concentration in community research and practice.
The undergraduate program has been in existence at SHSU since the late 1970s, and the undergraduate programs began in 2001.
The undergraduate program feeds into the graduate program, and those who obtain the degrees become registered dietitians, pending the passing of the registration exam in dietetics.
"ACEND accreditation protects the student, the public, the university professors guiding the program and insures accountability," said didatic program in dietetics director Valencia Browning-Keen. "The accreditation process outlines standards: program eligibility, program planning and outcome assessment, relevant and evidence-based curriculum and student learning objectives, appropriate staff and resources and support for students. Texas helped to lead the way in licensing this profession."
For more information, contact the family and consumer sciences department at 936.294.1242.
Council Spotlights Mail Services Manager For July
The Sam Houston State University Staff Council selected Scott Jourden, mail services manager for its July "Spotlight on Staff."
Jourden served in the U.S. Navy as a postal clerk for more than 20 years. He joined the team at SHSU four years ago as a mail clerk before being promoted to mail services manager.
"With my experience working with the Military Postal Services Agency, I am able to bring all of the training and expertise from my time in the military to the department," he said. "I love customer service and being able to help people. Helping the students, staff and faculty is a pleasure and a very rewarding job."
He enjoys spending time with his three sons Brandon, Cameron and Leon and volunteering at school events with his wife. In his spare time, he likes traveling, spending time his with family and showing off his barbeque skills.
Submit Update Items Here
In order to assist members of the Sam Houston State University community in publicizing events, the SHSU Communications Office (Today@Sam) is now requesting that students, faculty and staff submit information about events, accomplishments or ideas for feature stories online.
Submission criteria and guidelines, including deadlines, have now been placed online, at shsu.edu/~pin_www/guidelines.html. This information is also accessible through the "Submissions" link in the right-hand navigation on Today@Sam.
From there, those submitting ideas can access forms that will allow them to provide detailed information about their idea, as well as attach event calendars, vitas/resumes or photos, depending on the type of submission.
Ideas submitted to the SHSU Communications Office are directly utilized in several ways: as news stories, "slider" or SHSU home page stories, hometown releases, and on the Today@Sam calendar.
If your submission qualifies for distribution, we will either contact you for more detailed information, or we will edit the information using SHSU/journalistic style and forward the final release to the appropriate media.
All information is verified before release, so please provide complete, accurate and timely information. Please type all responses in appropriate upper and lower cases.
For more information, contact the Communications Office at 936.294.1836 or today@sam.edu.
- END -
This page maintained by SHSU's Communications Office:
Director of Content Communications: Emily Binetti
Communications Manager: Mikah Boyd
Telephone: 936.294.1837
Communications Specialist: Campbell Atkins
Telephone: 936.294.2638
Please send comments, corrections, news tips to Today@Sam.edu