Festival To Showcase The Art Of Animation
April 9, 2015
SHSU Media Contact: Emily Binetti
Sam Houston State University's Department of Art will feature student works for the annual Computer Animation Festival on Friday (April 24) in the James and Nancy Gaertner Performing Arts Center Dance Theater.
The evening will include a 5 p.m. reception, followed by the 6 p.m. screening. The event is free and open to the public.
Featuring more than 20 short animated pieces created over the past year, the content selected for the festival is designed to reflect the diversity of the courses that the art department's computer animation program offers. Pieces represent a range of skills and approaches to animation including narrative and non-narrative animation, character animation, and experimental animation, according to animation professor Edward Morin.
"This event provides an opportunity for students to share their creative vision and talent with other students and faculty but also provides them with real-life interactions of presenting their work to the general public, similar to a professional artist," Morin said.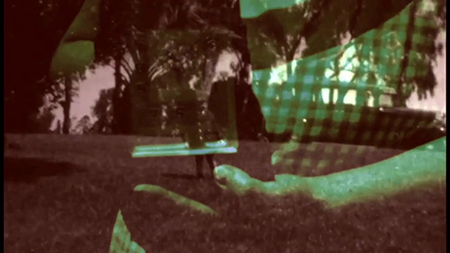 Student animators Connally Baskett and Fabiana De Lilla will present their short works, which took as many as 35 hours to complete, during this year's Computer Animation Festival. Above is a frame from Baskett's "Lost" and below is a frame from De Lilla's "Why Bats Hang Upside Down." See them in full on April 24.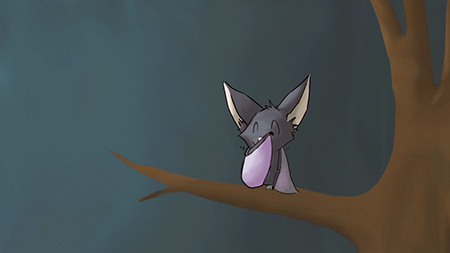 Senior art major Connally Baskett describes her animated short "Lost" as an exploration of memory and nostalgia by using clips from home movies to communicate the idea of childhood memories and how time deteriorates those memories.
"I was interested in capturing that feeling of being both happy and sad, the ambivalence experienced when looking back on old memories," she said.
"Why Bats Hang Upside Down," an animated short by senior art major Fabiana De Lilla, is a story that offers a fictional explanation as to why bats hang upside down.
"The story was written with the idea of it being a children's story, so I tried to design the characters in the same trend," De Lilla said.
Although each animated short featured in the festival is typically less than five minutes in length, the effort devoted to creating the art takes time.
For De Lilla the process took around 30 to 35 hours, including writing the story and designing the characters.
Baskett and De Lilla plan to pursue careers in computer animation after graduation.
"What I love most about animation is being able to slowly bring drawings and characters to life," said De Lilla, whose goal is to secure a job with a well-known animation studio such as Disney, Dreamworks or Nickelodeon.
"I'm hoping to work as a character animator, either in games or film," Baskett said.
Recently recognized in Animation Career Review's "Top 100 Animation Programs in the United States," the SHSU computer animation program approaches animation from a fine arts context, emphasizing creativity and experimentation along with technical ability.
The program prepares graduates to pursue careers in film, video production, advertising, game production, educational media, and fine art.
Learn more about the program at shsu.edu/academics/art/degrees/computer-animation.html.
- END -
This page maintained by SHSU's Communications Office:
Associate Director, Communications: Emily Binetti
Telephone:936.294.4406
Communications Manager: Mikah Boyd
Telephone: 936.294.1837
Communications Writer: Campbell Atkins
Telephone: 936.294.2638
Thomason Building: Suite 102
Please send comments, corrections, news tips to Today@Sam.edu