Students Find Financial Security Through Terry Foundation
Dec. 8, 2015
SHSU Media Contact: Tammy Parrett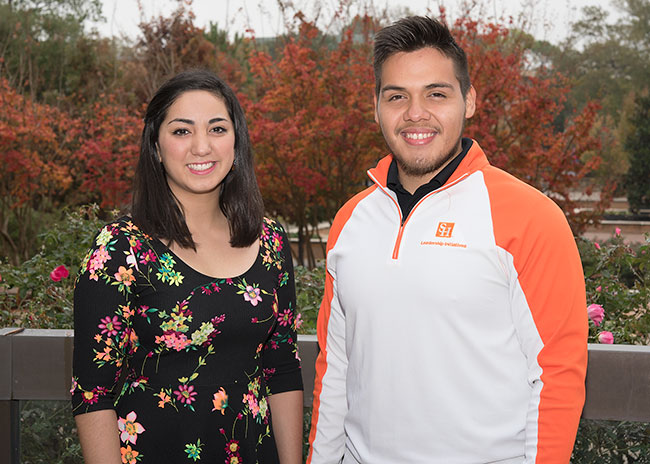 Freshman musical theatre major Yasmyn Sumiyoshi and sophomore entrepreneurship major Edwin Cantu are members of the first two cohorts of Terry Scholars at SHSU. The Terry Foundation provides full-ride scholarships to students in order to help them complete their undergraduate degrees. — Photo by Brian Blalock
Shortly after beginning his freshman year at Sam Houston State University, Edwin Cantu was faced with a difficult decision he never thought he'd have to face so early in his college career—he wasn't happy studying physics and engineering.
"I was good at it, but it wasn't fulfilling," he said. "It didn't take me long to realize it didn't make me happy."
Luckily, Cantu didn't have to make the decision on his own. As a member of the first cohort of Terry Foundation scholarship recipients at SHSU, he not only had his family to help him, he had his new Terry family to help him decide what he should do.
When Howard and Nancy Terry started the Terry Foundation, they wanted to do more than just provide financial stability for students who may not have the opportunity to go to college without help; they also wanted to create a family of scholars with a shared drive for greatness and passion for helping others.
Since its inception in 1986, the Terry Foundation has assisted more than 3,745 Texas college students in achieving their goals in higher education, according to the foundation's annual report. Terry scholarships are awarded for a student's freshman year of college and are renewable for up to eight semesters. The award covers the cost of tuition, fees, books, on-campus housing and miscellaneous expenses, as long as the student continues to meet the requirements set forth by the foundation.
Cantu believes that being named as a Terry Scholar is not only a testament to a student's academic and leadership abilities, it also serves as a badge of honor.
Knowing how lucky he is to be part of this Terry family and have those opportunities, when he began considering changing his major, he had to think quickly to avoid wasting the resources given to him by the foundation.
Interested in becoming a "Terry?"
Freshman applications are due by Jan. 15.
Transfer applications are due by April 15.
With the help of his family and his new Terry family, Cantu realized that his heart was leading him to pursue entrepreneurship, with the hopes of one day opening a business dedicated to teaching leadership skills and charisma.
"I read a lot about social skills in high school and it helped me become a very likeable and charismatic person," said Cantu. "I want to share that with others; I want them to realize that it doesn't matter how smart you are; as long as you're good to those around you, you'll succeed.
"The foundation does cover the cost of our school, and while I'm eternally grateful for that, it's only one of the many things they do," he said.
As a Terry Scholar, students have access to a list of Terry Alumni who are committed to helping future Terrys and serve as a mentor if they need one. Having access to that list is one of the most important resources for students, according to Cantu.
"That was the biggest thing for me," he said. "We have this security blanket, and we can't really fail. If you reach out to someone and tell them you're a Terry, that's all they need to hear to know what type of person you are and they're willing to help. It's your badge of honor."
For their freshman year, Terry students live on the same floor of Lone Star Hall and are enrolled in the same section of University 1301, an introductory course at SHSU designed to engage students in learning and orient them to the university community.
Though he has only been part of this family for a short period of time, he feels that the connection he has with current and former Terrys makes him more confident than he would be without them.
"When I got the scholarship, I developed this imposter syndrome," he said. "I constantly asked myself if I was one of the ones who slipped through the cracks; did they give it to the wrong person?"
He knew that there was too much at stake to have a negative outlook though, so he decided that no matter what happened, he was going to succeed. He knew that at any moment he could have everything taken away from him and he would be forced to do it alone.
"It gave me a lot of confidence in myself," he said. "While most of my friends were struggling and stressing out over tests, I looked at it as an invitation. I may make a 'B' because I don't know all of the material, but I'm ready to you show what I know."
Yasmyn Sumiyoshi, a freshman musical theatre major and member of the second cohort of Terry Scholars at SHSU, recognizes the impact that the opportunity has had on her and her family's lives.
"Applying to college and auditioning for programs can be extremely terrifying," she said. "Having this security made the transition a lot easier for me and my parents. Now I'll be able to focus on classes instead of worrying about finding a job to pay for them."
Because of the Terrys' passion for service and leadership, the program focuses a lot on instilling those values into its scholars. Within the first week of classes, the students had already received information on upcoming service projects with local schools and organizations.
"It's great coming into the second year of the program. Last year's group is so helpful because they've been there," Sumiyoshi said. "The foundation has already made such an impact on my college experience, whether it be making friends or having the financial security I wouldn't have had without them."
As for her post-graduation plans, Sumiyoshi hopes to spend a couple of years working on a cruise ship and then make the move to New York, where she hopes to be picked up by an agent and begin auditioning for different plays.
"I know this is just the beginning," she said. "With the financial stability and the resources the foundation gives us during our time here, we won't fail unless we allow ourselves to."
- END -
This page maintained by SHSU's Communications Office:
Associate Director, Communications: Emily Binetti
Telephone: 936.294.1836; Fax: 936.294.1834
Communications Manager: Wes Hamilton
Telephone: 936.294.1837; FAX: 936.294.1834
Communications Writer: Hannah Haney
Telephone: 936.294.2638; FAX: 936.294.1834
Thomason Building: Suite 102
Please send comments, corrections, news tips to Today@Sam.edu
---