Events
The President's Speaker Series will welcome filmmaker John Avildsen, who will discuss his career on March 25.




Applications are due March 21 for the Texas Rural Internship Program.




Eight students and a staff member presented their ideas on leadership during a conference at the University of Arizona.



Spring Recess

March 10-14 for students and faculty. SHSU will be closed on March 14.

Bearkat Softball

Doubleheader vs. University of Texas—San Antonio, March 12, at 2 p.m. at the Bearkat Softball Complex.

Kick Wheel Pottery-Making

A Sam Houston Memorial Museum demonstration, on March 15, from 10 a.m. to 2 p.m. at Raven's Pottery Shed, on the museum grounds.
See Calendar >>
Spotlight
Foreign languages offers Bachelor of Arts and Master of Arts degrees in Spanish and minors in French, German and Middle Eastern studies. Spanish students can find a source of professional preparation in their language coursework by developing verbal, written, analytic and cultural skills that are readily adaptable to their careers. Fourth-semester Spanish focuses on advanced practical applications on individual specialties and the potential to "double-dip" with internships in their field. Classes are also offered in American Sign Language, Arabic and Chinese.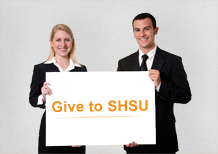 SHSU Main Campus
1806 Avenue J
Huntsville, TX 77340
(936) 294-1111
(866) BEARKAT
The Woodlands Center
3380 College Park Drive
The Woodlands, TX 77384
(936) 202-5000
University Park
20515 SH 249
Houston, TX 77070
(281) 290-2900