Bachelor of Arts Degree
A philosophy major is required to take both PHIL 3364 Ancient and Medieval Philosophy and PHIL 3365 Modern Philosophy as part of the minimum total of 30 semester credit hours for the Major. It is strongly recommended that these courses are completed as soon as possible after being introduced to philosophy. Given the importance of logical reasoning for philosophy and to provide the student with an in-depth acquaintance with formal logical reasoning, students choosing Philosophy as either their Major or Minor must complete PHIL 2303, Critical Thinking or PHIL 2352, Contemporary Logic. Philosophy majors choose an approved minor of 18 semester hours, 6 of which must be advanced. A degree plan should be arranged with the Philosophy Program Coordinator at the earliest possible time.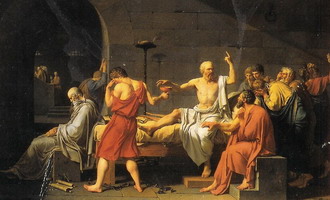 The Death of Socrates by Jacques Louis David. This painting depicts the last moments of Socrates.
The following represents an example of how one might schedule courses to complete a philosophy major at Sam Houston State University. Students may take courses earlier or later depending upon their individual needs. In all cases, it is suggested that you consult with your advisor. This is intended as an illustration only.
First Year (30 semester credit hours) ENGL 1301 Composition I and ENGL 1302 Composition II
HIST 1301 US to 1876 and HIST 1302 US Since 1876
Laboratory Science (8 hours)
Foreign Language (first two courses)
KINE 2115 Fitness for Living and a KINE activity course
Second Year (30 semester credit hours) PHIL 2303 Critical Thinking, PHIL 2306 Contemporary Moral Issues, and PHIL 2361 Introduction to Philosophy
ENGL 2331 Readings in Literature of the Western World
POLS 2301 Principles of American Government and POLS 2302 American Public Policy
Foreign Language (second two courses)
3 hours in the Minor subject
MATH 1332 College Mathematics or MATH 1314 Pre-calculus Algebra
Third Year (30 semester credit hours) PHIL 3364 Ancient and Medieval Philosophy, PHIL 3365 Modern Philosophy, and PHIL 3366 Aesthetics
3 hours of one of the Fine Arts
9 hours in the Minor subject
9 hours of electives (The world history sequence of courses HIST 2311 Dawn of Civilization to the Middle Ages and HIST 2312 Renaissance to Imperialism is strongly recommended)
Fourth Year (30 semester credit hours)
12 hours of PHIL electives
6 hours in the Minor subject
12 hours of electives (PSYC 1301 and ENGL 2342 Literary Genres and Ideas are recommended)
120 Semester Credit Hours total