Dr. J. Tyler Davidson
is an Assistant Professor in the Department of Forensic Science at Sam Houston State University. His research interests are focused on
forensic applications of mass spectrometry
both to the worlds of
seized drug analysis
and
toxicology
. His research in the area of seized drug analysis is focused on the application of
multivariate analysis
for the classification of
novel synthetic drugs
and understanding
characteristic fragmentation pathways
. Dr. Davidson's research in the world of toxicology involves
structural elucidation
with
tandem mass spectrometry
(MS/MS) and the application of
ambient ionization
techniques. His long-term research goals are to assist the seized drug and toxicological communities with the
classification
and
identification
of novel synthetic drugs through underlying
fragmentation mechanisms
, and to demonstrate the benefits of ambient ionization approaches to the analysis of
toxicological samples
.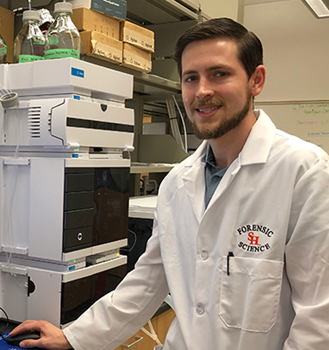 Specific research endeavors include:

Multivariate analysis for the classification of novel synthetic drugs
Forensic applications of ambient ionization mass spectrometry (AI-MS)
Exploration of alternative toxicological sample matrices
Structural elucidation with tandem mass spectrometry (MS/MS) and high-resolution mass spectrometry (HRMS)
Fundamental studies on the application of in-source CID to forensic science
---
Research Updates
In-Source CID manuscript accepted in the Journal of Mass Spectrometry

November 2020

This work provides a comparison between in-source CID and beam-type CID spectra of emerging synthetic drugs on the same Q-TOF instrument to better understand the fragmentation differences between these two fragmentation techniques, and to contribute to the scientific foundations of in-source CID. Available via DOI: 10.1002/jms.4679.

Dr. Davidson brings DART to SHSU

October 2020

Direct analysis in real time (DART) is a rapid and noncontact ambient ionization source that allows for the direct testing of solid, liquid, or gas samples without the need for extensive sample preparation or extraction. SHSU now joins a growing network of academic, industrial, and government laboratories using DART-MS. DART-MS is a branch of Dr. Davidson's ambient ionization mass spectrometry (AI-MS) research agenda here at SHSU.

Welcome to the Team - Ruby Liliedahl

September 2020

Ruby Liliedahl joins Dr. Davidson's research group for her MS capstone project. Ruby is working on the differentiation of synthetic cathinone isomers using gas chromatography-electron ionization-mass spectrometry (GC-EI-MS) and multivariate analysis.

Welcome to the Team - Dr. Tyler Davidson

August 2020

Dr. Davidson joined the Department of Forensic Science at Sam Houston State University as an Assistant Professor.

21st Annual FSF Emerging Forensic Scientist Award

April 2020

J. Tyler Davidson was awarded the 21st Annual Forensic Science Foundation Emerging Forensic Scientist Award for his presentation titled, "On the Fragmentation Behavior of Fentanyl and Its Analogs in Electrospray Ionization-Tandem Mass Spectrometry (ESI-MS/MS)".