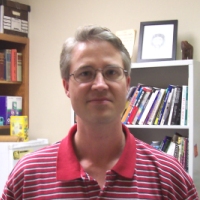 Associate Professor
Microbiology
Ph.D., Baylor College of Medicine
2011-2013 President, Texas Branch of the American Society for Microbiology
Chair, Organizing Committee, 20th Annual American Society for Microbiology's Conference for Undergraduate Educators (ASMCUE)
2010 Distinguished Alumnus for the Graduate School of Biomedical Sciences of Baylor College of Medicine
Office: LDB 127
Phone: (936) 294-1546
Fax: (936) 294-3940
E-mail: tprimm@shsu.edu
Research Interests
I currently have four major research interests.
My first and predominant interest is in microbiomes of animals. A microbiome is a microbial ecosystem, and the bodies of animals, including humans, are ecosystems that are inhabited by thousands of species of bacteria, as well as other microbes. For more information, see the Human Microbiome Project at NIH. My model animal is Gambusia affinis, the western mosquitofish. This interesting animal has long been studied for mating behavior and feeding on mosquito larva (see Smithsonian Marine Station entry). This fish is a model for microbiomes on mucosal surfaces, as it has a vertebrate immune system. Read our publication in Advances in Microbiology entitled, "The Skin Microbiome of Gambusia affinis is Defined and Selective." Metagenomic sequencing via the 454 platform revealed the community composition of normal fish skin mucus. This is the first publication of the Gambusia microbiome, and one of the most in-depth of any fish skin. Our current work is looking at the effect of antibiotic therapy on the microbiome, which can be highly disruptive by killing many different species of bacteria. This relates to how long-term antibiotic therapy affects human patients. We are also looking at emergence and persistence of drug-resistant strains during therapy, and how probiotics and prebiotics affect the microbiome.
My second interest is in biological chemistry, utilizing small molecules as tools to understand and explore biological systems. This work is early drug discovery as well. Students working with me have screened chemicals for antibacterial activities, and for ability to inhibit and/or reverse phototaxis in Chlamydomonas (an algal model system for eukaryotic flagella, see Dr. Gaillard's page for more information). We have also done work in development of new screening tools. See my list of publications below for more information.
My third interest is in science education. One project involves the development of a novel host-pathogen model for both educational purposes (usage in student labs) and as a research tool. The host is, and the pathogen is Edwardsiella ictaluri, a species of Enterobacteriaceae. Read more on this poster presented at the 2010 ASM-CUE conference. This poster was presented by Robert Fultz when he was an undergraduate working with me. He is now in the doctoral Cell and Molecular Biology Program at Baylor College of Medicine. The development of this host-pathogen experiment is part of a larger project on development of science labs that are exploratory, and use inquiry-based learning. Drs. Hargrave, Choudhary, Gaillard, Lynne, and myself are all working on this. I also work on understanding the inherent limitations of the lecture method, because lecturing is still the most common method used in university science classes today. I am developing tools and techniques to address the limitations of lecturing, and so to enhance lectures to be the most effective at promoting student learning as possible. You can see a presentation Enhanced Lecturing: Saying More by Saying Less given at the 2011 ASM-CUE Conference here, just scroll down to Concurrent Pedagogy Sessions. Finally, a group of faculty in our Department is carrying out assessments to compare the effectiveness of online learning with face-to-face learning in different contexts, in an effort to understand what can make online learning most effective, and when it is not appropriate.
The last and oldest interest is the evolution of pathogenesis (the ability to infect and cause disease) in bacteria. Since my post-doc, my work has primarily been within the genus Mycobacterium. Several features make the approximately 90 species in this bacterial genus fascinating. First, two obligate pathogens cause over three million deaths per year worldwide of humans, M. tuberculosis and M. leprae. Second, most of the Mycobacteria are instead environmental organisms in soil and water, but can act as opportunistic pathogens in many animals, including chickens, pigs, cows, and humans. Often they result in infections which cause chronic, wasting diseases. Few antibiotics are available to treat them. So the big question here is, how did these seriously deadly pathogens (TB and leprae) evolve out of this genus of mostly harmless water and soil dwelling bacteria? Third, the cell wall of mycobacteria is more than twice the thickness and much more complex than other prokaryotes. The synthesis, regulation, and maintenance of this rather unique structure is of great biochemical interest. This cell wall is responsible for the characteristic acid-fast positive staining of this genus. Finally, the ecological interactions of these bacteria with other bacteria, as parasites and possibly endosymbiotes of protozoans, with plants, and with animals, is under-explored and of great interest to us. Thus, within this one genus there are soil and water dwelling environmental species which have minimal pathogenicity (such as M. smegmatis), to opportunistic environmental pathogens in numerous animals (such as M. fortuitum and M. avium), to the opposite extreme of an obligate pathogen not found in the environment almost exclusive to humans, M. tuberculosis. My lab collaborates with Dr. Madhu Choundhary's lab to use bioinformatics and genomics tools to investigate this question.
Recent Publications
Evans, Shakila K., Pearce, Austin A., Ibezim, Prudence K., Primm, T. P., and Gaillard, Anne R. "Select acetophenones modulate flagellar motility in Chlamydomonas" (2010) Chemical Biology and Drug Design. 75(3), 333-337. View pdf
Primm, T. P., and Franzblau, S. G. "Recent Advances in Methodologies for the Discovery of Antimycobacterial Drugs" (2007) Current Bioactive Compounds. 3(3), 201-208. View pdf
Book chapter. Primm, T. P., and Falkinham, J. O. "Infectious Disease:Environmental Mycobacteria" (2007) In seven volume Encyclopedia of Public Health, with Kristian Heggenhougen, Harvard Medical School, as Chief Editor. View pdf
Aguilera, R. J., Montoya, J., Primm, T. P., and Varela-Ramirez, A. "Green fluorescent protein as a biosensor for toxic compounds" (2006) Reviews in Fluorescence. 3, 463-472.
Montoya J., Varela-Ramirez A., Shanmugasundram M., Martinez L.E., Primm, T.P., and Aguilera R.J. "Tandem Screening of Toxic Compounds on GFP-labeled Bacteria and Cancer Cells in Microtiter Plates" (2005)Biochemical and Biophysical Research Communications. 335(2), 367-372.
Bland, C. S., Ireland, J., Lozano, E., Alvarez, M. E., and Primm, T. P. "Mycobacterial Ecology in the Rio Grande" (2005) Applied & Environmental Microbiology. 71(10).
Rajabi, L., Courreges, C., Montoya, J., Aguilera, R.J., and Primm, T. P. "Acetophenones with Selective Antimycobacterial Activity" (2005) Letters in Applied Microbiology. 40(3), 212-217.
Archuleta, R. J., Hoppes, Y. P., and Primm, T. P. "Mycobacterium aviumEnters a State of Metabolic Dormancy in Response to Starvation" (2005)Tuberculosis. 85(3), 147-158.
Tran, T., Saheba, E., Arcerio, A., Chavez, V., Martinez, L. E., and Primm, T. P. "Quinones as Antimycobacterial Agents" (2004) Bioorganic & Medicinal Chemistry. 12(18), 4809-4813.
Primm, T. P., Lucero, C. A., and Falkinham, J. O. "Health Impacts of the Environmental Mycobacteria" (2004) Clinical Microbiology Reviews. 17, 98-106.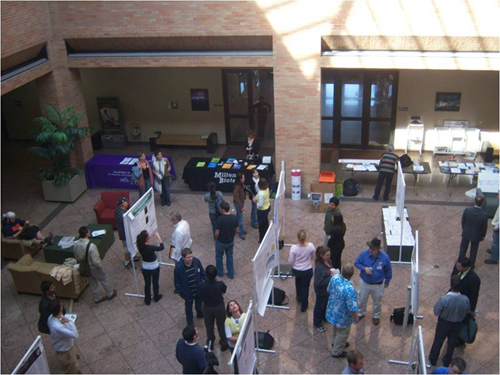 The poster session at the Annual Fall Meeting of the Texas Branch of the American Society for Microbiology (ASM) conference held at SHSU in 2007.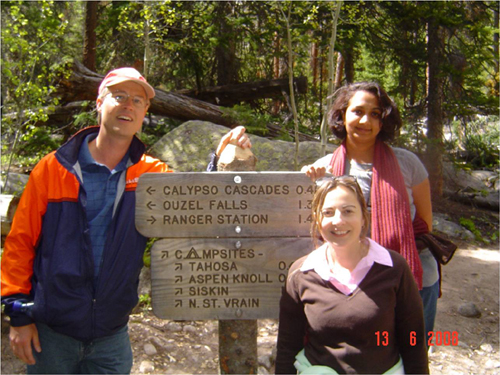 In beautiful Colorado for the Wind River Conference on Prokaryotic Biology, in 2008.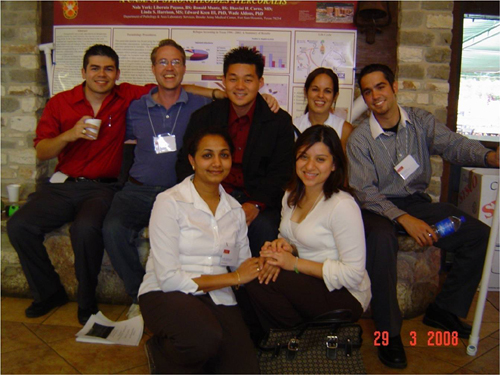 At the Spring 2007 American Society for Microbiology Conference in New Braunfels, TX. From left to right in the back row; Joshua Farthing (Gaillard lab), Dr. P, Anthony Nguyen (Primm lab), Jessica Belen-Rivera (graduate student-Gaillard lab), James Spurlin (Primm lab). Front row Rekha Raghavendra (grad student-Primm lab), and Pamela Vazquez (Primm lab).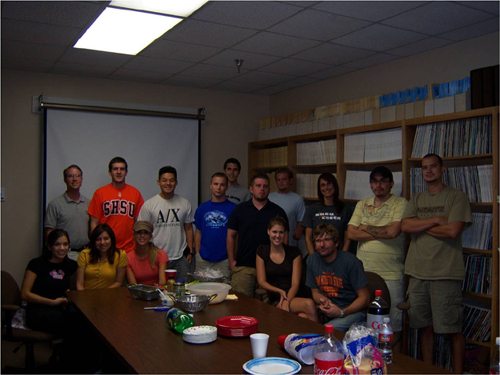 The whole crew from the labs of Drs. Deaton, Hargrave, and Primm. Spring 2007.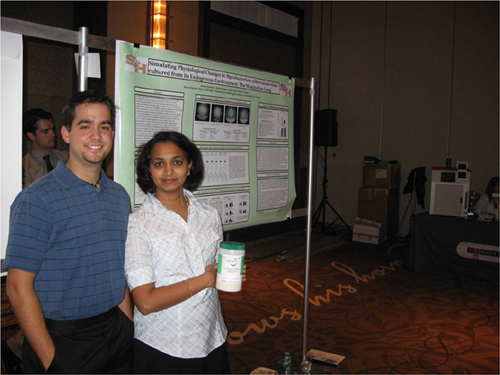 James and Rekha presenting at the joint Texas and South Central (AR,LA,MS) Branches of ASM meeting in Austin, Texas, in Nov. 2008.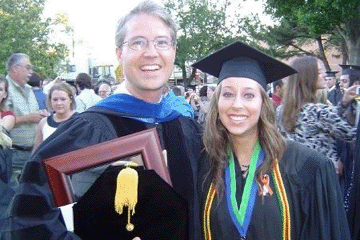 Dr. Primm with new Bachelors of Science in Biology graduate Caroline (Gottfried) LaHaye, at the May 2008 Commencement Ceremony.