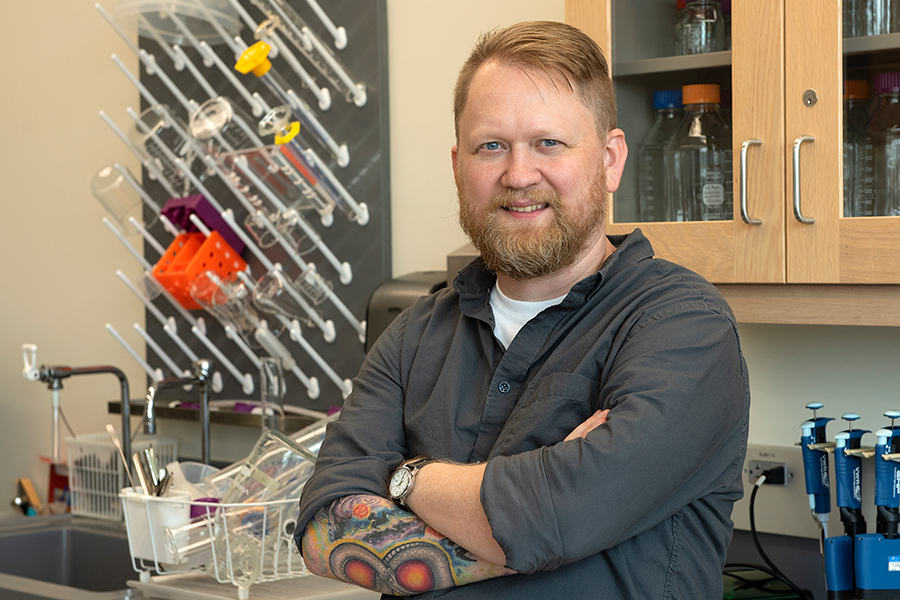 Professor and Chair
North Dakota State University: Ph.D. Molecular Pathogenesis
North Dakota State University: B.S. Microbiology
Courses Taught at SHSU
Within Biological Sciences:
General Microbiology
Introductory Applied Microbiology
Molecular Biology
Virology
Metagenomics
Other Courses:
Honor's Seminar: Science and Films
Honor's Seminar: Films and Society
Honor's Seminar: Decision Making
Pre-Med Freshman Learning Community Intro to Collegiate Studies
Research Focus
My main research focus is on studying the microbiome involved in the decomposition of human cadavers. I'm primarily interested in developing a "microbial clock" to determine the postmortem interval (time since death) by using next-generation sequencing to characterize the successional change of the microbiome as a cadaver decomposes. Specific research areas include 1) characterizing the change in microbiome as decomposition progresses when cadavers are placed in different scenarios, 2) investigating the sources and sinks the microbiome, and 3) understanding how abiotic and biotic factors influence decomposition. In the end, we hope to come up with a cumulative systems approach to look at decomposition in a way that might complement existing forensic models at determining the postmortem interval.
Other areas of research involve understanding the distribution of enteric pathogens (mainly E. coli and Salmonella) and their virulence and antimicrobial resistance factors. I am primarily interested in plasmid mediated antimicrobial resistance and virulence of these bacteria. Specific research areas include: 1) sequencing large virulence and resistance plasmid to study the evolution of these plasmids, 2) characterizing the function of specific genes found on these plasmids to determine the role in conjugation and/ or virulence, and 3) determining the prevalence and distribution of these plasmids among E. coli and Salmonella isolates from a variety of sources.