Music Therapy Program Brings Expressive Outlet to Incarcerated Youths
Music Therapy Brings Expressive Outlet to Incarcerated Youths
December 5, 2022
by Nifemi Bola
CAM Media Contact: Jackie Swan
---
"Music is a uniquely human experience that can help us recognize and connect to our individual and collective humanity." This philosophy is what drove Assistant Professor Carolyn Moore to expand her music therapy teachings beyond the classroom.
Along with students in the School of Music, she works in conjunction with the Windham School District to provide incarcerated youths with music as part of the Youthful Offender Program. As a result of her work, Moore was presented with the Jury Burd Award during the 2021 Annual Governor's Criminal Justice Volunteer Service Awards.
"The goal of this program is to encourage an environment where participants are able to experience, co-create, and explore music together," Moore said. "Because the music program is housed within an educational program, the students and I work together with the program's staff to tie into the musical topics the participants are also exploring in their classes."
The collaborative effort consists of Moore and SHSU students teaching inmates about different instruments provided by WSD one week at a time in order to present a concert at the end of the week for an audience.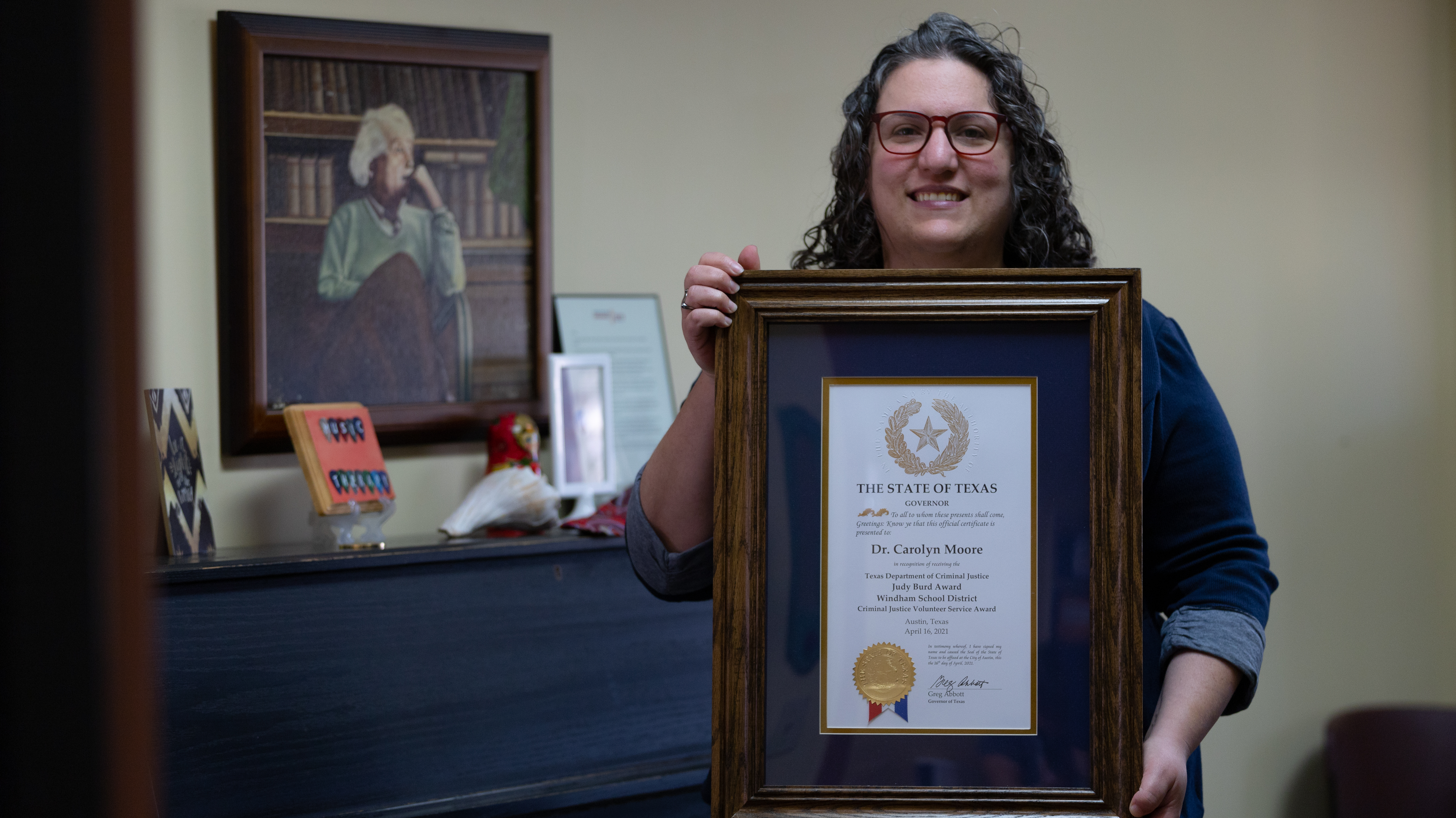 "Music is something that connects us to our social groups, helps us affirm and recognize our various intersecting identities, and serves as an outlet for tapping into our emotional states and coping with confusing or complex feelings," she said. Moore was inspired to bring music to incarcerated youths because she believes that music is a uniquely human experience and an important part of teenage development.
Moore saw the Youthful Offender Program as an opportunity for SHSU students to not only explore broader models of music therapy outside of traditional clinical context but also learn about the criminal justice system and adolescent incarceration. "
"A therapeutic music program for adolescents, regardless of the setting they are in or the reason they are receiving therapy, makes sense. It is a way to tap into the natural relationship between music and development and to connect with individual and shared humanity, regardless of one's background, experience, strength, or life challenges."
---