Jazz Ensemble Releases First Downloadable CD: "Shoreline Drive"
Jazz Ensemble Releases First Downloadable CD: "Shoreline Drive"
July 2020
by Jackie Swan
---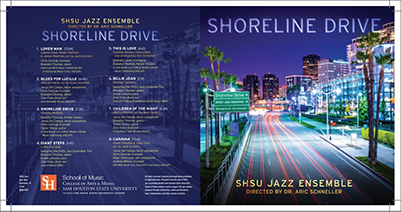 The SHSU Jazz Ensemble is gearing up for the release of their first ever downloadable CD, Shoreline Drive. It serves as a tribute to late trombone legend, Bill Watrous, an inspiration to musicians all over the world. Director of the Jazz Ensemble, Dr. Aric Schneller, is extremely proud of the 19 student musicians and their ability to channel such creativity and professionalism.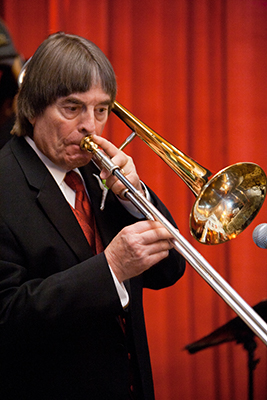 The cover art is a picture from Long Beach, CA, not far from where Watrous spent most of his later years. He performed "This is Love" and "Shoreline Drive" for the 2018 SHSU Bill Watrous Jazz Festival, which inspired the student recording just one month before his passing. The latter became the namesake of the album, and the CD booklet tells the story of his influence.
"Bill was my hero who became my friend. And his memory and influence are so profound and complete in my heart as to be indistinguishable from whatever else I am as a musician," Schneller said. "From 2011 until his passing in 2018, I had the pleasure of working closely with Bill at the SHSU Bill Watrous Jazz Festival. We became fast friends and I observed his love of rehearsing with students and the joy he gifted to all who heard him play."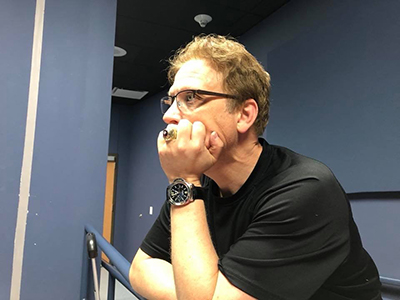 Shoreline Drive features the absolute best talent that Jazz Ensemble has to offer and includes a vivid description of the musical stylings of each track. This is the first time the School of Music has released a CD with a digital code, which allows download and on-the-go access for more modern devices.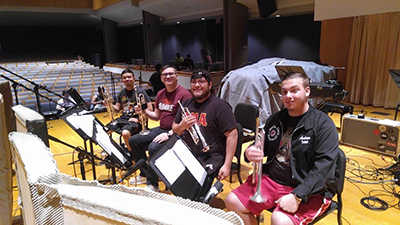 It has received praise from noteworthy musicians, including an invitation for Dr. Schneller to collaborate with internationally acclaimed jazz teacher and author, J. Richard Dunscomb. Additionally, Grammy-nominated composer and professor at University of North Texas, Richard DeRosa, expressed his utmost respect for Shoreline Drive. "All in all, it's certainly a product that [SHSU Jazz Ensemble] can be proud of. Congratulations on creating such a successful venture," he said. "I hope it continues to serve [the] program well into the future with regard to recruitment and also a significant appreciation from [SHSU] administration in regard to what [Schneller] has brought to the university."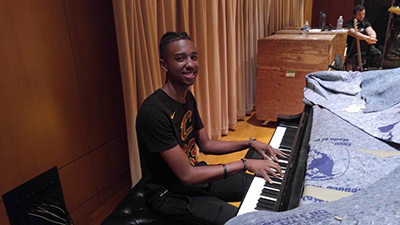 NYC trombonist, recording artist, bandleader and two-time Grammy-nominated arranger, John Fedchock, also had nothing but positive feedback for the album. "I first worked with the SHSU Jazz Ensemble at their April 2009 Jazz Festival during Aric's first year at the helm, and I've been back to see the astounding evolution of this program. Aric has taken things to great heights through his love of the music and his relentless, infectious drive," said Fedchock. "It's obvious that the students have bought into his high standards and positive energy. This album is a testament to their combined dedication, hard work and perseverance. So, sit back and take in the great sounds of the SHSU Jazz Ensemble. Then hit 'Repeat'."
For presale information, contact Dr. Aric Schneller at als043@shsu.edu.
---