STEM Center Combines Math And Physics In Summer Bridge Program
Aug. 21, 2023
SHSU Media Contact: Mikah Boyd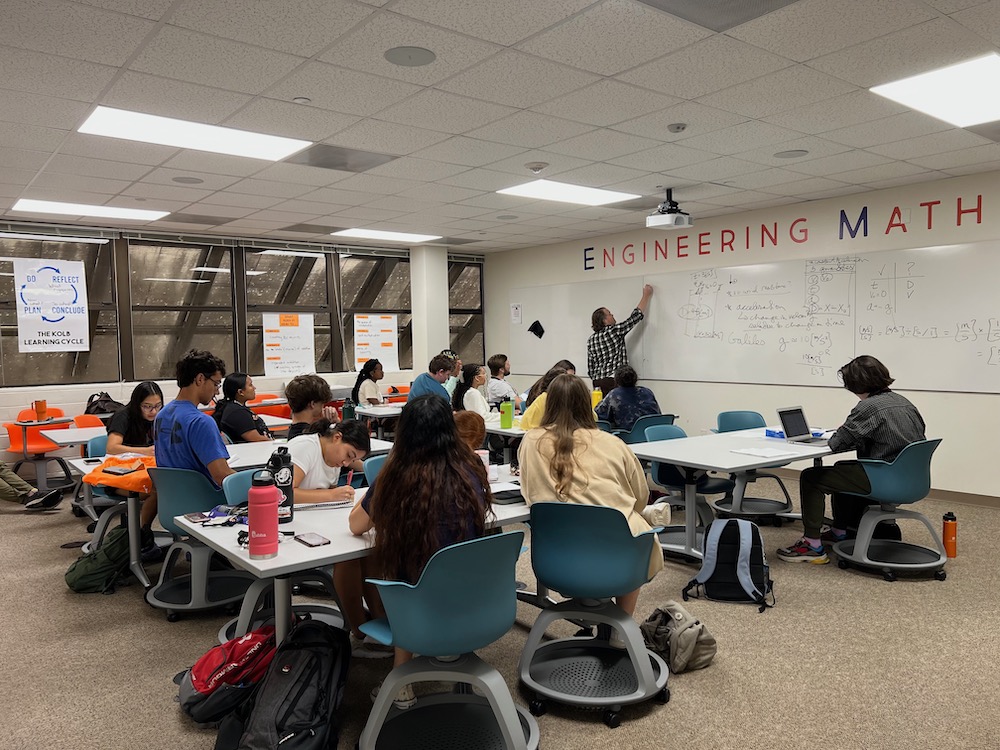 This year, incoming science, technology, engineering and mathematics (STEM) students at Sam Houston State University were provided a new opportunity to get a head start on their degrees. The departments of mathematics and statistics and physics teamed up to create the Catapult into STEM Summer Bridge Program, a unique learning experience that allows students to place out of entry-level physics and precalculus.
The STEM Center decided to put a grant from the National Science Foundation towards getting Catapult started. Back in 2017, the center was awarded an Improving Undergraduate STEM Education grant, which sought proposals that will help bolster the STEM workforce. Since then, they have used the funding on Catapult and similar programs and initiatives dedicated to student success.
According to Stephen Cleveland, the Program Manager of the STEM Center, many students within the College of Science and Engineering Technology are required to take Calculus 1 and a form of physics. He explained that the bridge program was created to enable nearly calculus-ready students to get a head start on their learning and place into Calculus 1 and Physics 1.
"With Catapult, students are doing a really intense preparation for their courses, but unique to Catapult is that students have the opportunity to place into more advanced courses - a student could save themselves a whole semester of STEM work by doing well in Catapult," said Taylor Martin, director of the STEM Center.
Setting this bridge program apart is the combined instruction of physics and calculus, and the potential for students to get ahead in not just one area, but two. Martin emphasized that the two fields are closely related, with lots of overlap between them, which can best be seen in real-life scenarios. Thanks to this, students can better engage with the material as they can tie it to their day-to-day experiences.
Martin and her peers hope that this adaptive learning can break down barriers for students looking to pursue STEM majors.
"We are seeing more students entering SHSU needing extra support in math. We need to get ahead of that issue to drive growth in STEM graduates," Martin said. "Almost all STEM degree plans require calculus and/or physics, and if students have to take a semester or a year of extra coursework in order to be calculus ready, that's going to make them less likely to be STEM majors. We want all students who want to pursue STEM to have the support they need to be successful."
So far, the program has seen great success, with students being able to place into higher-level courses and gain essential learning skills that can help them as they officially launch their academic careers this fall.
"Catapult's curriculum gave students the foundations and framework they need to retain knowledge in their college coursework - not just math or physics, but any course," Martin said. "By equipping students to engage deeply with problem-solving and critical thinking, we think we'll see enhanced student learning and better outcomes for our students."
Looking ahead, Martin wants to build on the program's current success and reach even more STEM students. Their next steps include fully evaluating the program and finding where they can improve upon the curriculum and investigating different grants that can help them continue funding Catapult into STEM. Even with these tasks ahead, Martin knows that her team's dedication to student success will guide their path.
"One thing that's so special about SHSU is that our faculty really are invested in our students," Martin said. "We're thrilled that our Catapult students bravely joined this program because they wanted to capitalize on the opportunity to invest in their own success. That kind of combination is really amazing to witness."
This material is based upon work supported by the National Science Foundation under Grant No. NSF 22-611. Any opinions, findings, and conclusions or recommendations expressed in this material are those of the author(s) and do not necessarily reflect the views of the National Science Foundation.
- END -
This page maintained by SHSU's Communications Office:
Director of Content Communications: Emily Binetti
Communications Manager: Mikah Boyd
Telephone: 936.294.1837
Communications Specialist: Campbell Atkins
Telephone: 936.294.2638
Please send comments, corrections, news tips to Today@Sam.edu