Heritage Magazine: Q&A with Bobby Williams
Aug. 31, 2023
SHSU Media Contact: Mikah Boyd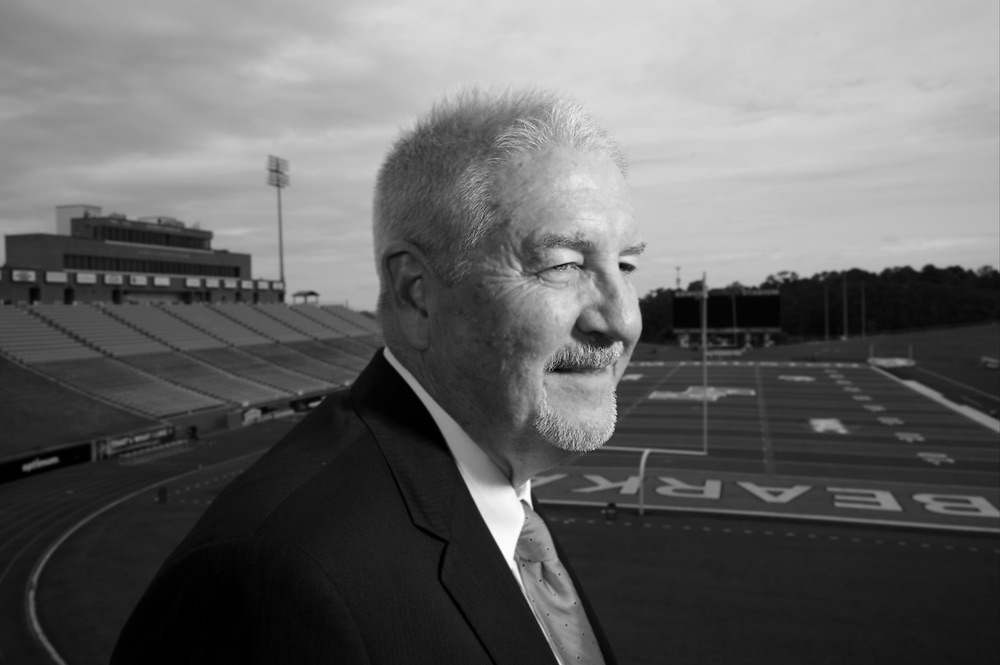 Fielding Questions: Athletics Director Tackles Q&A Session
Sam Houston State University athletics department has seen unprecedented growth in the 25-year tenure of athletic director Bobby Williams. Now, in the aftermath of the most unpredictable and transitional period in that span, Williams reflects on what led the Bearkats to join Conference USA (CUSA) and how they took the next step in collegiate athletics.
---
This is an exciting time for SHSU athletics as we prepare to officially transition into Conference USA. Can you talk about the specific process this move has entailed over the last couple of years?
If you had told me three years ago that we would go through what we have been going through with three different conferences, everything moving and changing in the NCAA and the pandemic, I wouldn't have believed you. It's been an unbelievable opportunity for us as we moved from the Southland Conference, which we had been in for so long, to the Western Athletic Conference. Then when we had the opportunity to join Conference USA, it was a big signal of where we were going as a university and especially where we were going as an athletic department.
What makes Conference USA specifically a perfect fit for these programs?
We have to go back and look at how we've grown as a university. Since I've been here, the growth of the university from an enrollment standpoint, the research status we've achieved, the brand recognition that I think we've played a positive part in, is all a big part of where we're going in athletics. Most schools that are at where we're at as a university are playing at the Football Bowl Subdivision (FBS) level. We wanted to make sure that we positioned ourselves to be in that situation to have an opportunity if a conference like CUSA came our way, and it did. That is one of the reasons they supported our membership: who we are as a university, our growth and all of the positive things we've done in athletics over the last 15 years.
The move presents a lot of new opportunities with new TV contracts and chances for greater exposure for your programs. What will this, as well as October midweek scheduling in football, do for publicity and the credibility of all SHSU sports?
With all the success we've had, especially at the national level in Football Championship Subdivision (FCS) football, there was still a national perception that we were not playing at the Division 1 level. The move to FBS has changed that in so many different ways. It has allowed us to be viewed differently and even view ourselves differently. It has enhanced our other 16 sports from that perspective in moving us forward in a positive way. That helped us because we had to create revenue opportunities, especially in the TV market, when we played for a national championship. We were playing on ABC and ESPN, but we weren't generating any revenue from that. Now, with the TV contract being in CUSA, we're playing a major role in that. Our location by Houston and our brand recognition is a big positive for the conference and I think that's why they saw value in our membership, and that was exciting. The midweek football games are a big part of that adjustment. I saw that as a positive, especially with our students, because we've had Thursday night football games in the past that were some of our highest-attended games that we've played on TV. This gives them an opportunity to come out Wednesday or Thursday night and creates an exciting atmosphere on campus. Anytime you have a full stadium, especially with your fellow students playing on national TV, it's a great benefit to the university and our program.
Football will again play at NRG Stadium in Houston with a matchup against Air Force this upcoming season and another against Texas State in a renewed rivalry matchup in 2024. What do these specific matchups bring in terms of excitement when playing at a world-class stadium such as NRG?
We wanted to make sure that we were having those games down there. It has become so important to the university, our alumni and athletic program. Even though we will not be competing against our rival, Stephen F. Austin University, we are embracing new rivalries and new opportunities. To have our first "home game" against Air Force Academy, a name brand service academy, is going to be extremely exciting, especially in the Houston area and for our alumni and all individuals who have served in the military over the years. And bringing back Texas State, who we had a longtime rivalry with in the past, will be very important in helping us get over that 30,000 in attendance mark. Our fanbase really embraced that game in its last 11 years and we were probably selling 80 to 85 percent of the tickets down there. The stadium was always full of orange, and it will be even more so now.
Broadly speaking, how does this whole transition feed into student success and the overall success of the university from a reputation standpoint?
Our brand has expanded. We are well-respected nationally because there is a positive perception, and it is a reality, that we do things the right way, we win and we create a positive environment for student-athletes. We also represent the university at a high level, which I think the faculty, staff and students all appreciate. That's a big part of what we need to be doing because it helps the university continue to grow from an enrollment standpoint, an academic standpoint and a brand recognition standpoint.
---
To read the full version of Heritage Magazine Summer 2023, follow this link.
- END -
This page maintained by SHSU's Communications Office:
Director of Content Communications: Emily Binetti
Communications Manager: Mikah Boyd
Telephone: 936.294.1837
Communications Specialist: Campbell Atkins
Telephone: 936.294.2638
Please send comments, corrections, news tips to Today@Sam.edu