Heritage Magazine: Giving Back Through Cultural Connections
July 25, 2023
SHSU Media Contact: Campbell Atkins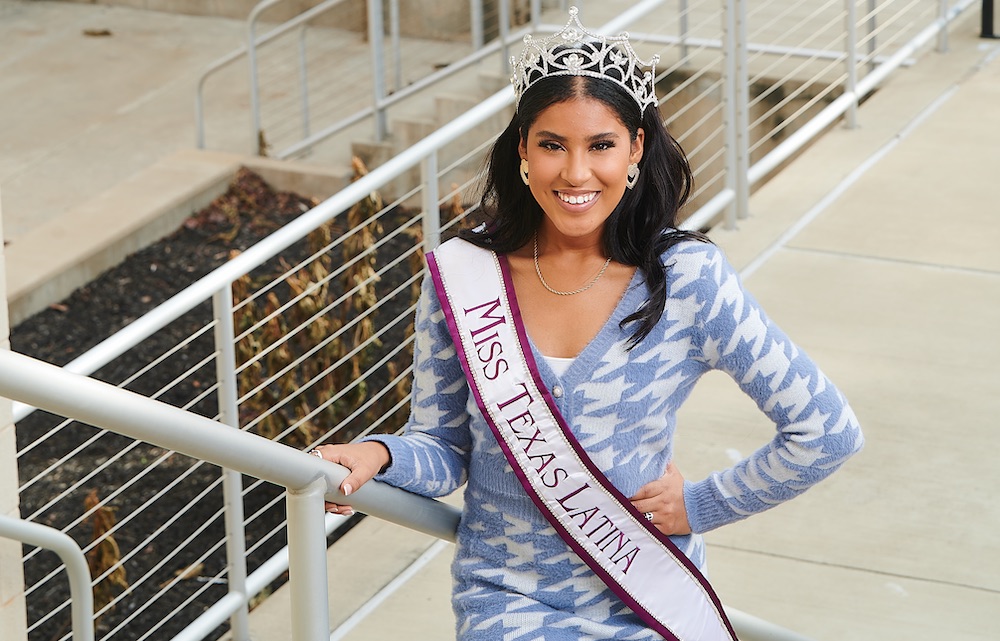 If you were to tell Kayla Dillard to describe what community means to her, she may ask you to be more specific.
The 2022 Sam Houston State University graduate and current Miss Texas Latina knows the importance of representation in more ways than one and what it means to those communities close to her heart.
"With this crown and sash on, people look up to you," Dillard said. "You have this platform and opportunity to reach so many people. I can walk into a room and spot that little kid whose eyes just light up and see how major that connection is to them."
As the first Black Latina winner of the Miss Texas Latina beauty pageant, Dillard takes pride in representing two different cultures while serving the community at various events.
"Little girls will see me, and they've never really seen anyone who looks like them wearing a crown before," Dillard said. "That's so huge for them and really special to me."
Along with her cultural identity, Dillard represents the communities of Rosenberg, her hometown, and Huntsville, where she forged lifelong friendships and began to foster her passion for serving others, particularly youth.
Dillard worked with local children at the Huntsville Family YMCA during her time at SHSU and continues to do so. She started out as a summer camp counselor and worked her way up to site director.
"I love kids and was originally an education major at Sam, but realized teaching wasn't the best fit for me," Dillard said. "I spoke with my adviser and came across sociology."
This led her to professor Lee Miller and an Academic Community Engagement (ACE) course, Introduction to Community Leadership. Students here learn the definitions, types and theories of community. Topics include how to conduct a basic community needs assessment, strengthen communication skills and explore resource mobilization strategies through applied community experiences.
"The class brought us to Huntsville's Hornet Success Academy, a program for students at risk of not succeeding in a traditional high school setting, and we were able to mentor those students," Dillard said. "I realized this is what I love, this is what I want to do every single day."
Dillard also credits the ACE course and Miller's curriculum with leading her to the Miss Texas Latina organization. While she was originally skeptical of competing in a beauty pageant, this particular competition spoke to her personally.
"It was about the Latina aspect for me because, growing up mixed, I didn't feel like I was really Latina and I didn't know how to navigate that sort of thing. Joining this organization really helped me ask more questions and connect with my culture," Dillard said.
It also allows her to connect with different youth and families alike in many different communities across Texas. Through events, from gala benefits supporting foster families to resource hubs for parents of children with disabilities, Dillard volunteers her time to bring joy and serve attendees in any way she can.
After her tenure ends as Miss Texas Latina, she admitted she has a desire to compete in pageants again, as long as the organization coincides with her values. In any case, she plans to continue her life of service as she builds her career in the YMCA organization.
"I would love to continue working for the organization because I think we do really important work," Dillard said. "I love hands-on work and I love nonprofit work."
She also continues to feel a strong connection to the Huntsville community.
"It holds such a big place in my heart," Dillard said. "I really want to focus on pouring back into those communities that poured so much into me and made me who I am."
---
To view the full Spring 2023 edition of Heritage Magazine, follow this link.
- END -
This page maintained by SHSU's Communications Office:
Director of Content Communications: Emily Binetti
Communications Manager: Mikah Boyd
Telephone: 936.294.1837
Communications Specialist: Campbell Atkins
Telephone: 936.294.2638
Please send comments, corrections, news tips to Today@Sam.edu