Heritage Magazine: Community Leadership Through Graduate Fellowship
July 28, 2023
SHSU Media Contact: Mikah Boyd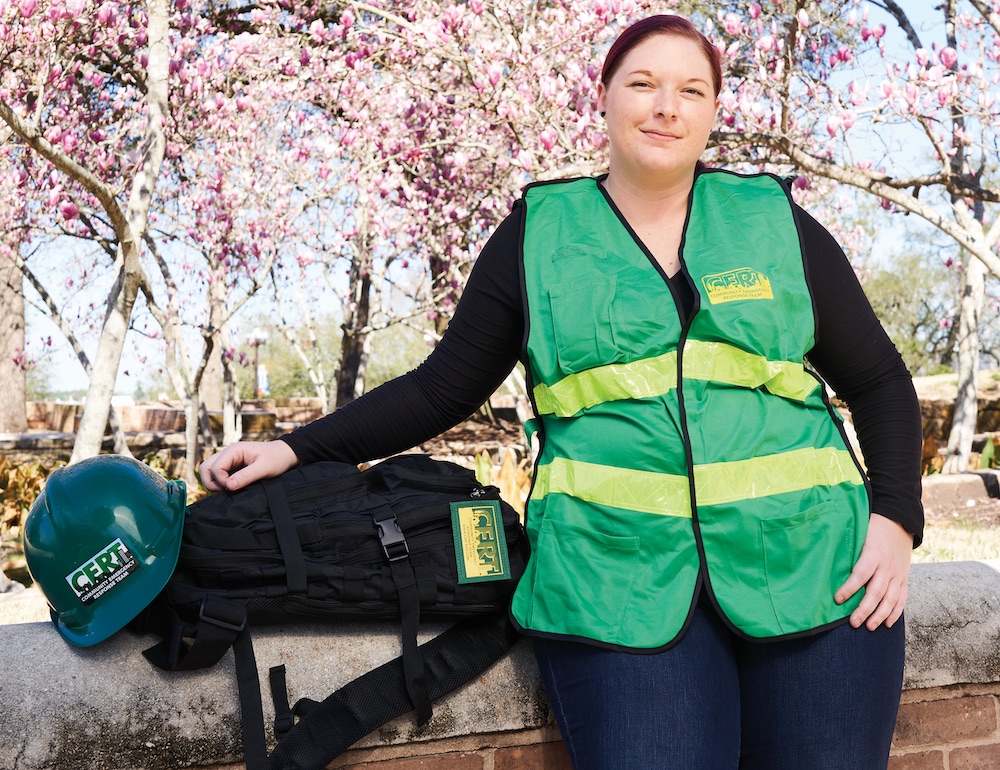 The newly established Templeton Graduate Fellows Experience was created to honor Arleigh B. Templeton, a graduate and former president of Sam Houston State University. Templeton led the university during its transformation from Sam Houston Normal College to Sam Houston State University, established key programs and oversaw the construction of numerous campus buildings. Recipients of the endowment use their leadership abilities to complete a project that benefits the community.
The first recipient, Amanda Frank, graduated in 2022 with a Master of Science in Homeland Security. Upon receiving the endowment as a student, Frank created a plan to establish a community emergency response team (or CERT) for SHSU.
"Once I got the go ahead on the fellowship, I took a fully immersive approach and surrounded myself with the different trainings and people and started making connections," Frank said. "When I started digging into the research and figuring out where I wanted to go with the project, I set myself on a path for my entire future."
Frank was inspired to pursue the establishment of a campus CERT after witnessing firsthand how a lack of community support can lead to the deterioration of a neighborhood and leave residents hanging. Frank also found inspiration through her professional work in disaster recovery, a role she served in while working on the project as a graduate student and holds to this day.
"Shortly after Hurricane Harvey, I realized a real lack of support in some of the areas around me," Frank said. "At the time I lived in Greenspoint. It's pretty rough in certain parts and there's a big lack of community support there. I started looking into it, asking around, and people started talking about community emergency response, I had never heard of it before."
Through her research and training in emergency response, Frank developed a plan to help the university mobilize students to assist in emergency response, serve in first aid tents at events or provide community assistance in other ways.
"When a lot of people think of disaster, they think natural disaster, like hurricanes and wildfires," Frank said. "People don't think about the water main break that floods the whole street because the sewage is backed up. That's what people overlook when they think of emergency response and, crazy enough, those are things that everyday people can stop without having to wait for help."
---
To view the full Spring 2023 edition of Heritage Magazine, follow this link.
- END -
This page maintained by SHSU's Communications Office:
Director of Content Communications: Emily Binetti
Communications Manager: Mikah Boyd
Telephone: 936.294.1837
Communications Specialist: Campbell Atkins
Telephone: 936.294.2638
Please send comments, corrections, news tips to Today@Sam.edu