Heritage Magazine: Building Health Awareness
June 30, 2023
SHSU Media Contact: Mikah Boyd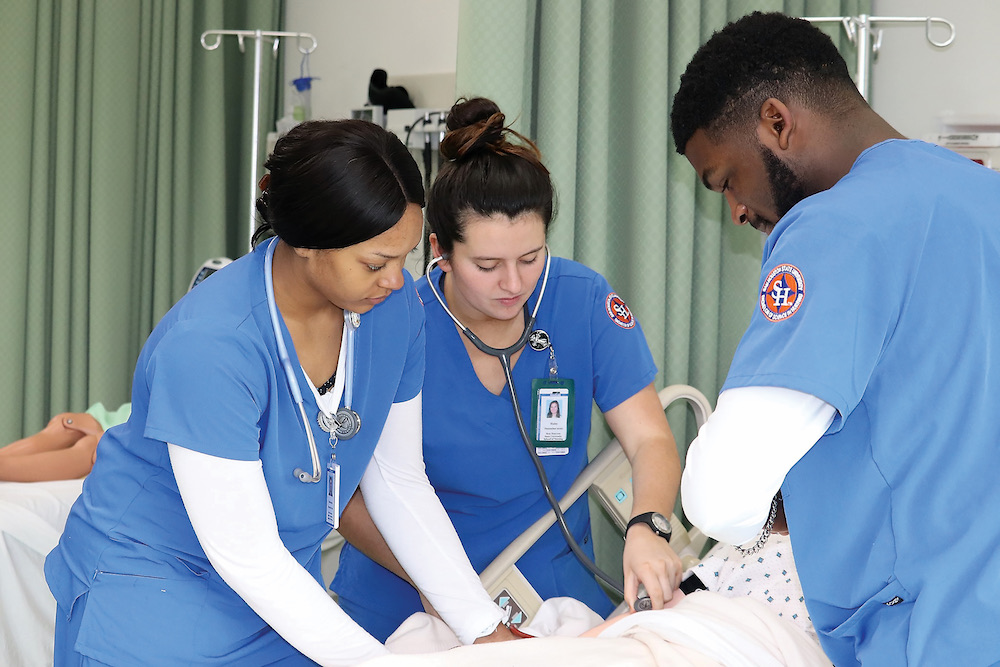 Nursing students at Sam Houston State University gain a great education, experience in the field and connect with communities to build health awareness and collect important information. These efforts are made possible thanks to an Academic Community Engagement (ACE) course led by Linda James. In her class, students engage with community partners such as Huntsville ISD, SHSU charter schools, juvenile detention centers, community centers, the Alabama-Coushatta Tribe of Texas, Good Shepherd Mission, the Salvation Army in Conroe, as well as other organizations and school districts.
Through these partnerships, students learn how to create healthcare profiles for individuals and entire communities based on census data, research, surveys and interviews they conduct in schools, nursing homes or community centers. The information gathered is then provided to organizations that can help provide more resources to the area.
"By working with partners to provide education on certain topics, students are learning the process of how to assess a community just like they would a patient," James said.
According to James, incorporating volunteerism and service into her classes was due in part to the example set by faculty members, who introduced James to the ACE program in her early days at SHSU. Since then, she began forming partnerships around the state and beyond, including one with Universidad de Iberoamerica in Costa Rica.
"For me, it fits into my philosophy of teaching," James said. "I've always volunteered since I was a kid, it's just something that I have found satisfying throughout my life. It's nice to see people benefit from a skill you can bring, or even time you can provide, and see their enjoyment and satisfaction in engaging."
Many of the students' efforts are focused on traditional nursing and health data collection, but they also volunteer with other organizations such as the Montgomery County Food Bank. The food bank honored the SHSU School of Nursing in 2022 with its Volunteer Service Award due to their commitment to service through their courses and personal time.
According to James, they received the recognition for their work in understanding food insecurity and sharing what they learned on how people can ensure they are getting the nutrients they need without creating excess food waste on top of their volunteerism.
James' efforts in building a new generation of community engaged Bearkats has not gone unnoticed. In 2020, she received the David Payne Community Engagement Award, in recognition of her work teaching students the value of community engagement through partnerships with the community. She attributes her success back to her driven students and peers who have supported her along the way.
"The credit goes to the work of the students. I guide them, give them ideas and teach them but I still feel that it's their award because, without their commitment and desire to do the best they can, I can't do it by myself," James said.
Looking ahead, James hopes to expand her partnership with UNIBE University so both schools can exchange students with ease and provide greater opportunities and assistance beyond borders.
---
To view the full Spring 2023 edition of Heritage Magazine, follow this link.
- END -
This page maintained by SHSU's Communications Office:
Director of Content Communications: Emily Binetti
Communications Manager: Mikah Boyd
Telephone: 936.294.1837
Communications Specialist: Campbell Atkins
Telephone: 936.294.2638
Please send comments, corrections, news tips to Today@Sam.edu