Heritage Magazine: A City-Focused Partnership
July 7, 2023
SHSU Media Contact: Campbell Atkins
Sam Houston State University Academic Community Engagement (ACE) courses aim to connect Bearkats to their community through scholarly instruction and real-world experience. Mass Communications professor Martin Gaston, who teaches Multi-Camera Field Production, knows the importance of these connections for his students, SHSU and the City of Huntsville.
"Communities are better served when the colleges within them open their doors," Gaston said. "I am excited about the opportunity to be able to do that and help lead the way through ACE. I find that community bridge building is paramount to the success of a university as a whole."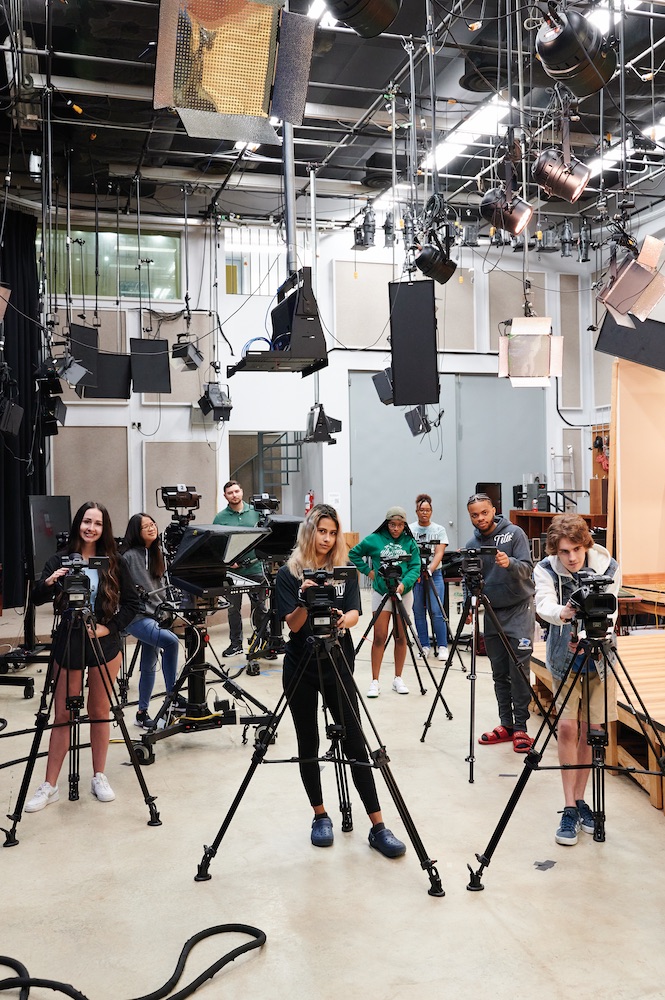 After joining SHSU's Mass Communications Department in 2021, Gaston developed a relationship with Tim Johnson at KSAM 107 and KHVL, who has previously worked with mass communications students at his radio stations.
"Tim called and said Huntsville's mayor needed someone to film the annual State of the City address," Gaston said. "He put me in touch with the City of Huntsville and I explained to them I could do it, but I'd rather use students."
This idea paved the way for a partnership between SHSU mass communications students and the entire City of Huntsville that would ultimately go far beyond the city address.
"We thought we were just working with the mayor's office but, when we walked into that building, we were introduced to the entirety of the city," Gaston said. "All of the municipal departments were there and expressed interest in working with us. That is when this really blew up and became what it is now."
Renée Gravois, associate professor of marketing for SHSU's College of Business Administration, filled Gaston in on the university's ACE program and scheduled a meeting to discuss a partnership. According to Gaston, it was a match made in heaven. Along with Gravois and the Center for Community Engagement (CCE) staff, he credits Mass Communications Department Chair Wojciech Lorenc for establishing the course through a certification process.
"Now that we have that all in place, the spring semester is where we really start working with individual city departments," Gaston said.
Through the course, students learn techniques and approaches to multi-camera directing and production to train in various remote production contexts, including sports, dance, music and special events coverage.
While official plans are still being hashed out between Gaston and the city, preliminary ideas include student produced media content for departments, live coverage of city council and other regular meetings and possibly developing a Huntsville tourism video.
"We have an opportunity to carry these students through the whole process. It's the full cycle of the production life from meeting with your client, working with your client, shooting and producing for your client and mastering the actual content," Gaston said. "Whether it is a municipal environment or the private sector, you need visual content to succeed. This is a win-win for the university and the community."
---
To view the full Spring 2023 edition of Heritage Magazine, follow this link.
- END -
This page maintained by SHSU's Communications Office:
Director of Content Communications: Emily Binetti
Communications Manager: Mikah Boyd
Telephone: 936.294.1837
Communications Specialist: Campbell Atkins
Telephone: 936.294.2638
Please send comments, corrections, news tips to Today@Sam.edu