Grant Funding To Combat Nursing Shortage
April 10, 2023
SHSU Media Contact: Campbell Atkins
Sam Houston State University's School of Nursing (SON) has received a grant from the Texas Higher Education Coordinating Board (THECB) as part of the Governor's Emergency Education Relief (GEER) fund. The program will utilize the funds by hosting three major events this summer in an effort to address shortages in the state's nursing pipeline, particularly the shortage of nursing faculty and simulation simulators heightened by the COVID-19 pandemic.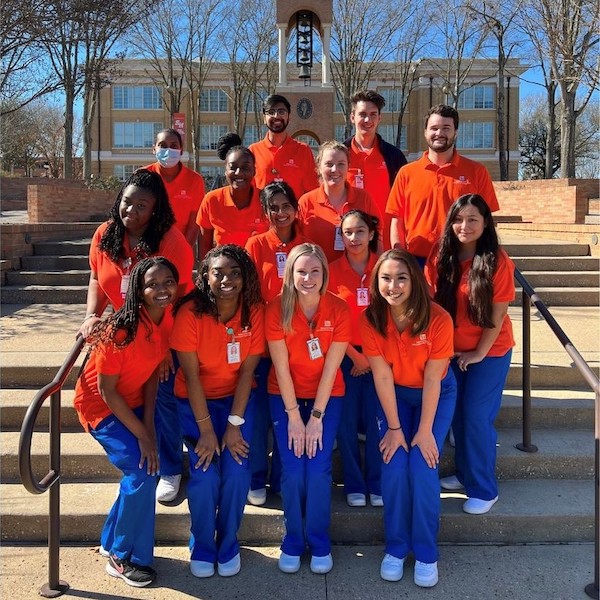 "Texas has the second-highest nursing shortage in the country," said Devon Berry, director of SON. "This is all about building our capacity to meet head-on the needs of the workforce shortage that exists in the state."
SON will hold the Simulation Educator Summer Institute as its first major event. Nursing simulation provides an opportunity for students and qualified nurses to practice responding to realistic clinical situations and assess their performances afterwards.
"We will bring in educators from all over the Greater Houston area to The Woodlands Center and work with Avkin, the industry-leader in wearable simulation technology," Berry said. "We will be providing educators with advanced training through a three-day workshop."
The second event will be the Preceptor Training Summer Institute, a two-day workshop. Preceptors are licensed clinicians that help students learn the nursing role.
"Similarly, we will be bringing in preceptors that work with our School of Nursing from all of our area clinical sites," Berry said. "For the third major opportunity, we will be working with a design firm to create models for what we refer to as shared-employment between academic and practice settings."
An academic-practice partnership, according to the American Association of Colleges of Nursing (AACN), is a mechanism for advancing nursing practices to improve the health of the public. Such intentional and formalized relationships are based on mutual goals, respect and shared knowledge. An academic-practice partnership is developed between a nursing education program and a care setting.
THECB has dedicated $8.5 million of GEER funding through the Coronavirus Response and Relief Supplemental Appropriations Act (CRRSAA) to alleviate the nursing faculty pipeline challenges that exist in the state.
The request for applications for the grant was published in November and the applications were due at the end of the same month. The grant period will conclude on Aug. 31.
This work was supported in whole or in part by a grant from Texas Higher Education Coordinating Board (THECB). The opinions and conclusions expressed in this document are those of the author(s) and do not necessarily represent the opinions or policies of the THECB.
- END -
This page maintained by SHSU's Communications Office:
Director of Content Communications: Emily Binetti
Communications Manager: Mikah Boyd
Telephone: 936.294.1837
Communications Specialist: Campbell Atkins
Telephone: 936.294.2638
Please send comments, corrections, news tips to Today@Sam.edu